Washington State may very well be one of the most desirable places to live in, not only in the US, but around the globe as well, and that's mostly due to just how relaxing and overall breathtaking the entire state really is.
There is a reason as to why it is also referred to as the Evergreen State and that is the fact that it pretty much offers you the whole package when it comes to perfect landscapes, but the true beauty of the state lies in the many different spots that you can live in.
Believe it or not but every single place in Washington State is unique in its own way, which is why so many people find it hard to actually pick the best location for them to move into.
So, in order to help you out we decided to bring you our very own top 20 of the absolute best places that you could live in Washington State, starting off with:
20. Everett
You can find Everett around 25 miles north of Seattle and honestly if you're looking for a fairly large town that still has that good old small-town feel then this may very well be the best option for you right here.
Make sure that you check out the Historic Everett Theater during your stay here and if you are going to move in permanently, we hope that you don't forget to check out the Schack Art Center as this was definitely the highlight of our stay.
19. Bellingham
With a total population of 92,314, Bellingham may seem like your average big city but it more than stands out from the crowd thanks to its many hiking trails and its plethora of water sports events.
The median rent here is fairly well priced at around $1,250 per one-bedroom and $1,430 per two-bedroom houses and if you're looking to spend the rest of your days here, you're looking at a $585,000 investment which is definitely not the best, but it still makes for a very good option nonetheless.
18. Vancouver
No, we're not talking about the Canadian place, we're still on the topic of Washington State and while this may sound like a bit of a downgrade from its Canadian counterpart, it is still a great choice for those looking for a calmer place that comes with a low crime rate and a very affordable price tag.
Definitely not the most exciting place to live in, Vancouver is more so just the perfect retirement place for anyone that is sick and tired of the noise of the big city and there's absolutely nothing wrong with that.
17. Tacoma
Tacoma is a very cheap alternative to a lot of the other places on this list and while it may not be as exciting as them it is the best choice for those that are looking to get away from the big city and all of its noise.
The Owen Beach here is just downright incredible to spend time in and while you're at it make sure that you visit the Point Defiance Park because you won't regret it.
16. Gig Harbor
If you want to live close to Seattle but you can't afford to actually live there in the first place, Gig Harbor may very well be the best choice for you.
It offers you a relatively calm and peaceful life, and while there isn't a lot to do here you can always just take some time off and just walk around the mountainside to really gather your thoughts and destress from all of the work you've put in.
15. Seattle
Seattle is actually the biggest city in the land, housing more than 650,000 people in total in it. Some very notable names live here, including none other than Bill Gates who has stated in many interviews that this is by far the best place that he's ever stayed in.
The median home value for Seattle is of around $452,800 which makes this the perfect location for pretty much anyone as long as they can handle it.
The site is mostly full of young professionals and families and while it may seem like a bit of a boring place, it does have a very active nightlife and most importantly it does double as a school district.
14. Mercer Island
Mercer Island is also one of the best locations that you could move into if you're looking to settle down in a relatively small and secure place.
With less than 125,000 residents currently living in Mercer Island, there really is no reason for you to not go for it, especially considering the fact that it features one of the best public-school systems in the country.
As far as general activities go, you have everything you could ever ask for including softball, tennis, fishing and swimming events, a ton of different outdoor exploration sites such as local parks and beaches and a lot of trails for hikers or bicycle riders.
The median home value is currently revised at around $902,100, but the aforementioned advantages and opportunities more than make up for this rather high price tag.
13. Olympia
This may very well be the absolute best option for you if you're looking to get a government job in Washington.
Currently this is the site where most of the governmental employees live in, with the current count going as high up as 25,000 staff members working either from home or in their office.
That may not sound like much at first sight but when you realize the fact that there are less than 50,000 people living here right now, it really starts to make sense why the governmental job is its main selling point.
The price per median rent ranges around $952 per month, with most of the actual homes here going as high up as $242,100 per average.
You'll also want to visit the Fish Brewing Company while here and don't forget to also check out the Olympia Family Theater and Centennial Station as well just to make the most out of your stay.
12. Kenmore
Considering the fact that less than 22,000 people currently live in Kenmore, you probably believe that this is a very bad place to stay in simply because no one else seems to want to, right?
Well, the truth couldn't be any further from this as Kenmore may very well be one of the most treasured parts of Washington State and that's a fact.
In fact, most people that live here have gone as far as to say that this will become one of the staples of the country within the next couple of years thanks to its growing schools and its overall scenery.
The North Creek High School was only launched in 2017 and yet it already managed to make a name for itself in the country as one of the best options for any young teen out there.
For the most part, a single-family home here will not be any more expensive than $403,000 too, which is a great deal regardless of how you look at it.
11. Maple Valley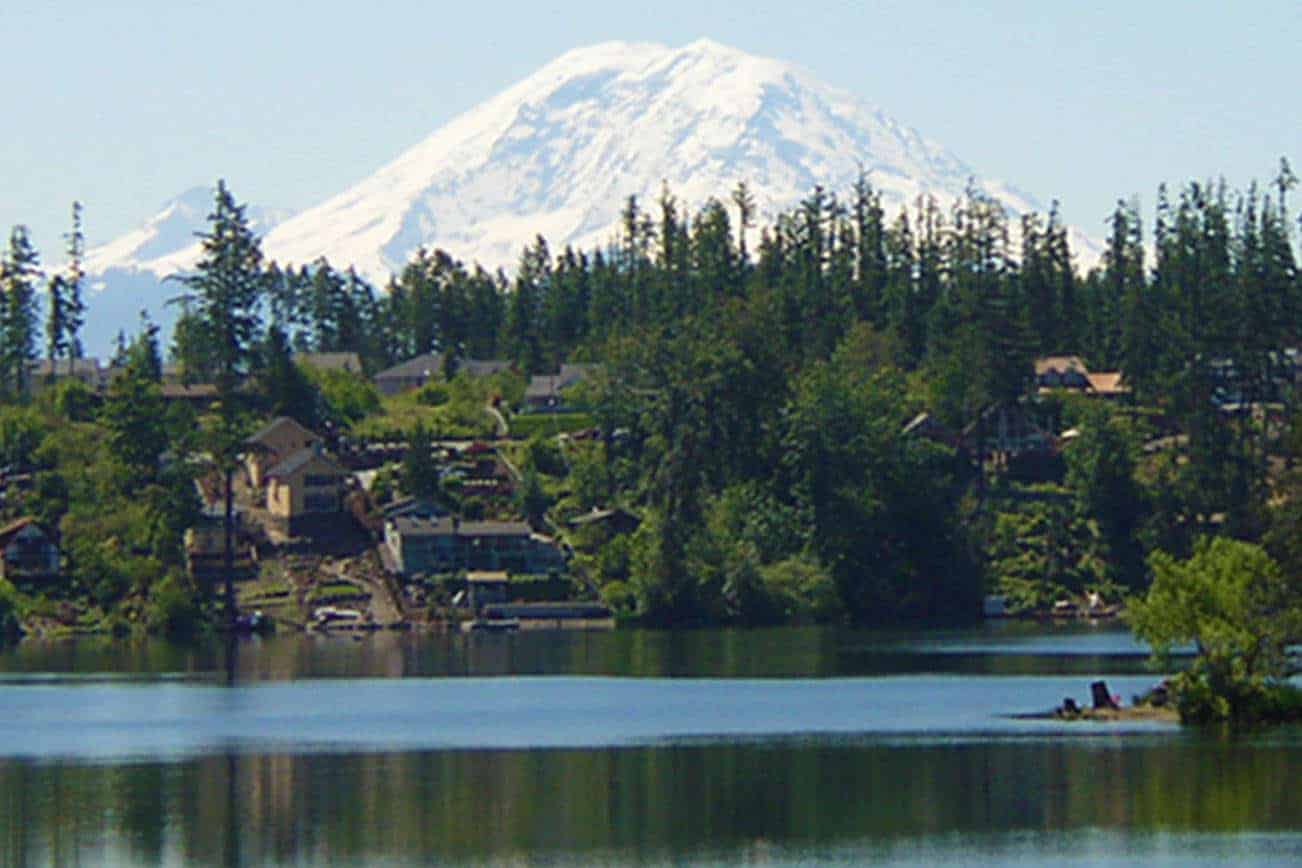 But hey, not everyone is looking for the most modern city that they could live in, a lot of us are simply looking for a good and safe place that is fully covered in luscious forests and luckily, Maple Valley is more than ready to deliver on this promise.
This site is commonly referred to as an outdoor haven for anyone that loves to be around the wilderness, but even if this is not your cup of tea you can still take place in several of the city's top-level schools such as the Green Ribbon Schools.
Lake Wilderness Park is also always a treat and while you're at it, make sure to check out the different creative arts events around.
With the average home here going for around $290,100, this is definitely not one that you should skip out on anytime soon.
10. Woodinville
If you're looking for a suburb that is very calm and safe to be in then Woodinville may top your list for sure as this location has less than 11,400 people currently living in peace with one another without a care in the world.
Despite the fact that the site is generally pretty modern though, with its top-level schools and businesses, it still manages to hold onto that small-town charm that we just can't get enough of.
For the most part, any home here will cost you around $454,000 to live in, so don't miss out on this amazing deal.
9. Bellevue
Considering the fact that the name "Bellevue" literally translates into "beautiful view" in French, let's just say that if you move here your Instagram likes will definitely go up simply because of how absolutely jaw-dropping the scenery is here to begin with.
While it does hold a total of 135,000 residents, the city's wilderness remains untouched even to this day as its natural scenery may very well be one of its best features.
As a result, you have a ton of different hiking and bicycle trails to try out for yourself, and once you're done you can just get a cab to your new home or you can spend the night over at one of the many nightclubs that come alive as soon as the sun goes down.
8. Kirkland
You're looking at the 12th largest city by population in the wondrous state of Washington, and while that may not seem all that impressive you do need to realize the fact that the great majority of people that moved here are young adults that are looking to relax while also having as much fun as possible.
The reason as to why we mentioned that is because Kirkland is just full of different attractions for you to spend your days around, including a ton of different parks, beaches, outdoor activities, shops, restaurants and as many bars as you can stomach.
Considering the fact that the average income here is of around $92,127 per household, you will definitely not find it hard to make a decent living while here, especially considering how affordable the houses are to begin with.
7. Snoqualmie
For as silly of a name as Snoqualmie is, the town is pretty much unbeatable when it comes to its waterfalls and especially to its school district.
That's right, despite the fact that there are currently only 12,000 residents in Snoqualmie, there is no shortage of activities that you could take part in here, and that aforementioned award-winning school district is definitely a good reason to be moving into here to begin with.
The typical home goes for around $444,900 here, and considering the fact that the typical household brings as much as $124,264 per year, it's no wonder that more and more people are moving in here as we speak.
6. Bainbridge Island
You can find the Bainbridge Island in the Kitsap County, and while it may not sound like much, you're currently looking at one of the most serene and calm places that you could live in and that's a fact.
More than 23,400 residents have found this to be the dream location for them so far, and considering the fact that the CNN has rated this as the second-best place to live in the country, those numbers are bound to shoot up in no time.
While the cost of living may be a bit high here, ranging around $548,100, with some homes even going as high up as $3 million or so, this is definitely a more expensive option but still a great one regardless.
5. Richland
But hey, not everyone has the budget to live in a place like the Bainbridge Island, which is where beautiful and affordable cities such as Richland come in to play.
Despite the fact that the name may seem a bit paradoxical from that point of view, Richland is an amazing option for anyone that wants to move in and not have to worry about paying half a million just for two beds and a kitchen.
Instead, the typical resident will have to pay around $207,100 per house, which is literally half of what most other places out there will charge you.
4. Issaquah
If you're a lover of hiking trails then this may very well be at the top of your list as Issaquah has one of the richest networks of mountains and lakes we could think of out there and that's no simple feat.
Commonly referred to as the "Trailhead City", you can literally walk for hours across these trails and you will never have to worry about getting bored while doing so simply because of how much there is to explore in the first place.
For the most part, rent here will not cost you more than $1,533 per month, but in the few cases that it does you won't actually have to worry about it too much as the community around it will more than make up for the elevated price tag.
3. Pullman
With a total of 31,500 people living here, Pullman is known for being one of the most scenic locations in the country which is made all the better by its low crime rate and its high number of shops and pretty much any entertainment events that you could think of.
A two-bedroom home will cost you around $710 per month if you want to rent it out but if you want to actually buy it you are looking at a total of $222,900 per average.
2. Sammamish
More than 50,200 people call Sammamish their home and for good reason too as despite the fact that it is one of the more expensive options on our list, it is also well worth the $609,600 price per average household.
That may be a bit of a turn off for a lot of people out there but just know that Sammamish is known all across the country as one of the most fun places to live in, especially thanks to its many different festivals, its wetlands and its plethora of hiking trails.
1. Redmond
Commonly referred to as the home of Microsoft, most websites out there will tell you that this is the absolute best place to live in Washington and we do have to agree on that right here also.
Redmond offers you everything you could ever ask for and more, thousands upon thousands of residents here work for giant tech companies and thus they make as much as $103,409 per household with ease.
On top of that there is no shortage of events to take part in including festivals, picnics, sports and more. For the relatively affordable price tag of $485,100 per house, you just can't get any better deal than Redmond and that's a fact.
Conclusion
While we do believe that Redmond is the best when it comes to its overall quality, that's not to say that the rest of the locations on our list aren't worth looking into.
Each and every one of them excels in their own category and while we only briefly glossed over what makes them special, every one of them can have a whole book be written about them and everything that they have to offer you.
So, take our list with a grain of salt as we may believe that Redmond is the best option for you, but that doesn't mean that any of the other options here are bad by any means.
For more interesting places to live in, check out Washington State's neighbors, Idaho and Oregon.
Video