The United Kingdom is by far one of the most culturally rich places in this world and that's a fact. For as much as we'd love to say that America is the peak of cultural diversity, there's something so alluring about the UK that you can't find anywhere else on this planet.
So, for today we actually decided to honor the United Kingdom by bringing you a list of the top 30 best places that you can visit in the country this very moment to make your trip worthwhile.
That's not to say that the United Kingdom doesn't have other incredible places for you to gawk at all day long, but it does mean that if you really want to remember your trip here for the rest of your life you can't forget about these places right here.
With that said though, let's skip the formalities and jump straight into our number 30:
30. Robin Hood's Bay
We all know the story of Robin Hood, and although the truth behind the tale is a lot less heroic and a lot more depressing, spending your weekend at Robin Hood's Bay is still sure to make your vacation a lot more memorable and that's a fact.
While here you definitely need to check out the secret smuggler tunnels underneath the town, as they are incredibly well built, having withstood the test of time for so long without a problem.
29. St. Michael's Mount
While definitely not the most exciting place to visit if you're looking for an adrenaline rush, St. Michael's Mount is a picturesque setting that offers you a serene outlook into the folkloric side of the UK, as this is where the people believe that a giant lived for many thousands of years.
28. Watergate Bay
If you wish to relax both your mind and your body during your vacation you can't go wrong with Watergate Bay since this is one of the most calming sites that we've ever gotten the privilege to visit in our lives.
The coast is just absolutely jaw dropping, and if you happen to stay at the Watergate Bay Hotel you will never forget your weekend here and that's a fact.
27. Jurassic Coast
As the name implies, if you're a fan of dinosaurs and you want to actually dig your way to your very own dinosaur fossils then you've got to check out the Jurassic Coast.
It is actually one of the few UNESCO approved sites that allows for you to go fossil hunting so if that sounds like your type of fun then definitely add it to your list today.
26. The Orkney Islands
Do you love animals? That's not really a good question, we know, but hear us out. If you do love animals with all your heart then you can't skip out on visiting the Orkney Islands because this site offers you the chance to see some of the most exotic animals that you could ever see in Europe.
We're talking puffins, seals and even massive whales just swimming around in full view for your entertainment.
25. Cheddar Gorge
We love cheese, you love cheese, everyone loves cheese! All jokes aside, Cheddar Gorge is the absolute perfect place to visit if you are a fan of breathtaking landscapes and unique caves.
On top of that, you can really experience life to the fullest here by practicing one of the insane sports that they organized here over the years, including rock climbing, caving and even free-falling.
24. Devon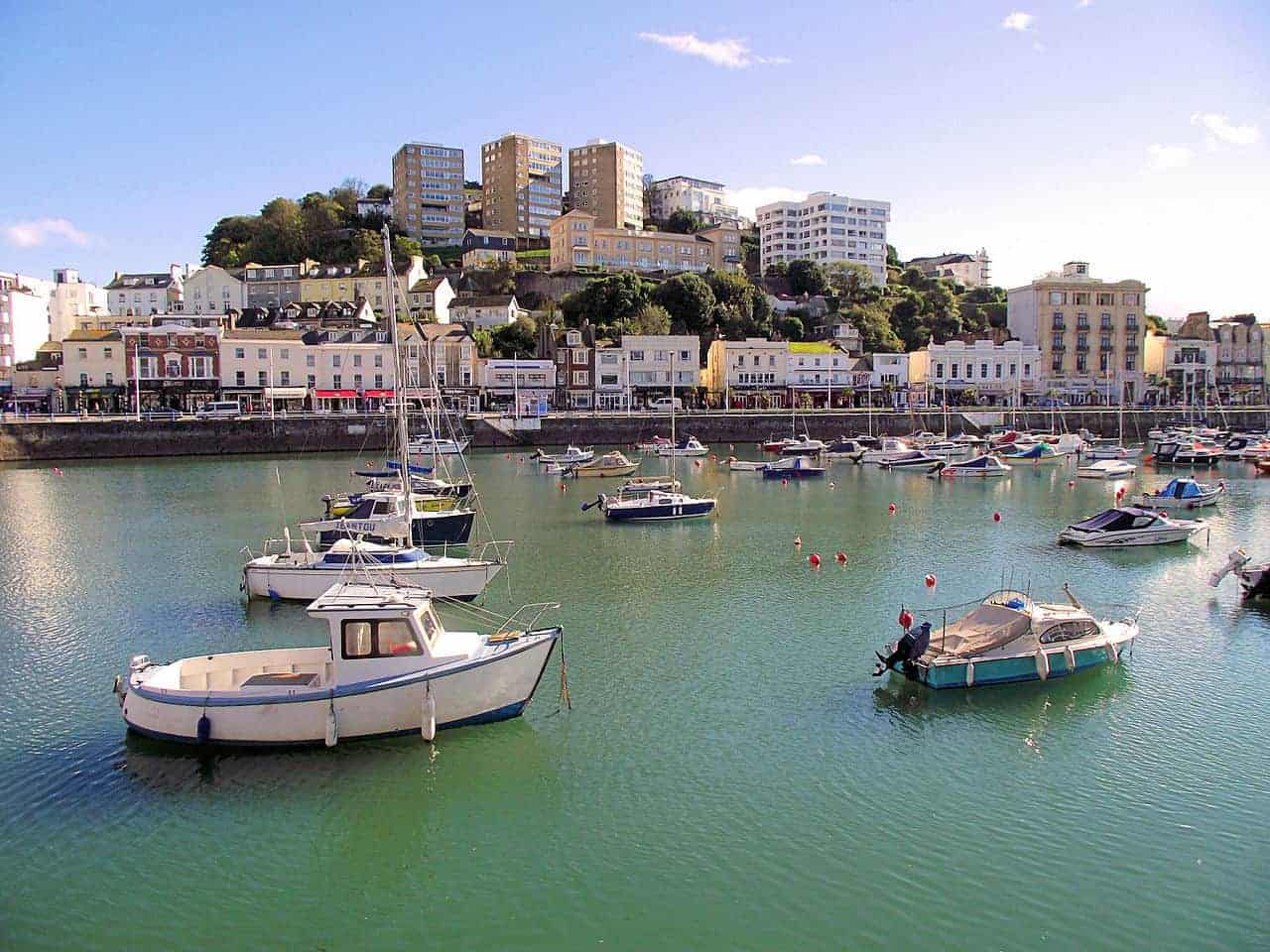 Devon is yet another one of those places that a lot of people sleep on simply because they don't know what to expect from it. This actually works in your favor though as this means that you can easily drive through without having to worry about crowds or traffic getting in the way of your vacation.
23. Cornwall
You can find Cornwall on the South West Coast of England and if you just want a cozy place to stay in and a ton of different activities to occupy your mind with then Cornwall has got you covered.
It may not be the most exciting choice in the world, but it does the job perfectly, especially for those that just want to escape their problems and just enjoy life during the holidays in peace.
22. Peak District
If all you have is a weekend and you want to really make it worth your time with your friends then Peak District should definitely be at the top of your list.
Just get yourself a cottage and a weekend bag, hop into your car and enjoy the rest of your weekend because we can assure you, you will never forget the time you spent here.
21. Swansea Bay
If you happen to be in Wales and you want to spice up your vacation then you have got to visit this location because it will make your trip there a hundred times better.
Whether you're visiting it for the absolutely incredible Swansea Bay or if you're in it for the Mumbles, let's just say that Swansea is widely recognized as a dream destination for a reason.
20. Isles of Scilly
Everyone that's ever visited this place knows exactly what we're talking about when we mention the fact that our experience here was phenomenal and that's a fact.
The sunsets alone would be enough to make you never want to leave this place and that's saying a lot considering how excited you might be for the rest of your trip to the UK.
19. South Downs
Commonly referred to as one of UK's Areas of Outstanding Beauty, the South Downs are full of picturesque landmarks that we just can't get enough of.
If you really want to make your experience here worthwhile you have got to check out the llamas because this was our first time ever seeing one with our own eyes and it made for some of the most unique pictures we've ever gotten to take.
18. Norwich
Despite the fact that Norwich is actually quite a popular site to visit in the UK, let's just say that we weren't the most excited to see what it had to offer simply because there were so many better options out there.
Luckily, we were wrong in that original assessment as visiting it proved to be one of the best decisions we ever made. If you're still on the fence about visiting it just remember that this is England's first ever medieval city that we're talking about, definitely worth your time to say the least.
17. Bristol
Despite the fact that it gets nowhere near as much attention as it should, we honestly believe that Bristol is one of the most underrated cities in UK simply because you never know what's about to happen next.
We highly recommend that while you're here you check out Bristol's most iconic artist, Banksy himself. His pieces are just absolutely astonishing to say the least, and if you ever get bored you can always just check out the nearby Whapping Wharf and Spike Island to treat yourself.
16. Corfe Castle
In case you didn't know by now, the Corfe Castle is actually one of the most important historical landmarks in UK's history because it was actually one of the first settlements that was established here around 8,000 years ago.
Just simply walking down the same path as their ancestors feels so impactful for both the natives and of course, the tourists such as ourselves that wish to get an experience that we can remember forever.
15. Brighton
While most of these sites are perfect for experiencing during the day, Brighton really shines the brightest during its nighttime as this is when the party really starts.
Regardless of whether you're interested in shopping your lifesavings away or if you want to chow down on some fish and chips for the rest of the evening while sipping on wine, Brighton has got you covered.
14. Scottish Highlands
Scotland is an absolutely gorgeous country and that's a fact. But if you want to really experience the life of a true Scot then you definitely have to check out the jaw dropping Scottish Highlands.
This is the perfect location for a road trip, so buckle up and get everyone ready because this trip is going to be unforgettable.
13. Cardiff
Sure, Wales is nowhere near as large as Scotland or England, but that doesn't take away from the absolutely incredible experience that you will get to take part in while here.
Regardless of whether you're in it to explore the breathtaking scenery or if you just want to take a stroll down one of their national parks to take in the beauty of the historic castles, Cardiff has got your back.
12. Liverpool and Manchester
Ok, these are actually two different cities, but they're very, very close to each other, and if you love football (or soccer) you totally have to come here. Even if you're not a big fan of the game, you will still love the pubs, the museums and the usual life here.
Manchester is also the home of their main international airport in this part of England.
So, if you want to make it to the northern side of England, Scotland or Wales for that matter you will probably have to get through here, and you will not regret it considering how many gorgeous Victorian castles and ruins you can come across here.
11. Northern Ireland's Giant's Causeway
Most people actually don't know this but the UK does actually own a tiny piece of Ireland and in case you just found out about this you need to give it a visit because trust us, you won't regret it.
The natural scenery at Giant's Causeway will leave you speechless, and the best part about it is that it is a couple of minutes away from the capital of Belfast, one of the top heritage sites in all of the UK.
10. Loch Ness and Inverness
Are you willing to take the chance and snap another legendary picture of the Loch Ness monster? All jokes aside, even though this is all just legends and a clever use of tourism, Loch Ness is still an incredibly gorgeous site, one of the best historically speaking because of its large fortifications.
These all date back to the 14th century, and on top of that you can also visit the nearby Loch Ness Centre and Exhibition to learn more about its history.
9. Canterbury
If you've already read the Canterbury tales then chances are that you are already looking forward to visiting this magical site. But even if you haven't done that, you can still have a blast knowing that Canterbury has actually been a famous site for tourists for over 1,500 years now.
The Canterbury Cathedral for example is a shining beam of light that we can't recommend enough, definitely check out the beautiful choir with the six statues of the English kings while you're here.
8. The University Towns of Cambridge & Oxford
We all know by now that the UK is pretty much the world center for learning new things and this is exactly why these two university towns, Cambridge and Oxford, rank so high up on our list.
You can get to them in no time as well considering the fact that they're just 80 miles (128 kilometers) away from one another, and what's even better is the fact that in order to celebrate their rivalry, the two universities come together to compete in the famous Boat Race which is always a treat to see.
7. Medieval York and its Minster
Definitely one of the top locations for you to visit from the northern side of England right here, if you love the idea of visiting the largest medieval church in the country then you can't miss out on this site to say the least.
York is also a great choice for fans of Gothic architecture, since the church here was built almost 1,000 years ago and it truly depends the authentic style in all of its glory.
6. The Cotswolds and Lake District
If you're a fan of the countryside then you have got to check out this location as Cotswolds is by far one of the most popular sites for photoshoots on the planet.
If that's not enough for you then you can simply drive to the Lake District National Park where you can check out any of the 12 largest lakes in the country or better yet, just go to our personal favorite aka the Scafell Pike. During our stay it really became one of our favorite ways to pass time.
5. Windsor
Windsor is one of those places that you visit once and once you get there you just don't ever want to leave again. If you're looking for new ways to pass the time while on vacation there aren't many options out there that can rival this and for good reason.
We especially recommend that you check out the Windsor Castle because it is one of the most pristine and famous castles in UK's history.
4. The Stonehenge and Medieval Salisbury
Let's be honest here, you already knew that this was going to be on here because why wouldn't it be? Stonehenge is one of the world's greatest mysteries and by far one of the most significant historical sites we've ever discovered.
This 4,500-year-old monument still has so many unanswered questions attached to it and as far as we can tell, they are not going to get answered anytime soon either.
3. Roman-Era Bath
We all know about UK's history with the Roman empire, so it shouldn't come off as a surprise that they left off a bunch of incredible architectural landmarks as they vacated the country for the Vikings to take advantage of.
One such historical monument is none other than Bath, a 2,000-year-old architectural achievement unlike anything we've ever seen before or will ever see again most likely.
2. Edinburgh
Scotland is absolutely gorgeous and that's a fact, so you can probably guess that the most attractive city in Scotland is on a whole different level to say the least. Edinburgh is not only one of the most beautiful places in the entire United Kingdom, but it's easily one of the most beautiful cities in the world as well.
On top of being an absolutely gorgeous site to travel to, it is also the home to SO many historic buildings that were maintained in near mint condition.
1. London
We just had to have London be at the top of our list and we all know exactly why. If you ever want to experience the true UK experience you can't miss out on the opportunity to visit the capital as it is by far one of the most interesting and historically significant sites you'll ever see.
The Tower Bridge and of course the Big Ben are both incredible landmarks that we always recommend checking out, and while you're at it definitely make your way to the Crown Jewels for a one-of-a-kind experience.
Conclusion
So, what did we learn here today? We essentially all came together to appreciate the beauty that is the United Kingdom.
While the prices here may be a bit on the more expensive side, remember that you can't put a price tag on the experiences that you will be having as you walk through some of the most significant historical sites the world's ever seen!