The following article might change the way you think about the world's most populous country and make you want to visit it. There are some really strong reasons inside!
When we say China, we think of pollution, overpopulation and bad work conditions. Unfortunately that's what we all get for watching too much TV. Follow us in a quest through the People's Republic most iconic natural or human-built wonders and you'll get China-lust by the end of it, we promise!
Jokes aside, it is a vast and amazing country, with unbelievable scenery you can't find anywhere else on this planet. Scroll and enjoy.
1. Maijishan Grottes
7,200 Buddhist sculptures and 1,000 square meters of murals
With over 7,200 Buddhist sculptures and 1,000 square meters of murals, all carved inside a mountain, Maijishan is surely, before anything else, a work of art. The building process began in 384 (A.D) and continued for the next 1600 years. Let's stop, take that for a fact and think about it, when's the last time you heard about anything being built for almost 2000 years? A reason good enough to visit China!
And that's not all! Meijishan Grottoes, if you can believe it, is neither the oldest nor the biggest grottoes. We featured it in the top reasons to visit China because of its position in a surreal natural scenery. Other, bigger and older grottoes worth visiting are Mogao, Longmen and Yungang.
2.  Zhangye Danxia National Geological Park
Another work of art in the heart of China, but this time created by wind, rain and time which sculpted these several hundred meters tall rocks.
The rock colors are the result of sandston deposits and other minerals. A process that took over 24 million years.
This unique geological landscape was voted one of the "Six most beautiful landforms" in China.
3. Detian Falls
Situated right on the border between China and Vietnam (where is named Ban Gioc), the Detian Falls is the fourth largest waterfall (in the world) along a national border.
4. Thousands Islands Lake
Qiandao Lake is a man made lake that was formed after the completion of Xin'an Dam. The lake covers an area of 573 square kilometres (221 square miles) and is filled with 1,078 large islands and a few thousand smaller ones.
More than 1,300 villages with over 290,000 people had to be relocated
This is probably the biggest man made landmark in this country (and possibly in the world) and has become a popular tourist attraction. I mean who wouldn't want to visit China to see this spectacular sunset over the Thousand Islands Lake?
5. The Great Wall of China
…measuring 21,196 km (12,171 miles)
This is the number one reason people visit China. The Great Wall is said to be the only man-made structure visible from space. Even though this is just a common misconception in popular culture, it is the longest building made by man, measuring 21,196 km (12,171 miles). That is if you add up all the branches of the Great Wall – yes, there are more than one! In fact, it consists of a system of several sections, sometimes not connected, that differ in age and construction method. If you care to learn more, have a look at this detailed map of all the sections of the wall and be amazed.
The structure was built to prevent invasions and to protect the Silk Road trade.
Being China's most popular tourist attraction, the visitor flow can be up to 70,000 per day.
When's the best time to visit the Great Wall? During Spring, when the temperatures are between 11-24 degrees Celsius (52 – 75 Fahrenheit) and the visiting points are not too crowded. If you want a secluded view of the wall, you should go during Winter, but beware, temperatures go well below freezing.
6. Yangtze River
This 6,300 km (3,915 miles) river is the heart of China, playing a huge role in its culture, economy and history. Yangtze River is the home of the world's biggest dam, the Three Gorges.
7. Panjin Beach
We're not even half through this list, yet another world record location in the People's Republic: Panjin is the place that preserves the most complete ecosystem and the biggest wetland in the world.
It is home to over 260 species of birds and around 400 wild animals.
But what Panjin's Red Beach is famous for is its landscape, to be more precise, its red color. Sueda is responsible for the color, a species of grass that can only live in highly alkaline soil. The best time to visit the Panjin Red Beach is April or May, when the Sueda grass starts its growth cycle and covers the entire landscape with a light red color.
8. Tianzi Mountain
Made of quartz and 380 million years old, these stone peaks are still a mystery and it is not yet known how they got these skyscraper shape.
You can visit Tianzi Mountain and take a cable car to see nature's downtown Manhattan. The highest peak is 1,262 meters (4,140 feet) above the sea level.
Best time to visit Tianzi Mountain and how to get there:
The visiting hours are 08-18 and the best seasons to visit are Spring and Fall, especially April and October. To get there you should hop on the shuttle busses that leave from Zhangjiajie Central Bus Station. Once you get there, you can climb up using the free environmental-friendly cars to one of the 100 viewing platforms.
9. 

Pearl Shoal Waterfall
This 163 meters (533 feet) wide waterfall is situated at an elevation of 2433 meters. Perl Shoal is 28 meters high (92 feet) and got its name from the sparkling effect the droplets make while falling.
10. Huanglong colorful pools
The Turquoise pools were formed due to calcite deposits in thousands of years of geological evolution. But this is not the only natural wonder in the Huanglong area, that is filled with ponds, caves and waterfalls, each of them like nothing you've seen before.
Of course, it's the 4th largest country on earth, but judging by the first 10 reasons listed so far, it seems that if you visit China you'd see more natural wanders than if you were to visit 10 or more countries.
11. Jiuzhaigou Valley National Park
Part of the UNESCO World Herritage Sites, this national park stretches over 72,000 hectares (180,000 acres). The Jiuzhai Valley offers spectacular views both during summer and wintertime (when it's covered in snow).
The park is located right on the edge of the Tibetan Plateau, at elevations ranging from 2,000m (6,500 feet) to 4,500m (14,800 feet) making it China's heaven.
12. Yangshuo, Xingping – Guangxi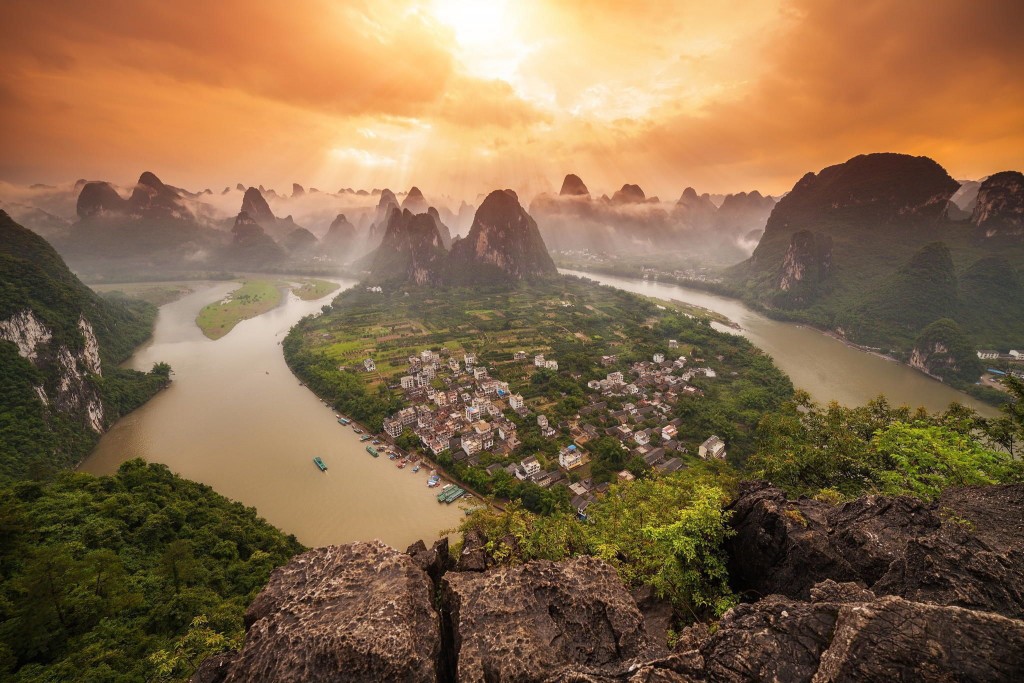 Xingping is a town in Guangxi, China, worth visiting for its peaks, rivers, caves and ancient temples. The area is pretty touristy, but its vast area will ensure you get to see the wild side of China without a thousand tourists on your back.
13. The Shanhai Pass
This part of the wall, meeting the Bohai Sea, is called Laolongtou or the Old Dragon's Head, because it looks like a dragon dipping his head under the water. The Shanhai Pass is one of the most visited parts of The Great Wall.
14. Rice Terraces in Yuanyang County, Yunnan
Youanyang County, yet another World Heritage Site worth paying a visit in China, is a paradise for photographers due to its spectacular rice terraces. They're spread on the mountains from 1,000 to 2,000 meters (3,300 to 6,600 feet) above the sea level and only support one rice crop per year. From November to April, after the harvesting period, the crops are filled with water – and that's the best time to visit Yuanyang.
15. Tianmen Mountain Road
This entire area will blow your mind. You can climb the Tianmen mountain by car, following the 11km (6.8 miles) road that has no less than 99 bends and reaches the top of the mountain. Alternatively, you can take what might be the world's longest passenger cablecar of high mountains, totalling a length of 7,455m (24,459 ft) that's connecting the railway station to the top of the mountain. Once you're at the top you can visit a large temple, walk on paths built on the steep mountain (some of them featuring glass floors), and see the Heaven's Gate (no. 2), a natural hole in the mountain.
And here's the first person to fly through Heaven's Gate in Tianmen Mountain, China in a wingsuit.
16. Dushanzi Grand Canyon in the Xinjiang Province
There is little known about Dushanzi Grand Canyon, so if you're interested in visiting this area, you'll be amongst the very few travelers that ever set foot here. Dushanzi Grand Canyon is part of Karamay, in northwest China, part of the Xinjiang Uygyr Autonomous Region.
17. Canola Flower Fields, Yunnan
You can "swim" in this yellow sea from February to April, in Luoping County, Yunnan. The yellow color comes from rapeseed, a plant used in the production of cooking oil.
Yet another photographer heaven, filled with mountains you can climb on to get the perfect landscape shot of the canola fields.
18. Wulong Karst National Park, Chongqing
This UNESCO World Heritage Site is home of the Three Natural Bridges, the largest natural bridge cluster in Asia, a site rarely seen anywhere else in the world. Once you get here there's a paved pathway you can follow, and see all the natural wanders in the area.
The building pictured above is an ancient outpost right under the Tianlong Bridge (one of the Three Natural Bridges).
There's a lot more to visit and photograph, and the pathway will take you along rivers and caverns, all in a mystical scenery.
19. Stone Forest, Kunming
Visited by 4 million travellers each year, the Stone Forest is a magnet for nature lovers and photographers, but not only. However, only 20% of the travellers are foreign visitors.
Covering an area of 176,228 hectares, the Stone Forest stretches over 4 provinces – Guizhou, Guangxi, Yunnan and Chongqing.
20. Crescent Lake, Dunhuang, Gobi Desert
I bet you haven't visited an oasis before, at least not one surrounded by sand dunes. Well you can do so by visiting this crescent-shaped lake near the city of Dunhuang in Gansu Province.
The oasis has been in this place for 2,000 years but the Chinese government had to refill it as it was shrinking due to desertification.