We have spent the better side of this year going through all the data and speaking directly with the locals in order to find the top 20 best places that you could live in Arizona.
Needless to say, while all of these are amazing options on their own, we personally believe that the top picks are the better options.
But then again, we are not robots, so keep that in mind as our number one pick may not be your number one pick too. Pick whichever town sounds better suited for you and your needs and remember, no matter what, as long as you're happy that's all that matters.
But regardless, let's just start off our list with our first pick of the day:
20. Flagstaff
Flagstaff is the largest city you'll find in Northern Arizona. It has a certain college town ambience to it, alongside plenty of historic buildings that can be found around every corner.
The old architecture is sure to boost your Instagram account, and on top of that you'll also get to explore around the city's many amenities. We're talking about locally-owned restaurants, independent boutiques and more than a handful of cozy cafes too.
On top of all of that, Flagstaff is located in close proximity to nature, so no matter where you live, you'll always have the option of going hiking if you feel like doing a little bit of cardio on top of sightseeing.
You're also always within reach of the Grand Canyon, where you can find plenty of hiking and biking trails.
---
19. Lake Havasu City
Lake Havasu City may very well be one of the most energetic places in Arizona. It can be found on Arizona's western border with California and it is quite popular for college kids during Spring Break due to how crazy the nightlife is here.
But the nightlife isn't the only attraction here, as the waterfront is packed full of beaches and resorts which come with their very own restaurants, bars and nightclubs for you to get wild in.
There are also plenty of places that are specifically tailored for families, so if you feel like the nightlife is a bit too lively for you, definitely check out Lake Havasu City.
---
18. Oro Valley
Oro Valley is a relatively small place that has a total population of around 47,000 and rising. It was first established back in 1974, which is why it is so modern looking, since it was founded not too long ago.
Despite this though, many places fail to grow as quickly as they should, since they don't have that certain oomph that allows them to improve.
This doesn't apply to the Oro Valley though, as there's been a pretty massive tech boom in the area back in the day, that pretty much turned it into one of the most desirable locations to live in in Arizona.
The residents here also live better lives than most people in the US, as the median income here rests at a pretty impressive 50% over the national average.
The crime rate is also very low, making this one of the safest places in Arizona, and we should also mention that the standard of living is generally higher than you'd expect considering the affordable cost of living.
---
17. Surprise
Surprise, it's Surprise! All jokes aside, Surprise is one of the best places to live in Arizona, but if you don't believe us, you can always just check in with any of the 143,000 people that live here right now.
But what exactly makes it so good? Well, how about the fact that it is one of the most affordable places you could live in?
Even when compared to all the other cities in the area, Surprise makes its way to the top thanks to its affordable housing and low cost of living.
In fact, the cost of living here is just 2% higher than the rest of Arizona, which may not sound that impressive but considering the quality of living you get for that money, it's really worth it.
---
16. Arcosanti
Arcosanti may very well be one of the most unique places you could live in right now in the entire country. It's located in a secluded part of the desert, in close vicinity to Phoenix and.. it's an experimental town.
When it was originally developed in the 1970s, Arcosanti was planned with the future in mind.
It was designed by none other than the famous Italian architect Paolo Soleri, as he wanted to imagine a city that could live completely self-sufficiently by taking full advantage of the nature that it was surrounded by.
This "urban experiment" is now inhabited by around 80 people or so that live here part-time. The homes here are definitely unique looking and while they can be quite expensive, if you want to feel like you're living on a colony from Mars, Arcosanti may be the perfect choice for you.
---
15. Fountain Hills
Fountain Hill was also developed back in the 1970s with a similar idea in mind, as the people who imagined this place decided to plan out for the future, by simply creating the perfect little town.
Nowadays you'll find that the town has a total population of around 25,000 residents, and from our experience, we can safely say that this number is going to rise exponentially in the near future.
That is because the town itself is an absolute beauty to behold, and on top of that it is very clean and crime-free.
Fountain Hill is also very popular for its championship 18-hole golf course, in which you can hone your golfing skills and play against some of the best in the state.
---
14. Catalina Foothills
With a total population of 50,454 residents and located just north of Tucson, Catalina Foothills deserves your time and money as there are no real downsides to living here outside of the housing prices.
The unemployment and crime rates are practically nonexistent here, and there are plenty of schools that are widely regarded as some of the best in the state here.
On top of that there are plenty of amazing views to behold here too, for example you have the Santa Catalina Mountain Range or the Catalina State Park.
The only real downside, as mentioned previously, is the price that you'll have to pay to purchase your home, as per average you'll see that most homes here round out to around $440,100.
This is somewhat balanced by the fact that the average family here brings around $93,000 per year which is way above the national average.
---
13. Cave Creek
Cave Creek has a total population of around 5,015 and rising. If we were to simply talk about the quality of life alone, Cave Creek would definitely be higher up on our list, as it has some of the best conditions you'll ever see.
On top of that, Cave Creek has some of the strongest childhood education systems in the country, alongside plenty of amazing amenities such as art galleries, the illustrious Frontier Town, world-class restaurants and more.
As you can probably expect though, living here is not going to be accessible to most people, since the average home costs upwards of $870,000. Do keep in mind however that the average family does also bring home around $465,000 per year too.
---
12. Paradise Valley
This beautiful suburb of Phoenix has a total population of 12,600 and growing, and it is in the exact same boat as Cave Creek when it comes to offering an elevated quality of life for a certain price tag that not everybody can afford.
So, let's just rip off the band aid and say that the average home here costs upwards of $1.5 million. But there are also some people who live here that earn as much as $758,132 per year.
While definitely not for everyone, Paradise Valley does live up to its name when it comes to its overall quality, as it has some of the best quality of life your money could get you in the state, if not the entire country.
---
11. Chandler
Chandler on the other hand is a much more affordable option that you can consider, if the likes of Paradise Valley and Cave Creek are a bit too much for your current financial disposition.
While the homes here come at a fraction of the price tag though, costing you around $300,000 or so, the quality is nothing shy of excellent.
The school district itself is regarded as one of the best in the state, and if you're currently looking for a job, you'll be happy to hear that the job market is pretty much ruled over by the tech industry, so you'll never run out of opportunities.
The average family also brings home around $83,000 per year, which is still above the national average, and the low crime rate also makes this one of the safest places to raise a family in.
---
10. Sedona
Sedona is known for how beautiful it is, and many people would even go as far as to call it the prettiest city in the state, and why not, one of the most amazing in the United States.
It can be found in the heart of the desert, being surrounded as far as the eye can see by majestic red rocks and a never-ending landscape of mountains, forests and canyons.
But that's not all, as there are more than 80 art galleries here to visit, and a ton of small restaurants, bars and cafes that will make your free days here all the sweeter.
---
9. Phoenix
Next up on our list we have Phoenix, the state capital of Arizona. It makes its way on our list thanks to its boundless list of entertainment choices that everyone can enjoy.
We are talking about anything from sports to the arts, all the way to the fine dining and nightlife options that you will never get bored of.
The Roosevelt Row Arts District is going to be your go-to at the end of every day, since this is where you'll find plenty of boutiques and art galleries that will happily take your hard-earned money from you.
All jokes aside, Phoenix has everything you could ever ask for, and more, which is why it is on so many people's radars right now.
---
8. Buckeye
The westernmost suburb of the Phoenix Metropolitan Area, Buckeye is one of the most sought after places to live in if you decide to move to the beautiful state of Arizona.
It has a total population of  just over 100,000 residents, and it is regarded as one of the fastest-growing cities in the nation.
It features a beautiful landscape, affordable housing and a huge lineup of amenities for you to check out for yourself.
It is any outdoor lover's dream come true, on top of also having a ton of restaurants, shops and nightlife options specifically tailored for your every need.
---
7. Litchfield Park
With a total population of just over 6,800 people, Litchfield Park takes the cake for now as being one of the best places to raise a family in, or retire even if your budget allows for it.
This is because the community is so friendly and accepting, and on top of that the public system is also absolutely top notch, so you'll never have to worry about your child's future ever again.
You can get yourself a home here for as little as $262,300 too, and for that money you get to live in one of the best neighborhoods in the state.
---
6. Gilbert
Gilbert is always going to be a top choice thanks to it having one of the lowest crime rates in the country, really affordable housing, and a very excellent public school district.
It has a total population of around 273,000 residents, and the median income rests around the $97,000 mark which is not too shabby.
Buying your very own house here will cost you upwards of $328,700, which makes moving here both affordable and smart at the same time.
The nightlife is also worth mentioning here as the city comes alive every time the sun goes down and once the sun rises again you can always check out any of the many bars and restaurants with your family or friends.
---
5. Mesa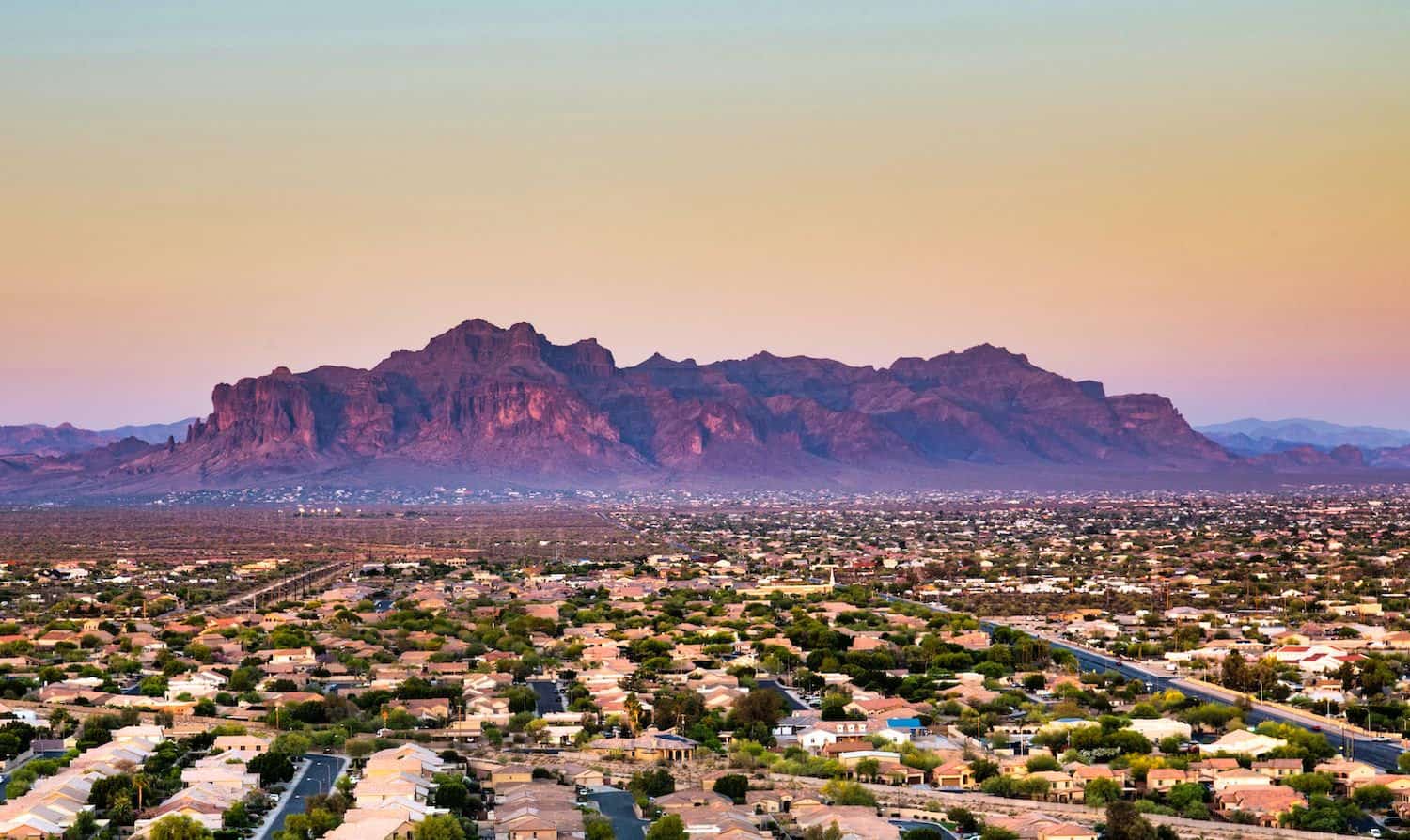 If you're on the lookout for a big city to relocate yourself and your family in, Mesa may very well be the perfect choice for you.
The city is known all across the globe for its amazing Christmas lights, and of course, we can't forget about the fact that it is often times brought up whenever education is considered to be a priority, due to it having some of the most highly rated schools in the state.
The median income is a bit on the lower end, with most families bringing home around $58,000 per year, but that is more than okay if you're going to be living in Mesa, since a single-family home here can cost you as little as $226,000 in total.
---
4. Goodyear
One of the most sought after suburbs of Phoenix, Goodyear is yet another solid pick that we always recommend, especially if your main requirements for a new home are a thriving job market and a friendly and welcoming community.
Besides that, Goodyear also makes its way so high up on our list due to the appreciation that the people here have for baseball, as this is where the spring training home of the Cincinnati Reds and Cleveland Indians take place.
So, needless to say, if you're a fan of baseball and you want to live somewhere where they even have their own private airport (the Phoenix Goodyear Airport), this may very well be the best choice for you.
---
3. Tucson
Being the 2nd most populated city in the state, you can already expect Tucson to be one of the most diverse places in Arizona.
On top of that though, Tucson is also often times regarded as one of the most hipster cities in the state, as the place is full of vegan cafes, microbreweries and thrift stores, that will make sure that you never run out of stuff to discover and enjoy.
Tucson is also the homeplace of the Arizona-Sonora Desert Museum, the Pima Air& Space Museum and plenty others, so if you're a history buff, you shouldn't miss out on this opportunity anytime soon.
---
2. Tempe
Tempe has a total population of around 188,000 residents as we speak, and while it may not seem like it, it is often times dubbed as one of the best options for young professionals and college students alike.
That is because this is where you can find the renowned Arizona State University. That's the largest college in the state, and it has well over 83,000 undergraduates currently attending it.
Purchasing your first home here will also save you from selling a few kidneys on the black market, as you can find a decent-sized home for around $273,000.
---
1. Scottsdale
Scottsdale is home to around 250,000 residents, and almost everyone we talked to for this article said that if they would move somewhere else in Arizona, this would be the best place.
That is because it has some of the nicest neighborhoods in the state, plenty of world-class level amenities, beautiful parks, a gorgeous riverfront and practically no crimes whatsoever.
Scottsdale is also famous for its job stability, and the fact that so many startups had their early beginnings here.
The cost of living is also acceptable, and while homes can be a bit on the pricier side, with the average asking price being of around $475,300, it'll be well worth it considering just how advantageous life is here.
You're also just a few minutes away from the heart of Phoenix, Mesa, and all the other popular places in the area.
---
Conclusion
Arizona is the place where you want to be if you're looking for job stability, affordable housing and a very low crime rate.
Most cities here are also very clean and the architecture is astonishing to say the least. And while these may be the best places we could find, we're sure you can find other cities that are more suitable for you or your family.
So, definitely keep on looking and make sure that you check out every place properly before you settle down. After all, this is where your new life begins, so never rush into making a split-second decision.
Regardless though, Arizona has something for everyone, so as long as you keep looking, you will eventually find the perfect place you've always wanted.
For more interesting places to live in, check out Arizona's neighboring states: Nevada, Utah, New Mexico and California.