Oregon is known for being one of the best states where you could live, simply because it features a perfect blend in terms of its population and geography alike.
It is set in the Pacific Northwest of the US, pretty much being sandwiched in between Washington, California, Idaho and Nevada.
As such, you can expect it to be perfect for hiking lovers out there, while also offering the perfect balance between charming small towns and big city experiences for those who love the crowds and the energetic side of the world too.
So, it's no wonder that Oregon has been one of the most popular places to travel to, if you want to have the weekend of your life, but at the same time, we've noticed that more and more people have started to move in here too.
This is not surprising to say the least as Oregon has always been a popular choice, but for the past couple of decades now, its reputation has definitely been increasing steadily, due to how many opportunities you'll find here.
So, because of this, we decided to bring you a top 20 list of the best places that you can live in Oregon.
There are plenty more places that are well worth checking out, but for now let's just hop right into our first pick of the day:
20. Markham
Starting off our list we have Markham, one of Portland's most charming neighborhoods, home to around 4,369 people as we're writing of this article. Interestingly enough, we looked through many reviews of this place so far, only to find that everyone here loves being here.
This is because it's one of the best places in Portland to buy a home, as the median home value sits at around $330,000. It might not be so affordable when compared to other places in Oregon, but for Portland you get a lot of value for your money here.
On top of that, Markham is also listed off as a green urban area, which means that every house here has huge gardens full of tall trees alongside a ton of different amenities that you are sure to enjoy.
19. Tigard
Tigard is the best place for you to move into if you want to live very close to Portland, without actually having to pay the exorbitant prices of Portland.
Don't get us wrong, it is still a pretty expensive place to live in, with a two-bedroom home costing you about $2,265 every month, but if you do actually decide to stay in here for good, you'll have to shill out around $550,000 for a nice home.
That's definitely still a big amount of money right here, but considering just how many amazing amenities you get to choose from and the close vicinity to Portland, you will definitely enjoy your stay here in Tigard.
18. Hillsboro
Being the fifth largest city in Oregon, with a total population of 104,700 residents, let's just say that this isn't the first time that you've heard about Hillsboro, right?
It is one of the best places for you to move into, if you want to start a career and make a proper living without having to worry about not finding a job, since Hillsboro is pretty much famous for having a ton of amazing technology companies in it, that are always looking for new people.
It is the home of the millennials too, since the average resident age here is of 34 years, and not only that but since the standard home here costs you only $315,100, you might be able to afford a home pretty fast.
17. Collins View
Another lovely suburb of Portland, Collins View is pretty much just the perfect place for you if you're an avid coffee lover, and we do mean that.
This is because Collins View is home to 12 different Starbucks, meaning that you can get your caffeine fix easily, no matter where you live.
On top of that though, we should also mention the fact that the average annual income here is around $115,000, so if you want to earn big while also living a good laid back life, Collins View might definitely be the best choice for you.
16. Hillside
The suburb of Hillside is one of the best places to check out, if you want to live in one of the greenest neighborhoods of Oregon.
Here you can find the beautiful Macleay Park and the Washington Park, where you can get fit while jogging around or walking your dog, as you explore the beautiful and wild side of Oregon.
Houses in Hillside, Portland, are anything but cheap, as most of the "standard homes" here cost you upwards of $700,021, although you can also find some smaller condos for around $400,000 too.
15. Canby
You can find Canby on the northwestern side of the state, where you can live out your life in a very cozy and relaxing town that prides itself with its hospitality and acceptance.
The town features a population of only 17,500, and it is often times referred to as the "Home of the Good Earth", due to how many of the residents here love growing their own produce in their backyard gardens.
Not only that, but you will also be happy to hear that the average home here is quite affordable, costing on average as little as $298,000, and while the unemployment rate is at around 4%, the crime rate is even lower, so you won't ever have to worry about your safety anytime soon while here in Canby.
14. Bend
Bend is one of the most popular cities in Oregon, and for good reason too. There are 90,500 residents that live here, making this by far the largest city in Central Oregon.
On top of being very populated though, it is also one of the most beautiful cities in the entire state, being surrounded by the Cascade Mountain Range, the Ponderosa pine forest and the high desert, so it's no wonder why Bend is also considered an amazing place to travel to if you want to relax a little.
But hey, if you're looking for a little something more permanent than just visiting for the weekend, you'll be happy to hear that the average home here only costs about $363,000, and not only that but the average income per household is around $63,400, making this a great deal to say the least.
The unemployment rate is pretty low, sitting at 4.8%, and when it comes to its crime rate, you will be happy to hear that there are rarely if ever any news reported of any incidents taking place here in Bend.
13. Marshall Park
Marshall Park is definitely one of the best neighborhoods of Portland to raise your children, since the crime rate is practically nonexistent and the school system is refined to a tee.
Needless to say, it is one of the safest places in Oregon, and not only that but it also features plenty of amazing amenities and locations for you to visit with your family when you have the time for it.
For example, you can check out the Marshall Park Playground which is within walking distance of most homes here, and that's just one of the many beautiful places in the area that you'll absolutely love.
12. Scappoose
Most of the cities and towns so far have been relatively big, but that's not the case here for Scappoose, quite the contrary actually.
Scappoose has that small town feel to a tee, with a small population of only 7,100 residents. Not only that, but the average home here costs only about $273,800, which makes this a great place for you to check out, if you're looking for a peaceful town that's also very affordable to live in.
We should also mention here that the average home income is of around $79,400, which is definitely great to hear since you're pretty much set to live a good and happy life here in Scappoose.
11. McMinnville
Living in McMinnville might be a dream come true for some people, as this is by far one of the most charming towns in Oregon.
Despite the fact that it is relatively large, being the biggest city in Yamhill County, it still has hat small town feel to it, mostly because of the people here.
There are about 35,000 residents living in McMinnville now, and while that may sound like a lot, everybody is super friendly and always happy to help.
On top of that, there are well over 200 wineries in the Willamette Valley, so if you're a fan of wine you will definitely enjoy your life here.
10. South Burlingame
South Burlingame is a very small neighborhood in the Southwest part of Portland, which serves as the home of only about 5,278 people. This place is definitely a bit more on the reserved side, meaning that there are a lot fewer exciting events for you to take part in.
At the same time though, it might be one of the most affordable neighborhoods in Portland, since the average home costs only about $360,000, and if you can really shill out the money you can get a very massive 5-bedroom family home with a lot of amazing amenities for less than $600,000.
9. Grant Park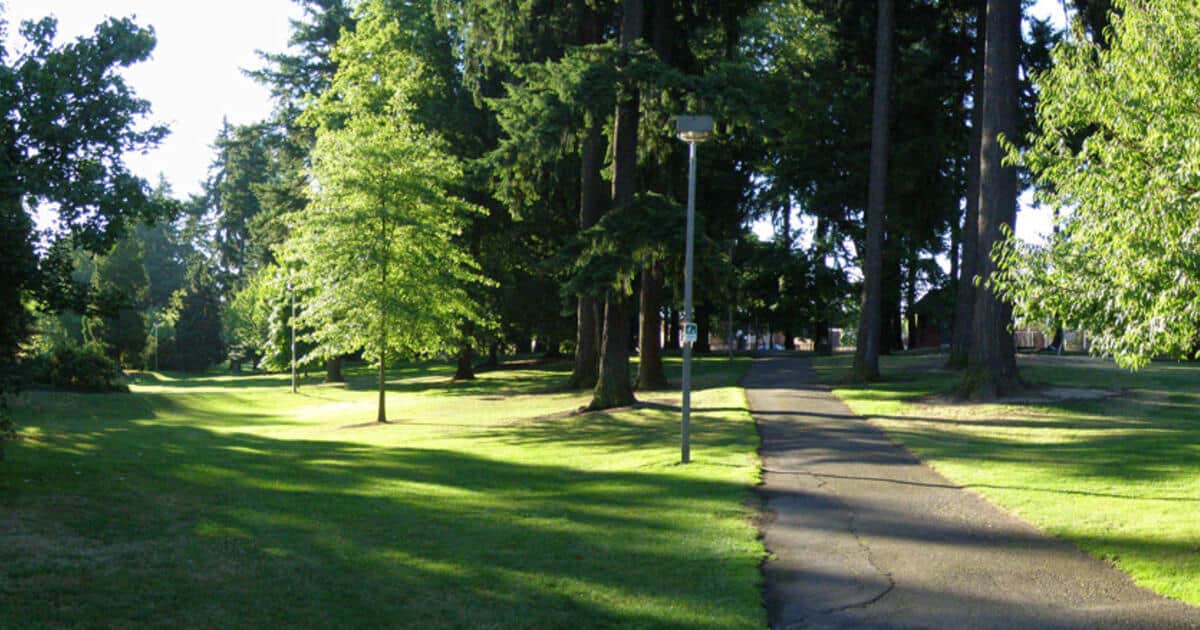 Grant Park is yet another one of those places where you can actually forget your purse and come back the day after only to find it right where you left it.
Essentially, what we're trying to say here is that this is an unusually safe haven for you and your family, where the crime rate is practically nonexistent.
Not only that, but you will also be happy to hear that the average family here earns about $110,000 every year, and considering the fact that there are only 4,700 residents calling Grant Park home, you can definitely see why the interest for this neighborhood has grown a lot in this area by now.
8. Eugene
If you want to move into a college town, that is both laid-back and extremely beautiful at the same time, then you should definitely look into Eugene because it ticks off all of the boxes right there.
Eugene is known as the home of the University of Oregon, one of the most prestigious universities in the state, with over 22,000 undergrad and graduate students doing their part here.
The average home prices are not the cheapest in the state, but also not the most expensive, since you can get your very own place for as little as $425,500, which is a great deal considering just how much you're getting for that investment.
7. Bridlemile
Bridlemile is yet another hidden gem that a lot of people overlook these days, but it should definitely be added to your list if you want to move into a place that has everything you could ever ask for and more.
First of all, the food here is amazing, just check out the Café Du Berry or the Oak and Olive Restaurant, if you want to feel like you're in heaven every time you get hungry.
On top of that, the average rent here is of only $1,000 a month, so if you want to live in a very good and safe area, without having to pay the exorbitant prices that a lot of other areas here in Portland ask for, Bridlemile may be the perfect option for you.
6. Corvallis
Corvallis earns its spot on our list by having one of the lowest costs of living around. It is a very youthful place to live in, made all the better by the fact that this is where you can find the Oregon State University.
Being the largest university in the state with well over 32,000 students actively skipping out on their classes here, let's just say that your children won't be missing out on any opportunities while here.
The average home is a bit more expensive, with prices sitting around $500,000 to be more precise, but it more than makes up for it by also having one of the most affordable rent prices in the state, with an average one-bedroom home costing only $800 per month.
5. Arnold Creek
Arnold Creek is often times referred to as a more urban alternative to Bethany, and for good reason too.
Around 9,343 people call this place home, but what makes Arnold Creek so amazing in the first place is the fact that, since it is so close to the Portland City center, you're close to everything.
It's pretty easy to see why the average family makes as much as $115,900 here.
4. Ashland
Ashland is the perfect place for you to move into if you love outdoor activities. One aspect of this city that many people miss out on though is the fact that Ashland also excels when it comes to its arts and culture background too.
On top of that, the average home here costs about $522,000, which, while definitely not the most affordable option around, is still a great price, when you realize just how many opportunities you will have once you move in here.
3. Salem
The state's capital just had to be here, right? Salem is by far one of the most well-known places to live in Oregon, with over 174,365 people currently residing in here.
The average home prices are definitely more affordable than what you would see in Portland, with the prices hovering around $388,000 for the most part.
Considering the fact that it also has a ton of amazing amenities, including the Salem Health Hospital and the Oregon State Hospital being right around the corner, it's no wonder that this is one of the top picks on our list.
2. Bethany
Bethany is one of the top places for you to live in Oregon and that's a fact. If you want to live a laid-back suburban lifestyle, while also being very close to the big city center, then this is the right place for you.
This neighborhood is the home of 22,346 people right now, and if you want to be a part of that community you will have to pay around $412,300 for your future home.
Luckily, while you are here, you will be happy to hear that the average home income per year is of $110,500, so while it may be a bit on the expensive side, it'll be more than worth it to move in here.
1. Portland
Portland is without a doubt, the most popular city in Oregon. This is a beacon of cultural diversity right here, as there are well over 640,000 individuals calling this place home right now, making it one of the most unique places to live in for sure.
There are just way too many attractions and amenities for us to list off in here, so just know there is a reason why so many people live in here to begin with.
On top of that, the average home here costs about $525,000, and the rent usually hovers around $1,567 for a one-bedroom deal, which is definitely a plus in our book.
Conclusion
Oregon is a wonderful state that looks absolutely beautiful regardless of the season. It is the perfect place for you to live in with your family, and on top of that it's nowhere near as expensive as a lot of the other states in the US.
As such, we always recommend that you do your own research to find the perfect place for your needs, since they're all so unique to say the least.
You can always check out the places we listed off here, but if you want to make sure that you get the best results possible, we do recommend that you take your time to visit every potential city and neighborhood before making your final decision.