Discover Romania's best music festivals that will rock your senses. If you'll learn anything in Dracula's country, it must be that Romanians know how to party.
In terms of big bands and well-known artists, Romania might have a bit to catch up, but when it comes to what festivals have to offer, I can assure you, it's a top destination in Europe! You don't know what a party is until you hit one in Romania! People here know how to have a great time, are avid music lovers, friendly and don't even get me started on how beautiful Romanian women are. You'll be stunned!
Do scroll to the end of the article or you'll miss some great experiences!
Sunwaves Festival
Starting strong with Romania's most acclaimed techno & electronic music festival that starts on April 28th on the beaches of Mamaia, Romania's top summer resort. Hitting it's 19th edition, this festival is held twice a year, once around the 1st of May and the second one during August. I personally recommend going on the first or May for a true "Sunwaves experience". The one held in August tends to be way too crowded as it's in the middle of the summer and Romania's seaside is at full capacity.
Getting to the interesting part, Sunwaves festival has become a true Mecca for the techno lovers. It could be the huge names that have rocked the stages throughout the years. Or it might be RPR – Rhadoo, Petre Inspirescu & Raresh, backed by their own record label [a:rpia:r] that includes names like Ricardo Villalobos and DJ Sneak. RPR is the single best reason people are flying in from all over Europe and from far away places like Brazil as well!  And there's no doubt there's nothing fancier than chilling right on the beach when your legs need some rest from dancing. Have I mentioned how everybody's so very friendly?
Fun fact: last year (2015), Marco Carola played for 26 hours straight at Sunwaves.
[Later edit, after the festival] There has been a new record set at Sunwaves festival. Bill Patrick and tINI played back to back for a straight 31 hours set. Marco Carola tried to match its previous preformance but eneded up playing for "only" 21 hours straight.
But getting back to the Sunwaves vibe, as this crazy gathering is not about setting records, SW19 was a blast.
Its first night, which also was the most enjoyable, was opened by local Cristi Cons. Ricardo Villalobos followed and delivered an epic set that sent shivers down all of our spines as the sun was rising over the Black Sea.
Another set that is sure worth mentioning was by romanian DJ Rhadoo. He is not to be missed wherever he's mixing.
There's no exact schedule at Sunwaves. You'll get to see a list of who's playing when but that is barely followed. And that's a good thing. You're not going to the movies or a football match and you're definitely not in the army. Some DJs might play from dusk til dawn, some guest DJs might pop-up and deliver an unplanned back to back or some might extend their set for people are going crazy over that performance. I've seen them all and that's what makes Sunwaves Festival so great.
More info on the upcoming editions for 2017 on Sunwaves-fest.ro
Untold Festival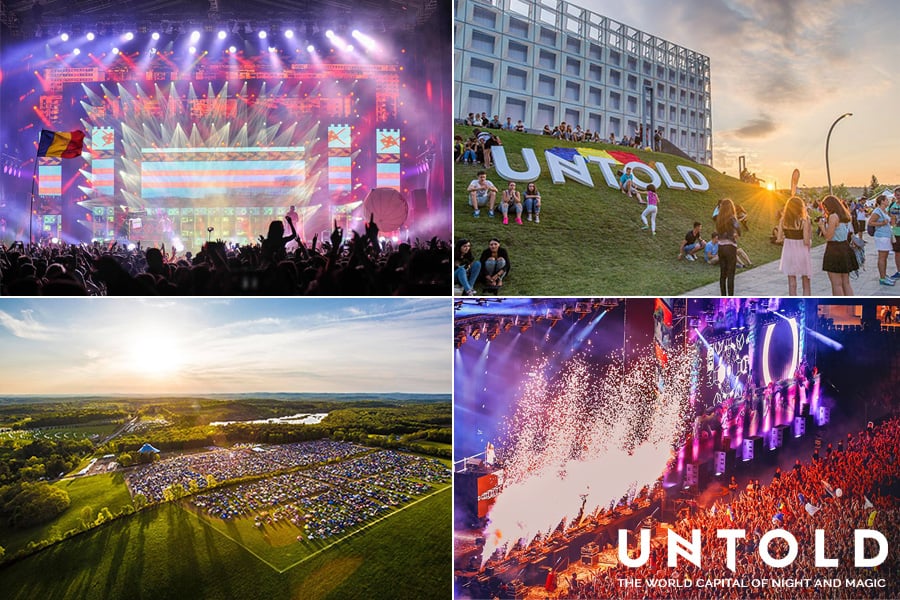 With more than 10 stages spread across Cluj Napoca city in the heart of Transylvania, Romania's biggest music festival is also Europe's Best Major Festival of 2015, as awarded at the European Festival Awards where it competed against well known festivals like Tomorrowland (Belgium), Szighet Festival (Hungary), Pinkpop (Holland), Rock Werchter (Belgium) or Exit (Serbia).
With well over 240.000 attendants and names like Avicii, Armin van Buuren, David Guetta, Dimitri Vegas and 50 other artists, Untold was Europe's heart of music from 30th of July to 2nd of August 2015. Expecting around 300.000 music lovers from around the world, the 2016 edition sounds like something you can't miss!
[Later edit, after the festival] Untold meant 4 magical nights for the 300.000 attendants from which 30.000 from abroad, making it the biggest Eastern European electronic music festival.
Skipping to the 3rd and most awaited day of the festival, on Sunday morning at around 2 am, Armin van Buuren took the Cluj Arena stadium by storm. He extended his set until 7 am in the morning, for the 80.000 people crowd kept on dancing.
People that were there (I wasn't) say that was the best day of the festival and they enjoyed it so much, the called it the Armin van Buuren Festival. Of course there's a lot more to Untold than the stadium stage, en entire city turned into a music festival playground.
One thing you should know, and why I didn't go to Untold is the fact that this is a mainstream festival. I don't want to put it in a bad light, no way, Untold is an amazing festival, especially for those who love the big names playing at it.
If you're interested, do check out untold.com, this year is going to be at least as epic as the two previous editions. Make sure to book your trip and accommodation in advance, as this festival is a true magnet to people from around the world.
Summer Well
Taking place in one of the most beautiful and well-preserved aristocratic domains around Bucharest, the Stirbey estate is opening its gates for alternative rock & pop music lovers on the 13th and 14th of August 2016.
Cool people in a fairy tale glade, chilling on the green grass, walking by the lake or adventuring in the park area of the estate, that's what you can expect at Bucharest's trendiest festival. Oh, and the music!
This year, The Chemical Brothers and Hurts are headliners, followed by other bands ready to make you sing along and have a great time in what will be an amazing weekend. You can stay in Bucharest and hop on the dedicated bus line available during the festival.
[Later edit, after the festival] Hurts and The Neighbourhood, the headliners of the 2016 edition delivered great performances, but Years & Years stole the show with the best performance of the festival.
The Stirbey Estate, with its forest glades and its lake offered many activities around the festival site, all within this green oasis. For the most adventurous people, there was a zipline across the lake stretching for over 100 meters – impressive ride. A chill area around a pool awaited, filled with comfortable bean bag chairs. If you wanted to escape the real world, VR sets were available with different games and experiences.
Everywhere you looked, everything was looking great, be it day or night. I noticed more upgrades since the previous edition. One of them being the fact that there were no dark areas after the sunset and everything was filled with cozy lights.
Another important improvement were the specially built alleys for the disabled. If you were in a wheelchair and wanted to enjoy this festival, most places were accessible thanks to a set of platforms installed throughout the estate. There was even a deck for disabled people with a nice view of the stage.
Regarding food, this can easily become a food festival. Restaurants from Bucharest sent their best chefs and everything was cooked on site. Burger vans and even cars modified to fit a pizza oven were present in the food area.
This year (2017), Summer Well will take place on 12 and 13 August. The bands announced so far are Interpol, Birdy, Metronomy, The Kills and more acts are to be announced. For more info, visit their official website: summerwell.ro
Electric Castle
Saving the best for last. Electric Castle is everything a festival should be simply because it offers an unforgettable, full experience!
From dark, indoor stages where DJs spin vinyls from morning to sunrise, to a pool where you can cool off in your swimsuit or a hammock area to chill and sip some wines, you cannot get bored at Electric Castle. Not enough for you? The food area is so vast you can easily get lost, offering from local and international cuisine dishes to pizza and snacks or delicious burgers. When the sun sets, the big bands take on the stages around the Banffy Castle and just rock the night.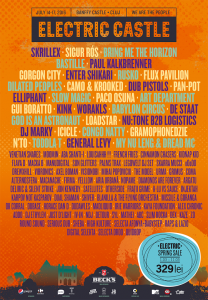 When it comes to festivals in Romania (but not only!), Electric Castle is setting the trends. Everything's set up to the tiniest detail. Not really an example, but a true fact was last year's edition, when it didn't stop raining for 3 days straight and all the green grass turned into thick wet mud but that only added to the magic vibe that was all around the electric castle.
What really matters the most and what makes Electric Castle so special is the way you'll feel throughout your attendance. Everybody's having a great time and that only adds up to the overall experience. I've met a lot of new people and had a great time with folks I didn't even know their names.
I'm not the only one feeling this way, and once you get there, you'll raise your expectations for music festivals, trust me.
Waha Festival
With its motto Music sounds freer in nature, Waha is the perfect festival for art, music and nature lovers. Taking place in a pristine forest in Covasna county between the 23rd and 26 th of July (2016), Waha awaits you with 4 stages (Deep Stage, Psy Stage, Alternative Stage, Chill Space) under the moonlight, where you can feel the music from AM to AM.
Search for a place to set up tent, be it under a tree's shadow or by the river and get ready to spend 4 days in the heart of nature, listening to music, dancing, attending different workshops, watching movies or join the biggest healing and meditating community, in the great outdoors.
As long as you love spending time in the heart of nature, amongst people alike, Waha is truly an experience you shouldn't miss.
[Later edit, after the festival] I just got back from Waha and honestly, I don't even know where to start.
I was already having a great feeling about it for two main reasons. I heard a lot of great stories plus I was going with some friends and some other friends were waiting for us there.
Waha Festival takes place near Micfalau, a small village in Covasna county, Romania. Just passing by it and the road takes us through pristine hills filled with imposing trees and unspoilt forests. The area looked so good, the air was so fresh that I got lost for a minute just before arriving.
Seeing a car coming our way, I rolled down the window and asked (in Romanian) if they know where the festival is. They smiled and pointed me towards it. It was only after our small interaction I realised they answered my question in English.
Arriving and leaving the car in the parking lot, a green grass area on a hill, we went on to find a spot to set up tent. The only way to get inside the festival area is through the forest. And what a forest!
The temperature was perfect, the smell was just nature at its finest. We walked for just a minute or two and there it was, a camp site like I've never seen before, nor realised something like this can exist. Hundreds of tents and hammocks spread as far as the eyes can see through the forest.
the food area by night is like nothing you've ever seen!
The tent was set and we were eager to find out why everybody's having such a big smile on their faces. In the valley, we first stopped at the food area and had a pretty tasty burger.
The food options at Waha are pretty varied, from meat to vegan, you'll surely find something for your taste. And while I'm still here, the food area by night is like nothing you've ever seen! It's like you're in a dream but fully awake. The time I spent there almost made me forget Waha is a music festival. Or is it?
The next few hours we walked around the different stages, from deep to psy to chill. Chills running down our spines were a common thing now. Sitting around bonfires listening to stories, then back to one of the stages and dance the night away.
Getting back to the tent as we were tired and a bit cold, we noticed how inside the forest, where most of the tents were, the temperature was still perfect.
The sleep I had those nights, in the tent, under those massive trees, I wouldn't trade that with any 7 star hotel room or penthouse anywhere in the world.
I loved it when the hot water at the showers was depleted. The temperature during the day was around 30-35° Celsius and a cold shower was the best thing to have. Each day, when getting out of that cold shower, right under the sun, I was saying to myself "born again".
The sunrise is yet another thing to experience at Waha, preferably at the Deep stage, as the valley it faces offers stunning views.
It was the third day there, I think, that we decided to explore the entire area, and the day I realised why not only myself but everybody else was always smiling. It was the feeling of getting back in touch with nature.
If you ever get to this festival, take your time and go down the steep valley to the two creeks that join together, its a 10 minute walk. I know you've thought about and pictured heaven, at least when you were a child. If you get there, you'll get to see it with your own eyes.
I don't know the exact number of people that attend the 2016 edition, might have been 10.000 or 15.000, or even more. The area is so vast it can easily accommodate twice or even three times as many people, without feeling crowded, without feeling less free.
Yes, this is more than a music festival, even though i've witnessed some sick goosebumps-inducing sets. I'd say Waha is a festival for the soul, above all, and I'm pretty sure folks that attended agree.
You'll want to walk around barefoot, you'll want to sit back on the grass and just look at the sky, you'll want to visit that creek valley I mentioned and see for yourself. And after all this, trust me, you'll want to come back.
Another great thing about this back-to-nature festival is that you won't have a cell network, so you can leave your phone along with your problems, in your car, in the parking lot. Magically, as this is not something that was planned, as soon as you leave the parking lot and head to the festival grounds (which is only 5 min away), you'll lose your cellular connection. And you enter a stress-free zone.
Lastly but not least, Waha is the cleanest festival I've ever been to and I've been to a lot of them all around Europe. It is so because almost everybody is so conscious about it. If nature offers us such an amazing place for such an amazing experience, why not give back and at least take care of it. So make sure the place you've camped, danced or ate are spotless when you're leaving. And hug a tree on your way out.