Any person who values scenery and cultural heritage will be swept off their feet by Maine. Famous for its stunning shoreline, secluded beaches, marine legacy, New England style, myriad of lighthouses, and welcoming villages, Maine is nestled in the northeastern-most area of the state, surrounded by New Hampshire, Canada, and the Atlantic Ocean.
Ok, we agree this was a lengthy and by no means complete list, but the Pine Tree State has plenty to choose from. If you can bear waking up just before sunrise, we vouch for jaw-dropping images forever stored on your mind or SD card.
From cheerful Mainers living in quintessential towns along the jagged coastline to snow-covered farms, it's difficult to find another spot in the United States with such a diversity of natural allure. Maine is brimming with enchanting and quaint villages just begging to be discovered and adored.
You will embrace the state's unique features, the tranquility of the lakes, the fragrance of pine in the forest, and the brisk pace of life for the majority of its inhabitants, but most significantly, you will cherish the sense of peace that comes when being there.
Artists seeking magnificent vistas will find their muse in the countless, unspoiled islets of the coast, while those craving sweets will go nuts because of the blueberry pies. And, of course, one cannot overlook the lobster, a necessary component of any visitor's meal.
Without a doubt, Maine is not lacking in adorable, tiny villages either. Its untamed scenic habitat serves as the ideal background for charming towns around the state, but some communities go above and beyond to spice up the bewitch level. Nevertheless, should you actually reside in Maine?
Why Live in Maine?
Dwelling in big cities has its advantages, including the opportunity to get meals delivered to you 24/7 and connect directly to a range of work possibilities, museums, and other attractions.
However, sometimes all this toing and froing may become overwhelming, and following two years of social isolation, many individuals have chosen to abandon the frenetic pace in favor of tiny villages' serenity.
The small-town lifestyle has never been more appealing than now. But, a relocation to Maine is not only a decision; it is a calling! The state has long been a fascination for people seeking a dynamic yet relaxed lifestyle.
You'll find it all here: friendly neighbors, small fairs, gorgeous main streets lined with beautiful local shops and eateries, and spectacular panoramas overflowing with every recreational pastime imaginable. There will always be something enchanting about the small-town atmosphere that instantly puts people at ease and makes them feel right at home.
When we consider the factors that contribute to our happiness, we frequently take into account financial stability, health, safety, and relationships. Maine's well-being has been named among the highest in the country as a result of these features. It is known for its economic homes and low living costs in comparison to surrounding states, but also has some of the country's lowest violence rates.
Apart from the fact that Maine is one of the healthiest states to live in, it is also known for having some of the best air in the country because of all the pine trees. This makes it a great place for people who have respiratory problems.
More interesting facts about Maine?
Well, did you know that Portland is one of the most eatery-rich communities in the U.S. and that Coquine and Eem, two of the nation's most thrilling restaurants, can be found there?
If you have never encountered a moose, coming to Maine is an excellent opportunity to do so. Maine has the largest moose concentration of any state in the Lower 48. Alaska did beat Maine though. Sorry, Maine, we still love you!
Have you ever seen a Maine Coon cat? Or at least in a picture? If not, it's worth checking into. Proceed, we will pause. The cute feline is Maine's official cat, so you can expect to see big, fluffy cats when you arrive in the state.
That being said, we cannot help but wonder which of its picturesque villages is the most endearing. It was challenging to whittle it down, but we believe we've selected the cream of the crop, the most pleasant of all the pleasant, the state's 20 most enchanting spots.
Put away the Maine Coon Cat videos and concentrate! These are the 20 best places to live in Maine:
20. Auburn, Androscoggin County
Population: 23,410
Median Income: $45,279
Median Home Price: $229,400
Median Age: 39
Cost of living: 13.5% lower than U.S. average
Whether you want a lively center or a quiet suburb, Auburn can provide a diverse range of options. The city proposes high-quality education, public transportation, restaurants, shops, employment possibilities, as well as entertainment, cultural activities, and local festivals.
Auburn values its inhabitants' wellbeing and is constantly working to make its community one of every possibility. This model town is the perfect setting for people wanting access to Main's first-class living resources while also embracing the perks of a modern city.
19. Brewer, Penobscot County
Population: 8,948
Median Income: $51,216
Median Home Price: $223,700
Median Age: 40.3
Cost of living: 13.6% lower than U.S. average
Every Brewer resident may be grateful for this village of care, which boasts a strong educational system, an efficient municipal administration, vibrant companies, and, therefore, most essential, its inhabitants.
With a particular society centered on hardworking men and women who value their homes, neighbors, and religion, Brewer is a fantastic area to call home. Moreover, the town is confident in its most up-to-date health and safety facilities, fine arts complex, and a plethora of historical landmarks.
18. Rockland, Knox County
Population: 7,183
Median Income: $41,095
Median Home Price: $203,500
Median Age: 46.4
Cost of living: 18.0% lower than U.S. average
After some moments in Rockland, you're likely to wonder: why wouldn't I move here? The archetypal small town on Maine's rugged and picturesque coastline combines a wide range of activities and sights, spectacular harbor vistas, and excellent food all inside a lovely village.
It is also one of the largest lobster exporting centers in the world, so the next time you eat a delicious lobster, consider that it may have originated in the world's lobster Mecca, aka Rockland.
17. Hallowell, Kennebec County
Population: 2,385
Median Income: $51,346
Median Home Price: $275,100
Median Age: 44.8
Cost of living: 10.3% lower than U.S. average
Although diminutive in stature, Hallowell is brimming with charisma and wit. The village's history is inextricably linked to the Kennebec River as a leaf is to a tree. But here, the air smells of nostalgia, which may reflect why Hallowell was, for several years, the antiquing center of Maine.
Walk down Water Street, the town's major thoroughfare, and you'll come across dozens of outstanding food establishments. As for the Hubbard Free Library, it is housed in the state's oldest library structure and is still in use nowadays. It was designed in 1800 to resemble an old English church.
16. Belfast, Waldo County
Population: 6,708
Median Income: $34,205
Median Home Price: $233,600
Median Age: 46.8
Cost of living: 8.0% lower than U.S. average
Belfast flourished in the 19th century after being established by Europeans in the 18th. The town's architecture definitely reflects this, with great sea commanders' mansions sitting impressively in lush areas, while the center is characterized by elegant brick structures.
These historic downtown properties are now homes and studios for a slew of the area's artists and entrepreneurs. The variety of creative options available here is unmatched, whether you're looking for outdoor activities, a diverse selection of arts, an intriguing eating scene, one-of-a-kind shops, or antique gems.
15. Gorham, Cumberland County
Population: 17,962
Median Income: $74,563
Median Home Price: $398,600
Median Age: 38.2
Cost of living: 7.5% higher than U.S. average
Located 10 miles west of Portland, Gorham is a pretty village with the blessings of old edifices and mesmerizing art. As a community-minded place, its inhabitants host periodic events encouraging comfort and wellbeing. The vibrant downtown area and gorgeous nearby surroundings undoubtedly aid in those endeavors.
Nestled near Lake Sebago, Gorham also boasts a wide array of leisure options and is home to a campus of the University of Southern Maine.
14. Westbrook, Cumberland County
Population: 19,267
Median Income: $45,041
Median Home Price: $360,100
Median Age: 41.7
Cost of living: 0.4% higher than U.S. average
Originally dubbed Saccarappa, after a local cascade with the same name, Westbrook is a welcoming blend of natural beauty and man-made architecture. As the Presumpscot River snakes its way through the city, there are a lot of riverside facilities spread out across the downtown area.
Moreover, because fresh artists and companies have settled in the village, Westbrook's main street has been flourishing lately. Living in Westbrook means having endless access to great amenities while simultaneously experiencing a calm, secluded lifestyle.
For a delicacy, indulge in handcrafted chocolates produced with local, organic ingredients at Black Dinah Chocolatiers, or take a tour of Haven's Candies, which has been manufacturing saltwater toffee, candies, and other temptations since 1915.
13. Kennebunk, York County
Population: 11,706
Median Income: $72,489
Median Home Price: $482,800
Median Age: 51.3
Cost of living: 12.5% higher than U.S. average
Kennebunk is a picturesque coastal village located in southern Maine. It became famous as the summer residence of former President George H. W. Bush. However, this captivating town is so much more than that.
Kennebunk includes all of the elements required for a good standard of living: outstanding education, a reduced crime rate, excellent beaches, parks, rivers, and friendly locals. If that's not enough, it is densely packed with distinctive architecture, small shops, art galleries, and a broad set of eateries.
And let's not lose sight of the fact that in 2020, US News & World Report rated Kennebunk High School as the second-best high school in Maine out of 125.
12. Brunswick, Cumberland County
Population: 20,619
Median Income: $55,833
Median Home Price: $379,900
Median Age: 43.8
Cost of living: 3.3% higher than U.S. average
One word that we believe accurately describes life in Brunswick is endearing. If you wish to live an enchanted existence in a place where there is so much to do but also a splendid area to start a family, give Brunswick some thought.
This town's allure arises from various factors: a legacy of prosperous shipbuilders and industrialists; a prestigious college; a lively main street; and vibrant scenic surroundings, which come together to promote the city's energetic vibe.
11. Bath, Sagadahoc County
Population: 8,335
Median Income: $41,062
Median Home Price: $222,900
Median Age: 40.7
Cost of living: 10% lower than U.S. average
Likewise characterized as "The City of Ships", Bath has tree-lined avenues filled with samples of both humble and spectacular traditional American buildings. The 19th-century brick houses and small alleys have the magic of childhood revived, a relaxed pace, and a welcoming strolling ambiance.
If you've lived in the city, we believe you'll value the feeling that wilderness is a piece of Bath. It is densely forested and near to beaches, so it offers more than enough walking and running trails. Moreover, whether tucked behind a historic structure or facing the Kennebec River's icebergs, Bath's restaurants tend to attract top chefs.
10. Portland, Cumberland County
Population: 66,803
Median Income: $45,865
Median Home Price: $434,800
Median Age: 36
Cost of living: 8.2% higher than U.S. average
Portland, with its explosive blend of creative and outdoorsy experiences, is trendy and polished while remaining authentic and unfussy, a combination of two contradictory benefits. And, beneath the cutting-edge technology, glitz, and gourmet scenes, lies a strong sense of consistency.
Even though the city is a conglomeration of old coastal neighborhoods, lighthouses, cozy pubs, artisan communities, celebrity chef restaurants, vintage shops, street entertainment, and nightlife, it is infused with a "do it yourself" ethos. Therefore, don't be shocked if a resident promises to give you vegetables from a collective garden, home-brewed beer, or crocheting lessons.
We should also mention that Portland boasts the state's most youthful population.
9. Bar Harbor, Hancock County
Population: 5,594
Median Income: $49,233
Median Home Price: $433,000
Median Age: 44.3
Cost of living: 14.8% higher than U.S. average
Set on Mount Desert Island in coastal Maine's Hancock County, Bar Harbor is considered the entrance to Acadia National Park, one of New England's most famous sights. The College of Atlantic, a few significant biotech enterprises, and a plethora of architectural, artistic, and scenic treasures are located here.
And if you fancy science, you'll notice Bar Harbor is home to a large number of savants, whether they are biological researchers, astronomers, social scientists, or geographers. Bar Harbor is also hosting some of the finest dining establishments in Maine, each providing unique tasting menus.
8. Farmington, Franklin County
Population: 7,623
Median Income: $36,429
Median Home Price: $172,600
Median Age: 36.7
Cost of living: 11.4% lower than U.S. average
Farmington is a bustling college community nestled in the wooded hillsides of western Maine's rocks. Thus, it is also an excellent starting point for out-of-the-house pursuits. Much of Farmington's center has been restored into wonderful small boutiques, galleries, and eateries.
Visit the SugarWood Gallery, which showcases the artwork of many artists and craftspeople, and also Twice Sold Tales, a long-established local bookstore. Farmington, being the western hill's capital town, is of high standing among adventure addicts. Whether you're in town for a fair, a short trip or to find a new home, you can't go wrong.
7. Saco, York County
Population: 20,121
Median Income: $52,611
Median Home Price: $371,400
Median Age: 42.2
Cost of living: 3.4% higher than U.S. average
Saco is the state of Maine's earliest documented village, located near the Canadian frontier. This charming spot is a strategic advantage for children and families. Ferry Beach State Park features a beautiful seaside shoreline, recreational paths, and a unique northern growth of black gum trees.
Young trekkers will dig the Saco Bay Trails, a series of tracks that wind through the sea. Visit the prized Saco Museum, take a stroll through the historical area, or pick up a book in the Dyer Library. Saco residents identify themselves as extremely educated people, with 38% of inhabitants having a bachelor's degree.
6. Freeport, Cumberland County
Population: 8,633
Median Income: $72,526
Median Home Price: $536,800
Median Age: 46.6
Cost of living: 16.1% higher than U.S. average
Freeport is nationally recognized for plenty of high-end outlets and independent shops situated in lovely brick structures, many dating back to the 18th century. Residents used to earn their fortunes from fishing and shipbuilding, hence the harbor and sailing club were established on the former sites of those endeavors.
Besides first-rate shopping, Freeport also provides exquisite regional cuisine, a bustling craft beer culture, and a broad array of leisure pursuits for all generations and preferences. Due to a variety of factors, Freeport is an excellent choice for couples with children, being a peaceful town.
5. Scarborough, Cumberland County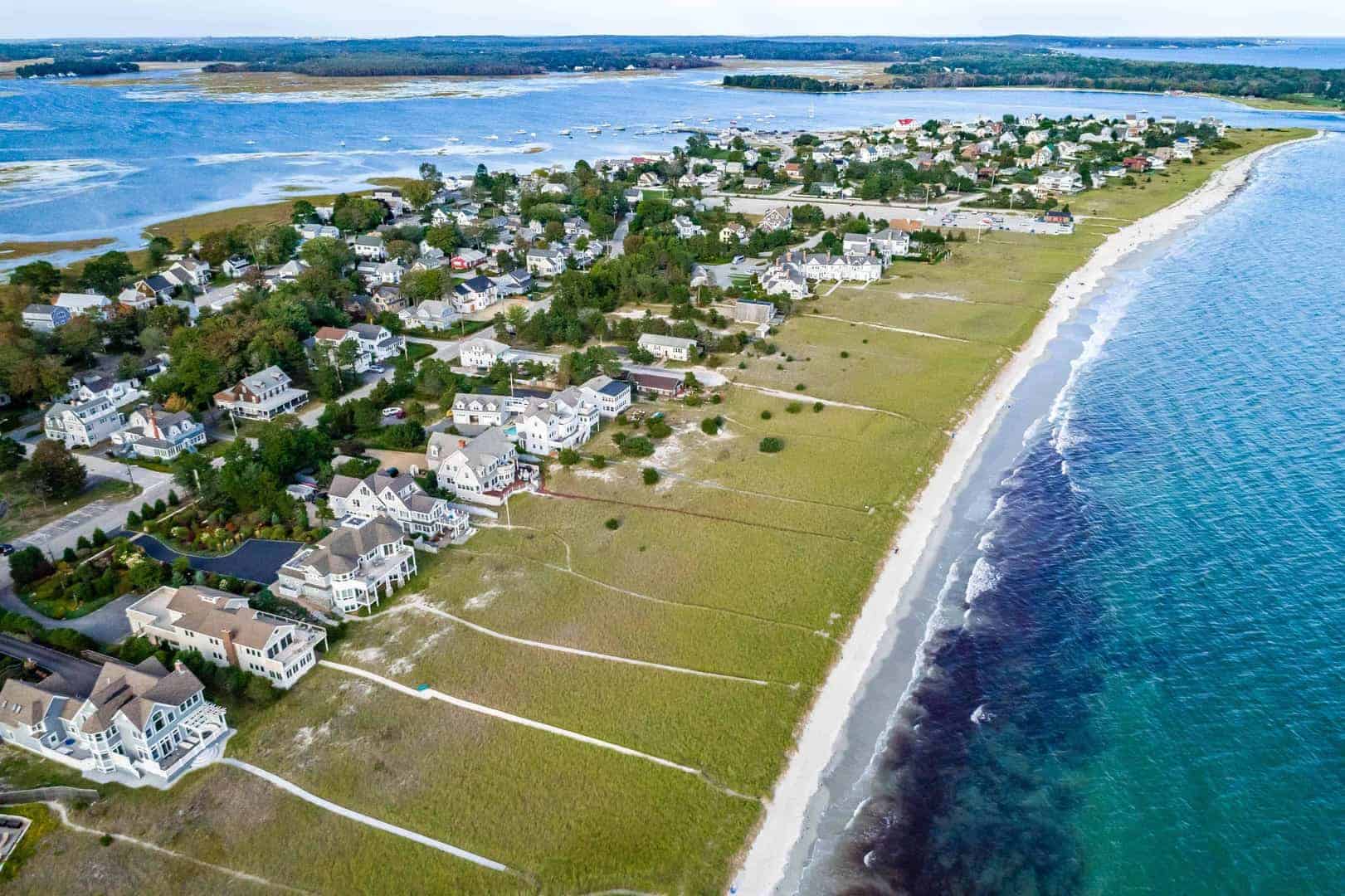 Population: 21,527
Median Income: $78,359
Median Home Price: $539,800
Median Age: 45.8
Cost of living: 43.5% higher than U.S. average
One of Maine's quickest developing villages, it is a top family and economic area and a magnet for nature aficionados. This seaside community's principal assets include its wide pristine beaches and sand, as well as miles of marshes. Being nearby to all that Portland has to offer, you might discover that whatever you want for an excellent lifestyle is already there.
Bird gazing is quite renowned in Scarborough, thanks in great part to Scarborough Marsh, a 3,100-acre wetland where people relish discovering the Dunstan River and birders gather to observe a diverse array of fowl and other wildlife. Apart from open-air fun, there are several leisure possibilities.
4. Yarmouth, Cumberland County
Population: 8,602
Median Income: $74,014
Median Home Price: $605,500
Median Age: 49.4
Cost of living: 25.5% higher than U.S. average
Yarmouth was not formed until the mid-19th century, but the territory had been occupied for two centuries prior. During that period, the region was identified as North Yarmouth and was occupied by Native Indians who were drawn to the ocean and its abundant resources.
Though ship manufacturing was the primary driving force of commercial expansion and subsequent progress in the area, Yarmouth is now a vibrant town and one of the state's most popular vacation sites. Not only does it have a rich tradition and cultural identity to impart to the globe, but it also serves as a wonderful portal to the Atlantic Ocean and other nearby outlying locations.
At the peak of summer, it is great for group barbecues and observing kayakers and sailboats. People who live in Yarmouth are welcome to enjoy the benefits of small-town living and explore the many recreational areas in the region.
The town's vision is to create a pedestrian village with streets, sidewalks, and paths that connect residents to parks, outdoor areas, and business districts.
3. Falmouth, Cumberland County
Population: 12,440
Median Income: $99,324
Median Home Price: $660,500
Median Age: 46.7
Cost of living: 33.0% higher than U.S. average
Falmouth is a landmark community set along the shores of picturesque Casco Bay, just north of Portland. In fact, you may be able to spot the dazzling city lights in the background while concealed in the serene solitude of the rural shoreline.
As depicted in some of Stephen King's works, the stunning coastline area across the side of the Presumpscot River is home to numerous excellent panoramic spots ideal for reconnecting with nature. When driving around Falmouth, the next thought that comes to mind is its quaint main street, Town Landing.
For a small village, Falmouth boasts a plethora of food alternatives. Famous eateries are the Foreside Tavern & Side Bar, which is ideal for a memorable evening out, and the Dockside Grill, which pairs superb food with a spectacular view of the bay. The Town Landing Market is a tiny grocery shop and a popular spot for a quick meal.
2. Cumberland, Cumberland County
Population: 8,298
Median Income: $102,300
Median Home Price: $549,000
Median Age: 41.9
Cost of living: 21.8% higher than U.S. average
Only a drive away from urban cities with first-rate shopping, arts, and food activities, but still profoundly entrenched in Maine's unspoiled natural glory, one could claim that Cumberland offers the perfect combination. Located just 11 miles south of Portland and 11 miles north of Freeport, you might easily find yourself in the heart of all the fun.
Nonetheless, what truly distinguishes this tiny village is its genuine vibe and proximity to wildlife. Cumberland feels good about being a people-oriented town that is also among the safest in Maine. Another attraction of this place is the Cumberland Fair, one of the state's largest agricultural exhibitions, which has been hosted every year since 1868.
1. Cape Elizabeth, Cumberland County
Population: 9,322
Median Income: $98,438
Median Home Price: $684,200
Median Age: 50.7
Cost of living: 26.1% higher than U.S. average
The spectacular shoreline, the artistry of a small town, the mesmerizing backdrop due to salty marshland and rugged beaches, as well as its proximity to an attractive city like Portland, convinced us to award Cape Elizabeth first place. Slow down, take a closer look around, and soak it all in.
Cape Elizabeth is a verdant, charming village located near Portland on the Casco Bay shoreline. Home to the stunning Fort Williams State Park, the scenic Portland Head Light, the world's most recognized lighthouse, and miles of coastline, Cape Elizabeth is highly regarded as a premier tourist destination, but is also a year-round residence, with popular beaches and an amazing educational structure.
Residents enjoy an upmarket yet easygoing existence due to the low crime rate, direct connection to the coast, and peaceful areas. Both The Inn by the Sea and The Good Table serve exceptional food. This quiet village is more than its appearance, however. Cape Elizabeth is outgoing. If it were a person, it would be the one who tells jokes and has a lot of fun.
Conclusion
For better or for worse, our lives have changed. You could have given your word two years ago that you'd never abandon the big metropolis and all of its undeniable perks. Still, you read this article.
You may have already begun preparing gradually to make that previously inconceivable shift a fact. And we really hope our report has come to your aid.
For more interesting places to live in, check out Maine's only neighboring state from the US: New Hampshire.
Video