There are plenty of places that get a bad rep despite the fact that they are really not the worst on the map. While many would instantly assume that these places are desolate, populated by nothing but hostile winds and monstrous predators, there are still beacons of life everywhere you look.
One such place is Alaska, also known as the "Last Frontier" because many believe that this is by far one of the harshest places to live in on this planet.
While obviously in comparison, Alaska is a lot harsher of an environment than let's say New York, this doesn't mean that it is completely uninhabitable. Instead, there are plenty of places to visit here and even live in if you want to get the true Alaskan experience without your life being in danger.
So, in honor of the frozen land's might and glory, we will be presenting you today with 20 of the absolute best places to live in Alaska. As mentioned previously, this is not the perfect land to inhabit, but it's not the worst either.
So, without further ado, let's start off with our number one pick of the day.
Anchorage
Anchorage is by far one of Alaska's most popular cities, mainly because of its insanely large population scale. You have over 300,000 people living here, which makes up around 40 percent or so of everyone in the state.
This is where you'll find the state's military and most importantly this is one of the top places in terms of tourism attractions because of how much it offers.
Essentially you have a ton of cultural key points of Alaskan history over here, and it all starts off with the wondrous Iditarod Trail Sled Dog Race. Definitely a great site to visit and even live in if you're looking for a permanent relocation.
Fairbanks
There is a reason as to why this is known as the "Golden Heart City", and as you can already tell by now it doesn't have anything to do with the harshness of the place. Instead, the Golden Heart City is one of the top cities in the Alaskan state in terms of both tourism and quality of life.
Why? Because this is where you'll find several of Alaska's top selling points, including the University of Alaska Fairbanks, a national beauty of a botanical garden, multiple parks scattered all across the city and of course, the famous winter sports tourneys which you can participate in even if you're new to them.
Overall, this is a great place to live in, and although it can get quite harsh this doesn't mean you can't still enjoy life as you sip on a hot cocoa drink and you ski your way to a prize.
Juneau
Juneau is special because it essentially runs on its tourism and fishing expenses. This means that they have put all of their budget into making sure that the city is as clean as it gets, and as attractive to newcomers as possible.
So, while you're here you absolutely must visit the University of Alaska Southeast and if you're close enough, we highly recommend visiting the Perseverance Theater too as it's the only professional theater you will ever find in the state.
Not only that but you also get a median income of $80,000 per family and you also get the best healthcare that the money can buy here.
Ketchikan
Ketchikan's name comes directly from one of its top touristic attractions, aka the Ketchikan Creek which attracts thousands of people every month to come and see it with their own eyes.
Overall, the main source of money from this city comes from its tourism, government services and of course, its fishing, because what would Alaska be without its fishing right?
They went so far as to actually have themselves be nicknamed as the "Salmon Capital of the World" because of how world-renowned their fishing skills and cooking is.
While here you absolutely must visit the Misty Fjords National Monument and the Tongass National Forest. If you happen to be a student we would recommend going to the University of Alaska Southeast-Ketchikan too as this is most likely where you'll spend most of your days.
Badger
While there may be way fewer people inhabiting Badger, this also more than makes up for it with the quality of living here. The site is located right in the dead center of Alaska, and as opposed to every other part of the state, less than 20,000 people live here with a total median income of $85,000 per family.
Considering the fact that a house here costs you around $200,000 or less, you shouldn't have a problem with getting your hands on a very good piece of property here, and while you're at it you should also check some of the local attractions as there are plenty to choose from.
We recommend going to the big-city attractions from Fairbanks while you're at it, the city is only a couple of minutes away and it's worth every penny you spend there.
Kodiak
As you can already guess by now, Kodiak is yet another one of the cities in Alaska that actually prides itself with its fishing. This is the cornerstone of their economy after all and it truly shows considering just how much love and care they put into the sport.
Not only that however, they also are famous for their hunting sessions during which they'll go after elks, black-tailed deer and of course, the Kodiak bear from which stems the name of the city too.
You can visit the University of Alaska Satellite Campus and while you're at it don't forget to take a gander at the Province Kodiak Island Medical Center where you can find some incredible sights to say the least.
Sitka
Here in Sitka, you can really find yourself some of the most beautiful houses you'll ever see. On top of that you can get to take a look at some of the most famous sites in the state, including the Alaska Maritime National Refuge and their prized Sitka National Historical Park.
If you like seafood or working with seafood then you need to relocate in Sitka asap because this is their main source of income.
You can get to the site by boat or plane, and you have access to two hospitals and a university if you're a student or a student in the making.
Seward
There are less than 3,000 people in Seward, but despite what it looks like this isn't because it's uninhabitable by any means, quite the contrary actually.
The main reason behind their low numbers is because they are focusing a hundred percent on their seafood port sales. This means that if you want to make a living here you will need to work in the seafood industry otherwise you're going to be homeless in no time.
You have the Obihiro Park and the US Coast Guard installation and on top of all of that, you have the best seafood money can buy.
College
There are roughly around 13,000 people inhabiting College, but despite its name most people here are around 30 years old or so.
Buying a house here is a bit more expensive, ranging around $230,000 to $250,000, but it's definitely worth it because of how beautiful the site is as a whole.
On top of that, you have the University of Alaska Fairbanks campus which you can find plenty of touristic avenues in including its theater which hosts many different cultural attractions, events and even concerts.
Petersburg
Petersburg is a beautiful place and quite a cheap one to live in as well. You will be greeted by the 3,000 residents, but if you hate tourists then stay away from Petersburg as it is full of them every day of the week.
This is because it's one of the most popular touristic sites in Alaska, which is also due to its cruise ship events and the fact that it is literally an island which many people have on their bucket list.
Overall, it's yet another great site for fishing and if you love the sport or you want to learn the ropes around it there's no better place to start than Petersburg.
Gateway
There are around 5,600 people currently living in Gateway, and despite the fact that it is a much more rural site in Alaska than you'd think, it still attracts thousands of tourists every month to see what it has to offer.
If you wish to be one of those 5,600 people you should know a house here costs you roughly around $271,300 which may be a bit more expensive than you'd like, but it's worth every penny because of how good the job offers are here.
If that wasn't enough to get your heart going then you should know than Gateway also offers some of the best public schools in the world. Couple that with its low crime rates and you already know the fact that this is one of the best places to live in from Alaska.
Ester
If College seemed like a good choice to you but it just seemed to be a bit too expensive to buy a house in why not settle for the bordering city of Ester? You can buy a house here for less than $193,000 for the most part and you will quickly get to see just how much this little city has to offer while you stay here.
The city's community is known for its gardening skills, so if you're one of the green finger enthusiasts out there then we highly recommend you move in Ester for some of the best services you can get.
Ridgeway
If you have a lot of money and you want to get the best for yourself and your children, then we highly recommend Ridgeway.
A house here costs around $385,000, although what you get isn't exactly normal to say the least. Here you can get yourself a 5-bedroom, 3-bathroom home with a massive garden that you can customize to your own will.
While they can be quite expensive, they are worth every penny as the houses here are some of the coziest and most beautiful that you will find in the whole country.
Soldotna
If you like spending hours outside, just walking around taking in the fresh air then there's no place like Soldotna, especially considering it houses the Soldotna Creek Park, one of the most relaxing and picturesque places in all of Alaska.
On top of that you can rest assured knowing that the crime levels in Soldotna are well below national average and you have plenty of public schools to choose from for your child which means you'll never be forced to enroll them in a school that's too far away from where you're located.
Lastly, you also get some of the best job opportunities on the market, even if you don't have any experience, you can still start off well here, getting the best treatment around for you and your family alike.
Kenai
Kenai is one of the most beautiful and picturesque places in the world, and if you're a fan of salmon fishing, you'll find the site perfect for you and your family as it's known for its incredibly rich history in the sport.
The median rent here is less than $900 a month and on top of that you get access to the Kenai Municipal Airport which will take you anywhere you want at any time. It also boasts a very low crime rate so you can be sure that your family and children are safe as sound wherever they go.
Palmer
If you want to spend a relaxing evening just enjoying yourself in your solitude then Palmer is perfect for you. But that's not all, if you're looking for adventure beyond belief, you'll find the Chugach State Park just a couple of hundred meters away where you'll be able to party to your heart's content for as long as you'll want to.
On top of that rent here costs barely over $920 per month, so there's no reason as to why you wouldn't pick Palmer as your dream destination next time you get that hard-earned vacation rolling.
Kalifornsky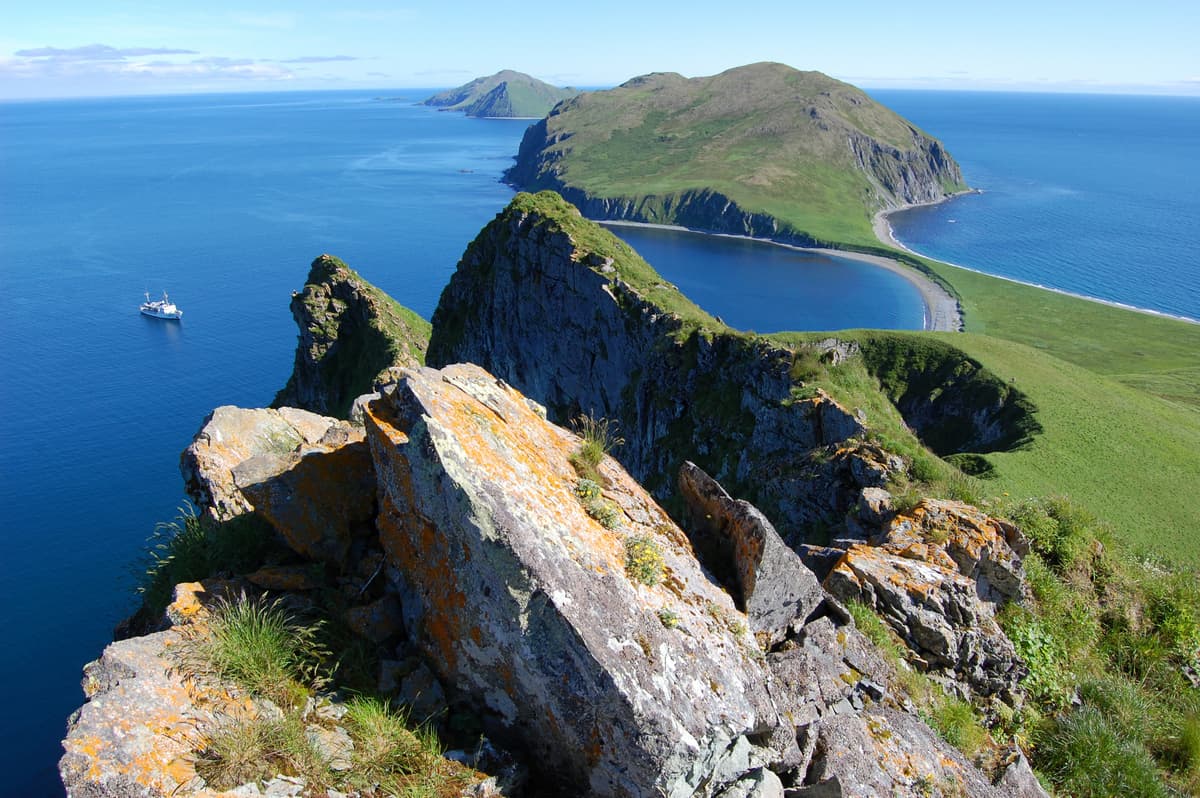 Rent here is a bit steeper up the ladder, with the price per month usually passing by at around $1,141, but that's just because most of the people here actually own a house instead of renting one, that's 78% of people all around the city.
But that's not to say that you can't rent out a place for the month, not in the slightest. You also get access to some of the best public schools in the world too, where you'll find well over 2,000 children attending.
North Pole
Funny enough, this isn't the North Pole that you're thinking of right now. Instead, you're looking at the North Pole that can be found alongside Route 2, a place that has literally become known for using this common mistake to their advantage by turning it into the Christmas capital of the country.
That's right, here you'll find Christmas decorations all year round, and on top of that you will also find the famed Santa Claus House to visit with your children.
You can get yourself a decent 2-bedroom family home here for around $139,000, coupled with a massive garden and of course, your very own driveway. Definitely a good choice even if you're not big on holiday celebrations.
Tanana
While rent here may be one of the more expensive choices you can get, it's worth every penny simply because of hour incredible the conditions are.
This area is said to be one of the most impressive in all of Alaska, mainly because it is filled to the brim with Millennials. This community has already started building itself up to the point where many would argue it's one of the best cities in all of Alaska and they wouldn't be too far from the truth.
Just make sure you have the budget for the house and you'll see that within the next five years or so the prices will increase and the living conditions will be skyrocketing to say the least.
Abbott Loop
With close to 40,000 residents in total, the people in Abbott Loop know exactly how to sell the might of their neighborhood, which is why it's one of the most popular sites in all of Alaska.
Buying a house here is rather affordable, sitting at around $238,652, which may sound like a lot but considering the fact that the average income per family household is of $93,973 it shouldn't be a problem for anyone.
On top of that it has a very low crime rate and a very friendly community all around. If you're looking for a nice and quiet neighborhood to spend your life in then Abbott Loop is definitely one of the best choices you can make.
Conclusion
While there are plenty of people that try to taint the image of Alaska, making it seem like an uninhabitable wasteland full of nothing but cold and despair, the place is actually filled to the brim with opportunities, comfort and reasonable prices.
Check in with the cities that seemed the most appropriate to you in this listing and while you're at it be sure to visit them as well because after all, no number of words will ever convince you as much as you own eyes can.