There is a huge discrepancy between the number of people that want to visit North Dakota and the number of people that want to live here.
That is to say, North Dakota is one of the least visited states in the US, but when it comes to actually moving in there, you may be surprised by just how many people are interested in the deal.
This is because while there aren't too many attractions per se, North Dakota's stunning small towns come with their own fair share of unique culture and historical value, to the point where it's impossible to not get sucked into the hype behind each and every small town.
So, in order to celebrate this unique and charming array of towns, cities and villages, we decided to bring you a top 20 list of the best places you can live in North Dakota. So, let's just start off with:
20. Dickinson
One of the main reasons as to why Dickinson is on our list is because of how amazing the community is here.
That may sound surprising to some, but it is a fact that a friendly and welcoming community can really make or break a place, and this definitely applies to Dickinson.
So, while we can excuse the fact that the schools are not exactly the best in the state, what we can say about Dickinson is that they have some reasonably low crime rates, affordable housing and some amazing commuting distances that you will definitely come to appreciate.
On top of all of that, Dickinson also offers you plenty of outdoor pursuits which are sure to make your day all the brighter and your body healthier than ever.
19. Minot
The Minot Airport is one of the many reasons why so many people move into the small town of Minot.
From here you can easily fly to Denver, Las Vegas, Phoenix or Minneapolis, and while there aren't a ton of things to do here, you can still enjoy yourself taking part in exploring your surroundings and playing around in the local parks.
The job market is also thriving and you can land yourself a really good home for less than $200,000, which is always a plus in our book.
18. Lisbon
The small town of Lisbon was first founded by Joseph Lynn Colton around the year 1880, as a massive hub for the Northern Pacific Railroad.
The town's proclivity for preserving its historic homes and structures has thus led to it becoming one of the most culturally significant places in North Dakota.
But if a history lesson isn't what you're interested in, you'll be happy to hear that Lisbon also host plenty of concerts, community plays and events that are sure to entertain both you and your family.
Sandager Park can also be found here alongside the Sheyenne River which is full of campgrounds and pools.
17. Williston
Williston checks off all the boxes for being one of the best places to live in while in North Dakota. First off, it is the homeplace of the ISN Airport, which can easily take you anywhere you want, from Denver all the way up to Minneapolis in the blink of an eye.
The public school system is nothing to shun at here either, and on top of that the crime rates are very low, so you never have to worry about your safety no matter what time you go out for a stroll.
Williston doesn't really excel in anything, but it does make for an affordable place to live in with the added benefit of the airport being so close and of course, the list of amenities that make living easier.
16. Jamestown
This historic town can be found in-between Bismarck and Fargo, and ever since its inception in 1872, Jamestown became known as the "Pride of the Prairie" by most of the locals.
So, if you want to get a history lesson, you can always go through Jamestown's Frontier Village, a recreation of the older times' prairie town, based on the beautiful novel known as "Writer's Shack" by Louis L'Amour.
While you're settling down, we also recommend that you check out the world's largest buffalo monument and the National Buffalo Museum if you want to take some amazing pictures to show off on Instagram.
15. Devils Lake
If you're a fan of angling and watersports then chances are that you already know about Devils Lake. That is because the town is spread across 160,000 acres, having the largest body of water in the entire state at its disposal.
Devils Lake is known for its record-breaking fish catches amongst all the other outdoor recreational activities you can partake in, but even if you are not the biggest fan of fishing, you can still take in the scenery by simply spending the night over on the Graham Island.
The Lake Region Heritage Center is also a great place to check out if you want to move in here, because you'll never run out of steam exploring it.
14. Mandan
Mandan is the perfect hotspot to move to if you are a Millennial looking to own your very first home. This is because it is located by Highway 94, making it a perfectly adequate Bismarck suburb that comes with the full package of attributes you can expect from one.
For example, you could just start renting a place here for as little as $760, or you could just purchase your dream home for a very affordable price tag too.
The nightlife makes this place worth living in also, and let's not forget about the plethora of shops that can be found alongside the Missouri River that are always ready to give you the best deal.
If you enjoy fishing, you'll also love Mandan, and while the cost of living is a bit on the higher end, as long as you can cover that you'll be happy to live the rest of your life here.
13. Lincoln
Lincoln is located very close to the Bismarck Airport, which is already a huge plus for the locals here. On top of that though, more than 97% of the people here live in their own homes, which isn't all that surprising considering the fact that renting a place costs as much as $1,150 here.
So, if you want to add yourself to the 4,200+ residents that call Lincoln their home, you may want to invest a bit and actually purchase your own place, so you don't end up paying too much on the long run.
Besides that little bit of trivia, you should also know that Lincoln has some amazing schools, low crime rate and of course, the fact that it is located so close to Bismarck.
12. Garrison
Garrison is yet another amazing place to move into if you are a history buff or an angler. That is because it is the homeplace of Lake Sakakawea, by far one of the largest man-made lakes in the US.
It was often times referred to as the "Walleye Capital of the World", simply because fishermen and women would go to Garrison back in the day in order to catch some walleye, pike, and smallmouth bass.
Nowadays you'll also find the open-air Heritage Park and Museum here, and you can also check out the Dickens Village Festival which will have its very own showcase of parades, costumes and horse-drawn carriages during the day.
11. Wahpeton
While the public school system here may not rival the likes of our top 10, it is still worth noting that Wahpeton is not a bad choice if you are a new parent and you want to ensure a great future for your child ahead of time.
On the other hand though, Wahpeton is a very affordable place to live in, and, while small, this town here is very clean and safe, so you never have to worry about any mishaps.
Renting a place is also relatively cheap here, costing you around $516 per month. And last but not least, we would like to mention the fact that the community here is very kind and friendly, so you'll never run into trouble when commuting or anything of that sort.
10. Grand Forks
You can find Grand Forks on the banks of the beautiful Red River, as a beacon of hope for anyone looking to relocate to a diverse, economically thriving and highly educated place in North Dakota.
This is where the University of North Dakota and the Grand Forks Air Force Base can be found, and even if you're not interested in that you'll still be happy to hear that Grand Forks has more than its fair share of amenities and quality of life attractions for you to check out.
There are a total of 14 neighborhood parks here too, and let's not gloss over the Grand Forks International Airport which is just a few steps away at any time.
9. West Fargo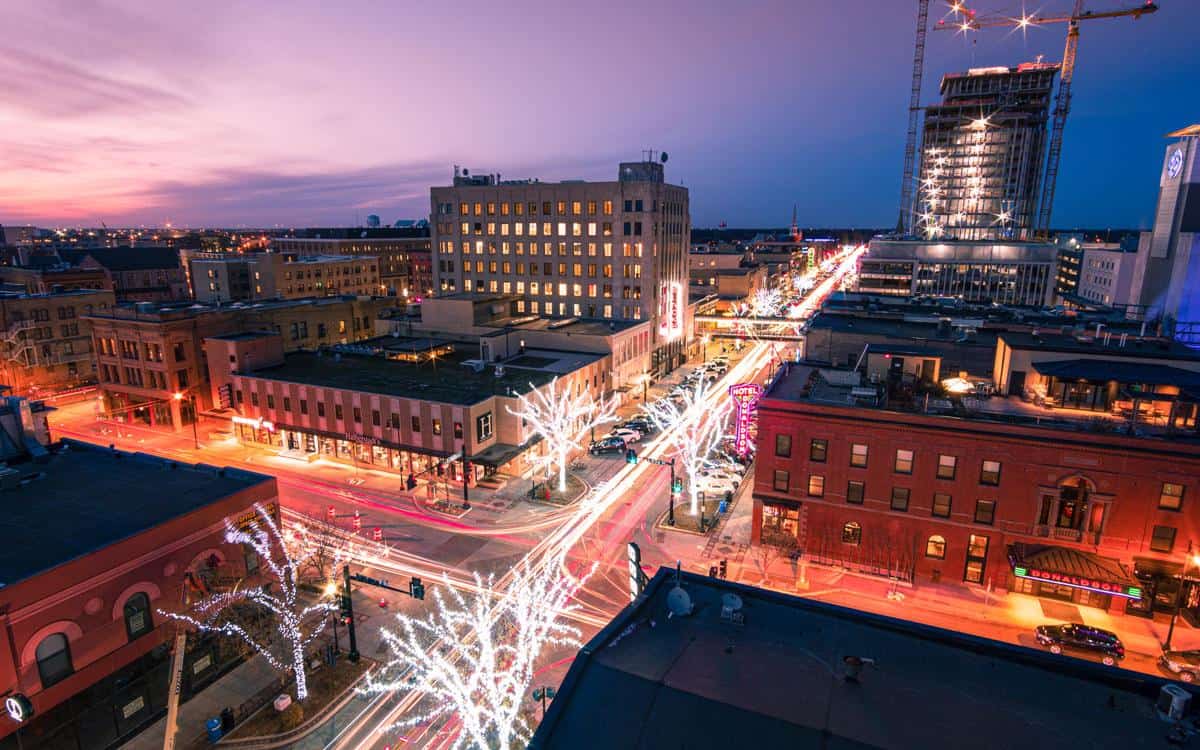 Often times cited as "The City on the Grow", West Fargo is one of the best places you could live in while in North Dakota simply due to how many job opportunities you have here.
That is because West Fargo doubles down as the base of many different tech and research companies, while also offering its residents top healthcare to make sure that they never have to worry about any of that inconvenience.
West Fargo also comes out on top thanks to its 30 parks and of course, the safe streets and the many different amenities which are a given at this point.
8. Beulah
While the school system leaves much to be desired, Beulah still earns its stop on our list thanks to its excellent cost of living, affordable housing and a booming job market that never seems to run out of options for anyone.
You can rent out a place here for as little as $609 per month too, which is quite amazing considering the quality of life that you'll experience here.
With a total population just above 3,000, Beulah really does live up to the hype as being one of the safest and most beautiful places to live in while in the state of North Dakota.
7. New Salem
New Salem was founded back in the year 1882, and it instantly became known as one of the most charming towns in the state.
Today there are less than 1,000 people calling this place home, but despite the low numbers we can still safely say that they all love living here, especially thanks to the many attractions that you can come across around.
Take for example the fiberglass statue of Salem Sue, a famous cow that instantly became the town's beloved mascot, and keep in mind that the list could go on forever as there is just so much to explore in the wonderful little town known as New Salem.
6. Horace
Horace has a total population of around 2,500 people, and while it may be referred to as a small town by many or even a minuscule little village for that matter, its rural community is technically considered to be a city.
But what makes it so good in the first place? Well, more than 95% of the residents here live in their own homes, and if you want to add yourself to their numbers, you'll just need to invest around $244,900 and you'll easily get the keys to your dream house.
The median rent is also acceptable enough, costing you around $740 per month, just keep in mind that rentals are not exactly easy to come by considering the huge percentage of people here that own their own place.
5. Bottineau
Often times referred to as "The Four Seasons Playground", Bottineau is known for its sloping hills, blue skies, and green spaces.
On top of that, no matter when you decide to move in here, you'll always find something to do or enjoy.
There are two wildlife refuges on either side of the town, and while you're out exploring you may also want to check out the gorgeous Turtle Mountains, as they'll always get your blood pumping no matter the season.
Last but not least be sure to check out the super cute 26-foot-tall mascot, known as Tommy the Turtle.
4. Walhalla
Walhalla is famous for having one of the oldest communities in the state. So, if you're a history buff you'll absolutely love living in the Heart of the Rendezvous Region.
This is where you can find the Kittson Trading Post, or the oldest building in North Dakota, as well as the Gingras Trading Post State Historic Site, and of course, we can't possibly forget about the Pembina Gorge State Recreation Area too.
But that's not all, as Walhalla has miles upon miles of historically significant buildings, that are all lined up perfectly for you to check out and snap pictures of.
3. Valley City
You can find Valley City along the Sheyenne River, and while most people refer to it as Valley City, you may also hear locals calling it the City of Bridges.
That is because Valley City has a total of 11 historical bridges that you can feast your eyes on every day after you settle in.
The illustrious Valley City State University footbridge or the superb Highline Bridge are just an example.
If you're a history buff you can also spend some extra time at the Medicine Wheel Park, where you can check out the sacred Native American burial grounds, as well as two ancient solar calendars.
2. Medora
Medora is a place unlike anything we've ever seen before. That is because the whole town is set up within the limits of the Theodore Roosevelt National Park, and while there may be only around 150 people living here, you will never get bored.
That is because you are always a few steps away from the Chateau de Mores, and if you feel like it you can also visit the Burning Hills Amphitheater.
Overall life is good here in Medora, as the houses are stunning, they are very accessible, there's plenty to see and do and the streets are very clean.
1. Fargo
Fargo has a total population of around 125,000 people as we speak, but you wouldn't think so after moving in, since the place has a very small-town feel to it that we can't get enough of.
It is a very friendly and welcoming place that has a thriving job market, and a huge list of amenities you'll definitely come to appreciate after you move in.
The only real issue is that, with any large town like it, the crime rate is going to be a bit on the higher end, but if you can stomach that you'll find Fargo to be one of the best places to live in in all of North Dakota.
Conclusion
North Dakota really is a unique place to behold and even though it's not as popular as other states around it, if you do happen to fancy living here, you'll easily come across an affordable and beautiful place that you can call home.
There's so much to learn and so much to do here, like for example did you know that the smallest city here, Maza, has a total of five permanent residents?
If you want to find out more about life in North Dakota just find a good place for you and start asking around, because you'll be surely charmed by the kind people and the laid-back lifestyle that all small towns around North Dakota have.
For more interesting places to live in, check out North Dakota's neighboring states: South Dakota, Minnesota, and Montana.
---