Plymouth, Massachusetts is often times referred to as the birthplace of the United States, one of the oldest cities in the country, and also the place where the true American values were forged and where the American dream really stemmed from.
This was the place where the very first European settlement was established back in 1620, and as we all know by now, this was the monumental time when Massachusetts became the New England state, which continued to act as a solitary nation away from the claws of its former leaders.
It quickly rose above every other place on Earth due to its farming, fishing and whaling amenities, and before long it became the centerpiece that would define America as a whole even to this day.
While this Old Colony State would eventually slow down and get overtaken by some of the other states in the US, it is still an absolute joy to live in and that's a fact.
So, in honor of this historical and cultural masterpiece of a state, we decided to bring you our very own top 20 list of the best places where you could live in Massachusetts.
While there are definitely more than 20 places to check out there, let's just say that these all stand out from the rest for various reasons, which we'll get into when we get to them.
So, let's not dwindle around any longer and instead just hop right into our first pick of the day:
20. Longmeadow
Longmeadow may seem like your average town, meant for the average Joe, but it is actually quite a serene little location that serves as the living quarters for around 16,000 people or so.
It is a very calm and peaceful town to live in, but just because not a lot of action can be seen on the news regarding it, it doesn't mean that there's nothing to do here.
For one, the public school system here is one of the best in the state, and on top of that, it is a known fact that most of the students here gradually outperform those from other states with ease.
Couple all of that with the fact that the median home value here is around $334,300, and you've got yourself quite a good deal to say the least.
19. West Cambridge
Next up we have West Cambridge, yet another place that's often times forgotten, simply because it is not very often showcased on the news.
This is quite a shame because this town is an absolute bliss to live in, just ask any of its 11,093 current residents and you'll immediately hear it straight from the source too.
The public school system here is great, and on top of that this is a very safe place to live in, coupled with a ton of different amenities for you to waste your money on, whenever you feel like partying or just going out with friends or loved ones.
As far as entertainment is concerned, West Cambridge has it all, and when you realize that the cost of living here is very acceptable, alongside a ton of different job and employment opportunities being right around the corner, you can instantly see why it is a hidden gem in the state of Massachusetts.
18. Waban
With a total population of less than 7,800 residents as we worked on this piece, Waban is the pinpoint definition of quality over quantity and that's no exaggeration either.
This is known as a retirement community in which people of all ages move into in order to relax and live out the rest of their days without a care in the world.
This is mostly thanks to the fact that Waban has some of the safest streets in the state, and on top of that it also features a very nice and high rating of its public schools.
Couple all of that with the plethora of different parks, restaurants and coffee shops along the area, and you've got yourself a very good place to move into.
17. Beverly
Next up we have Beverly, one of the oldest cities that you will find in this state. You can find it around 16 miles or so from Boston, offering residence to well over 40,670 people by now.
The cost of living here is definitely nice and affordable, and while the median home value stands at somewhere around $369,600, it should be stated that this is definitely a good place to consider, to say the least.
The standard wage here comes out as $72,837, and considering its extremely low crime rate, it's no wonder that so many families have decided to fly from across the states just to move in here.
16. Newburyport
If you are looking for a more sea-oriented place to move into, regardless of whether you're doing it for the fish selection, or if you want to take part in water sports during the summer, you can't go wrong with Newburyport.
This town is an absolute jewel and more than 18,000 people can vouch for its beauty no matter the season.
What's also great about it is the fact that the current standard wage is way above the national average, ranking in as high as $85,556 per household.
15. Newton Highlands
As the name implies, you can find Newton Highlands right around Newton, as the preferred place of residence of around 15,770 people as of the writing of this article. Boston's city center is just a few miles away, but we're pretty sure you don't want to live too close to the big city center, right?
Newton Highlands is known for having some of the state's best public schools and a very high graduation rate also. We do need to mention the fact that the crime rates here are a bit on the higher side, and while that is definitely not good, it is still a very good area to move into simply due to its plethora of amenities.
Considering the fact that the city has both urban and suburban areas for you to pick from, it's no wonder that some of the less-modernized areas are a bit more on the dangerous side.
But as long as you pick out a more suburban area to move into, you shouldn't have a problem living here anytime soon.
14. Lexington
With a current population of about 33,000 residents, the wonderful city of Lexington might be on the larger side, especially when you look at its high amount of pedestrian traffic, but it's still small enough to forget all about traffic and noise.
It is actually famous all throughout the state for its cleanliness, and we can't forget about their public schools, which are always competing against some of the top schools in the world when it comes to test scores and graduation rates.
13. Somerville
Going even further and beyond, we have the city of Somerville, a very interesting place to live in due to its densely packed population.
There are around 75,000 people currently living here, all within the confinement of the four-square miles that the city has to offer, and we have to say that this might be a bit hard to comprehend.
But hey, the reason why so many people have decided to pick this place as their home is very visible as well, considering the fact that this city is absolutely jaw-droppingly beautiful with its artistic and ethnically diverse vibe.
12. Medford
You can actually get to Medford very quickly from Boston, and as such it is considered to be one of the best picks out there if you're just looking to move into a place that has easy access to the big city, without actually having to deal with the big city problems altogether.
We should specifically mention the Tufts University here, as this is by far one of the most prestigious schools in the state, alongside the plethora of touristic attractions that you can find around every corner.
11. Quincy
This beach town is an absolute joy to live in, especially due to its nearly 30 miles of stunning coastline that seeems to spread out forever.
You can find the surreal Quincy's National Historical Park here, and on top of that you can learn all about the two US presidents that were born here in the past.
Last but not least we need to mention the fact that you get easy access to both Boston and Cambridge from Quincy, making this the perfect interlude place between the two major cities.
10. Sudbury
This town is absolutely gorgeous to say the least, and that is largely due to its beautiful close relationship with nature.
Over 18,400 people have decided to call this place their home, and they haven't complained since. With some of the best public schools in the state and a ton of different amenities to choose from, Sudbury may seem like a forgotten town to many, but it is the perfect place to relax in after a hard day at work.
Thanks to its great medical care, a plethora of grocery stores and restaurants and of course, its overall closely-knit community, we would argue that Sudbury definitely deserves to be on everyone's list, due to how downright charming it really is.
9. Provincetown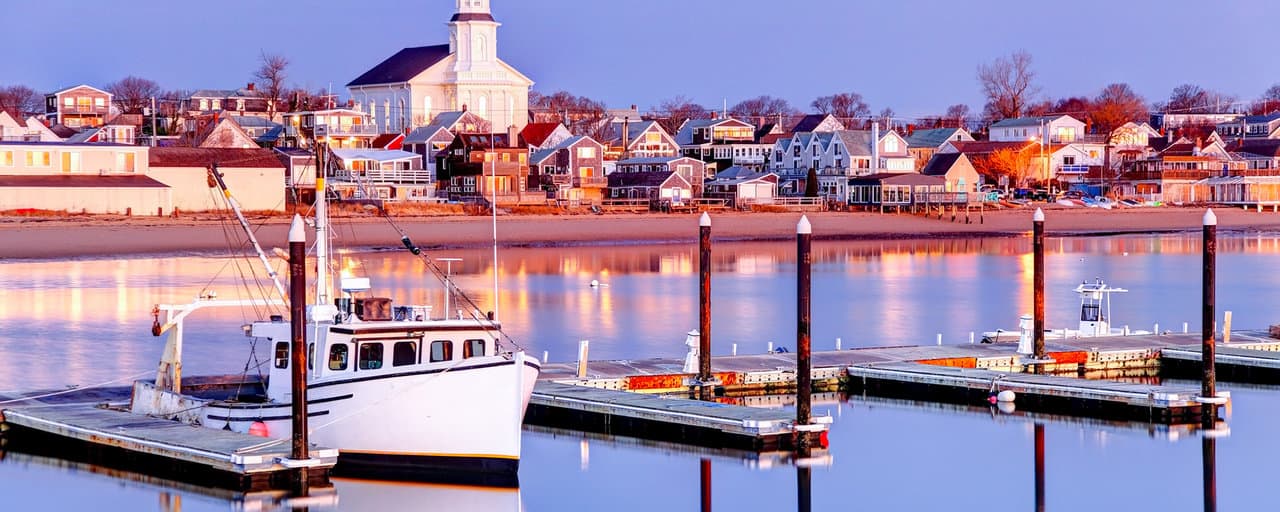 If you wish to live in close proximity with a lot of different beaches, then you've got to check out Provincetown, because this is one of the most serene places for you to move into.
There are currently about 3,000 residents in Provincetown living pretty close to each other, and the best part about their community is that they are extremely welcoming.
Provincetown is also pretty much famous at a worldwide level due to its large LBGTQ community, as this is the birthplace of America's oldest gay bar that is still active, the Atlantic House.
8. Marblehead
With a total population of just about 20,000 people, Marblehead is definitely an interesting choice, especially when you consider the fact that while it does feature a relatively high crime rate, it is still considered to be one of the safest places to live in.
How is this possible though? Well, to be fair, most of these crimes are relatively petty stuff such as shoplifting and whatnot, so there's nothing to fear as a resident here.
On top of that, this place has one of the highest average household incomes in the US, with the average home bringing in as much as $102,993 with ease.
7. Wellesley
Wellesley is the homeplace for around 29,000 people as we're writing this article, and in case you were wondering, it does feature some of the absolute best public schools and that's no exaggeration either.
This is where the famous Wellesley College can be found, and on top of that you can also come across the Babson college in the area which is no pushover either.
6. Melrose
There are around 28,132 residents currently living in Melrose, and we've practically never heard anyone complain about the living conditions here.
The reason for this is the fact that it is quite an affordable town to live in, and on top of that the diversity of the people here is on the higher end which is always nice to see.
It features a relatively low crime rate also and on top of that, the public schools here are always ranking up high on most lists out there.
5. Springfield
Springfield is the largest city in Western New England, and as such it is also the headquarters for many businesses out there, which is always a big plus, considering the job offers you might get once you move in here.
It is quite a densely packed city though, with well over 153,000 people currently calling it home, and considering its superb Victorian residential architecture, there's no wonder that it is often times referred to as the "City of Homes".
There is no shortage of arts, culture and media for you to partake in, and on top of that we always recommend that you check out the local hocket games, or the numerous conventions and concerts, because they really are something else.
4. Stoneham
Commonly referred to as the "Friendly Town", Stoneham is one of the best places for you to live in Massachusetts for many different reasons, including its low crime rates, great schools, wonderful parks, and some of the best major highways in the state.
If that's not enough to convince you, you will be happy to hear that you can easily go on a 20-minute drive and get to the ocean, where you can relax for a few hours listening to the seagulls or the ocean's waves, and just sunbathe for the rest of the day.
3. Worcester
There are currently nine different colleges and universities that can be found in Worcester, making this one of the best places to move into if you want your children or yourself to pursue a higher education.
On top of that, the mesmerizing old architecture and relatively modern dwellings around the city, are unmistakably a treat for your eyes, and while you're in town you can also take advantage of the plethora of different museums, galleries and theaters around the city.
2. Salem
While this little town is mostly known for its witches and haunting stories, Salem is still one of the most beautiful places for you to visit in the entire state of Massachusetts, especially if you are a fan of the eerie and captivating theme that they've got going 24/7.
This town features a ton of different museums and a very spooky haunted house, which is always fun to visit with your friends or loved ones, and on top of that it is a very culturally significant place to explore which has its own unique charm to say the least.
If you want to move in Salem you'll just enjoy all that on a daily basis and a new quaint life.
1. Waltham
Coming up on our number one spot we have Waltham, a charming town that was an early center for the labor movement and also one of the cities that really started the American Industrial Revolution. But what exactly makes this place worth being at the top of our list?
Well, back in 2017, it was listed off as one of the best places to live in whole US, ranking as high up as 13th despite being one of the smallest towns on there.
There are only 62,500 people that call this place their home, but despite that it is still an absolute joy for you to live in, especially thanks to its great public schools, the low crime rates and of course, the affordability factor.
Boston is just 11 miles away, so if you have a job in the big city and want to relax at the end of the day, there's no place better than Waltham.
Conclusion
While we do believe that the top picks on our list are the best places for you to live in Massachusetts, we do have to say that there is nothing wrong with moving into a different city or town here. Or if you move in one of Boston's busy neighborhoods.
There are a lot of other places that are just as great if not better than these, and while these are our personal favorites, just because they are not on our list that doesn't mean they are any less worth your time or money.