How would you classify as the very best place you could live in? Would you say that affordability is the number one requirement that it needs to adhere to, or would you consider schools to be a touch more important at the end of the day?
Maybe you prefer a place that has a friendly, safe and diverse community to interact with, or perhaps you just want a good place to retire in.
All in all, what makes a place great for you may not be the same as what makes for someone else's pick. This is why when you're out there, looking for a new place to move to, you always need to take into consideration what the place is known for, not what everyone else thinks about it.
This is why for today we decided to give you a brief rundown of 20 of the best places you could live in the beautiful state of Oklahoma, to point you in the right direction so you can manually pick out which option fits your current needs the most.
So, let's not waste anymore time and instead just hop right into our first pick of the day, aka:
20. Wilburton
Wilburton is a small town from the Latimer County that has a total population of under 3,000 residents. It is known for its low cost of living and for being one of the most diverse places in the area.
It also has a lot of housing options and quite a handful of transport links to make commuting to work all the easier.
The streets are also quite clean and safe, and you will never run out of outdoor activities to do in your spare time. But the nightlife here is also worth mentioning as things get wild as soon as the sun goes down, and let's not forget about the wide array of health and fitness facilities around every corner.
19. North Enid
If you are on the lookout for a more quiet, laid-back area to live in Oklahoma, you can't go wrong with North Enid.
You can find it located right in the Garfield County, boasting a population of around a thousand people and some of the most highly rated public schools in the state.
There are a ton of amazing houses for you to choose from too here, and the cost of living is budget-friendly to say the least.
The unemployment rate is also quite low and the commutability and diversity is really great here in North Enid.
18. Ada
Ada is the home of 17,149 people, and it is often times cited as one of the best places to live in Oklahoma simply thanks to its extremely affordable properties.
You can actually get ahold of a pretty good property for as little as $94,100, making this by far the best budget option you could take. Rent is also quite cheap here, as you can find yourself a good place for around $626 per month or so.
Ada also has that special small-town vibe that you're sure to love, and there are more than enough local restaurants to make sure that you'll never have to worry about making food for yourself and your family ever again.
17. The Village
With a name like this, what can we say about The Village that hasn't already been said already by now? Well, one thing that not enough people talk about is the affordability of the place, coupled with the overall high standard of living.
Most people here actually bring home around $50,000 a year, which in itself is great, but it is made all the better by the fact that most properties are also quite budget friendly.
On top of that, most of the residents here are millennials that have just bought their very first properties, so you can also expect the community to be very friendly and accepting.
16. Stillwater
Stillwater is one of the smallest towns in the Payne County, that still manages to offer its 47,000 residents an elevated standard of living, that most big cities would die for.
The job market is thriving as we speak, and there is no shortage of amenities and facilities for you to check out. Housing is also very affordable and let's not forget about the low cost of living either.
Stillwater also manages to check the commuting box as it is located within traveling distance to both Ponca City and Tulsa, making it very easy to just go there and find a well-paying job, while still taking full advantage of living in a small town away from the commotion of the big city.
15. Moore
If you're primarily looking to relocate to a place that prioritizes education, you can't go wrong with Moore, as it has by far some of the most highly rated schools in the state.
On top of that, Moore also has a lot of family-oriented activities for you to spend time in with your loved ones, and we can't forget about the low housing prices and cost of living.
There are a lot of job openings to pick from too and, considering the fact that Moore is a pretty large place with 60,000 residents currently living in it, it's no wonder that there is no shortage of amenities either.
14. Oklahoma City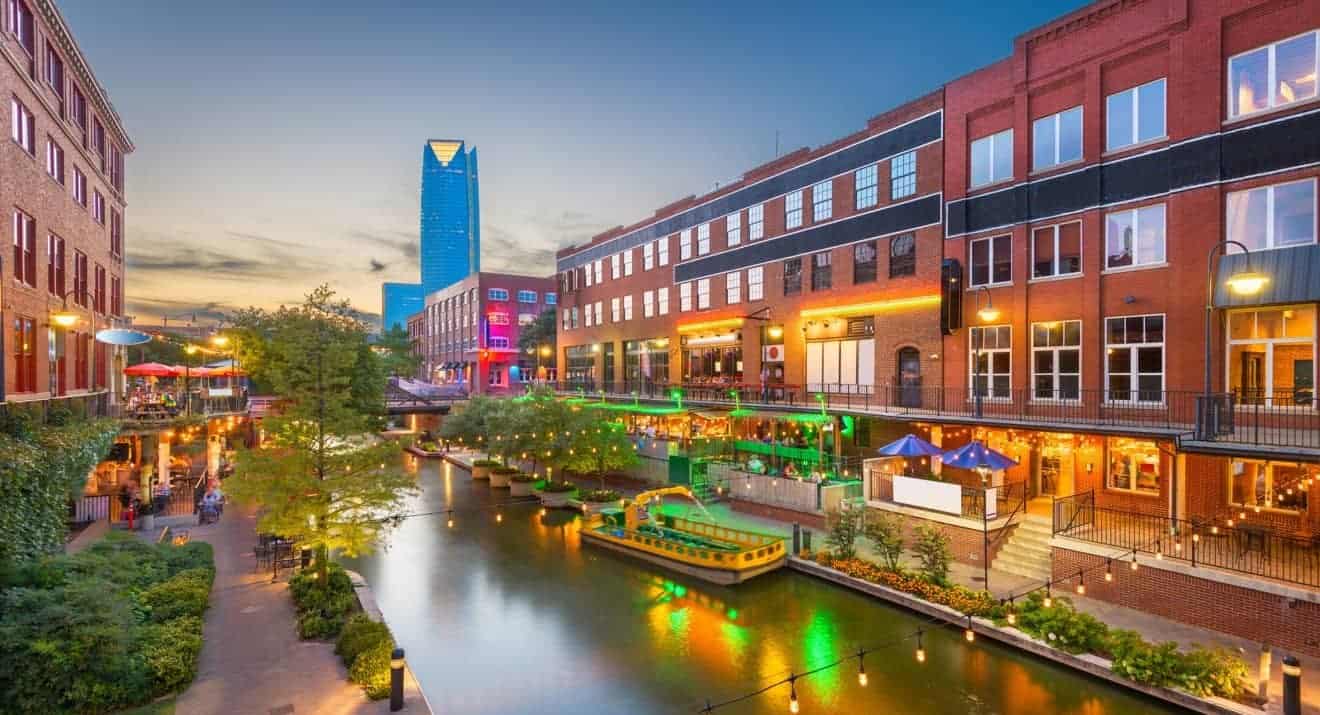 Oklahoma City is easily the biggest and most popular place in the state, with a total population of 687,000 people as we speak.
That in itself comes with all of the advantages and disadvantages of living in such a densely populated urban environment, including a very vibrant and lively nightlife, more than enough amenities and facilities, and that's just scratching the tip of the iceberg.
Housing costs are also pretty low, at least when you compare them to the national average, although if you will prefer to live closer to the center of the city you will have to pay a slightly larger price tag.
If you can do that though you'll be happy to live out the rest of your life here, since Oklahoma City has everything you could ever ask for and more.
13. Goldsby
Goldsby is a great alternative to Oklahoma City, especially so considering the fact that it can be found only 24 miles south of the city center.
Renting a place here is always a good idea, as you will rarely have to pay over $814 per month, but keep in mind that even so, over 91% of the residents here live in owned properties.
Around 2,800 people currently live in Goldsby, and as you can expect from a small place like this, it comes with a very low crime rate and a decent variety of amenities for you to check out.
12. Forest Park
Forest Park is a small and quaint suburb of Oklahoma City, that only has around 1,000 people or so living in it. As such, most of the locals refer to it as a city-village.
Properties sell for around $184,200 here though, which is a bit on the steeper side, but just keep in mind that while living here you will get access to a lot of amenities, and some amazing public schools to enroll your child into.
The streets of Forest Park are also very clean and safe, and there are more than enough employment opportunities for you to take full advantage of.
You can expect to get access to a pretty massive grand 4-bedroom 3-bathroom family home for as little as $195,700 here actually, which would easily cost you over $1m in some of the other parts of the country.
11. Owasso
The charming town of Owasso is a Tulsa suburb that has a total population of 33,000 people. It is one of the most affordable suburbs in OK, and if you want to rent out a place and finish your education here you can pick from 46 public schools.
The streets are also very safe and the community here is way more diverse and friendly than you'd think. It is a great place to start a family in and as you can expect from such an interesting place, there are more than enough amenities to go around too.
10. Alva
Alva is a smaller town from the Woods County that has a total population of just over 5,000 people in total.
But by far one of the main reasons as to why it is on this list today is the diversity of the housing, as there are so many different properties for you to look into, that it's impossible to not find something good for you.
There are also plenty of job opportunities and family activities to take part in, and let's not forget about the great schools and the diverse community that Alva boasts with.
The crime rates are also on the lower end, and there are plenty of transport links for you to take full advantage of if, you want to work in one of the nearby cities and commute there.
9. Tuttle
Tuttle is a fast-growing community that has a total population of around 7,700 people by now, which is interesting to see considering the fact that it used to be half that back in the 90s.
This town is great though as the median home value here sits at a very acceptable $194,700 mark, which is made all the better by the fact that it is located only half an hour away from the state's biggest urban area.
You also get access to the Tiger Safari Zoo, which is always nice to visit with your family, and while living here you can also expect to earn upwards of $89,375 per year, making this one of the best choices in all of Oklahoma.
8. Mustang
Being one of Oklahoma City's fastest growing communities, Mustang takes the 8th place on our list, and for good reason too.
There are plenty of shopping, dining and entertainment venues here, amazing schools and that small-town feel that we've all come to know and love.
There are also quite a few museums in town, and we can't forget about the fact that it has one of the highest rates of residents with health insurance.
The crime rate is also very low and it has the fourth lowest poverty rate in the state, making this a very good option to consider.
7. Choctaw
Choctaw is one of the oldest chartered communities in what used to be known as the Oklahoma Territory in the past, and it is still considered to be one of the most sought-after locations to move to in the state.
That's mostly because of its strong economy and of course, the fact that the homes here are so affordable, and there are just so many job openings for you to consider.
Most homes actually cost only around $182,400 or so, and the schools here are well worth the investment, most of them bragging with really high graduation rates.
6. Norman
Even though it has a total population of 128,097 people, Norman is still known for having a very suburban feel to it, so despite that large population it still manages to maintain a very friendly vibe above all else.
There are so many different types of people living here too and a lot of job opportunities, and Norman is also a very affordable place to move into, especially if you like the idea of renting a place.
In fact, for $788 a month you can actually get the keys to a pretty big place, which is why as many as 44% of the residents here live in rented accommodations.
5. Nichols Hills
Nichols Hills is home to 3,800 residents as we speak, and it is known for being one of the safest places you could live in the entire state of Oklahoma.
It is definitely not the cheapest option on this list though, but if you feel like that's too much you can always just opt to rent a place instead, since that will cost you around $977 per month.
Most residents here only spend around $11,724 per year on rent, which in itself is great when you consider the fact that the average annual income here is of $123,542.
The school district may not be the best, but it will still do its job excellently for the most part.
4. Newcastle
Newcastle is a bit of an underdog on this list, but even though it's a pretty popular town, most people wouldn't consider it to be a top 5 choice when it comes to the best places to live in Oklahoma.
But hey, from what we've seen during our stay, we can't hold anything against it, which is why it ranks so high up in the first place.
But regardless, what makes it so good in the first place? Well, how about the fact that it has the third highest incomes in the state, while also having one of the lowest unemployment and crime rates too.
On top of that it ranks in the top 20% when it comes to the best schools, thanks to its excellent Newcastle Public Schools, and let's not forget about the overall affordability of the place, as most properties will cost you less than $218,200 or so.
3. Bixby
Bixby takes our third place though by simply scoring high in every category imaginable. It has a plethora of amazing public schools for you to look into, a lot of employment opportunities, and the streets couldn't be any safer either.
There are a lot of transportation links in and out of the town, and the overall diversity of the community is also worth mentioning.
Even though it does have a population of 29,000 people and rising, it still manages to keep that sparse suburban feel to it, giving its residents more and more reasons to invest more into their lives here.
2. Edmond
Edmond is known for having some of the best living conditions in the state, which is quite surprising when you take into consideration the fact that homes here average out around the $199,600 mark.
If you can't afford that though, you can always opt for something on the Rocky Point Drive, where most homes cost only around $144,900 or so.
Most families here earn around $71,974 too, and the job market is just simply put perfectly diverse, as you'll never run out of opportunities.
1. Jenks
Jenks takes the cake for the number one spot on our list for a multitude of reasons. First and foremost, it is located super close to Tulsa's Airport and close to the big city center, giving everyone a really good commuting option.
Second of all, it has more than enough job opportunities and the community here is mostly made out of young people and new families.
Third of all, it may be a bit on the pricier side, but the overall high standard of living here more than makes up for the $200,000 per residence price tag. Last but not least we would like to mention the fact that renting a place here is also a bit expensive, costing you around $1,098 per month or so.
Conclusion
Oklahoma is nowhere near the most affluent state in the US, but what many people don't realize is just how much of a blessing in disguise that is.
Because of how little interest there is in moving here, property values are constantly kept under check and the overall quality of the place tends to rise up every year, as more and more developments are made in order to attract more attention.
So, there's just simply put no better time to move in Oklahoma, as the properties are budget friendly and the people here are just great, making this one of the smartest moves you could make right now.
For more interesting places to live in, check out Oklahoma's neighboring states: Arkansas, Missouri, Kansas, New Mexico, Texas, and Colorado.