If you're looking to spend the absolute best weekend of your life with your friends, loved ones or even on your own, away from the busy city life, let's just say that Vermont may very well be the best choice for you for a plethora of reasons.
Surrounded by countless acres of mountains, the true beauty of Vermont lies in its vast landscape and incredibly picturesque trails, which are sought after by families and backpackers alike every single year.
That's why a lot of people even want to move in here and live in the heart of The Green Mountain State.
If you're love skiing and snowboarding especially Vermont should definitely be on top of your list, simply because of the hundreds of different slopes that their majestic mountains have to offer.
But hey, not everyone's interested in the snowy side of Vermont and there's nothing wrong with that. In that case you can simply take on the hundreds of hiking trails around the maple trees, as you enjoy the sheer beauty of the nature that surrounds you.
But even so, we keep building up Vermont when in fact the reality of the matter is that it is a very large place, so if you want to move here chances are that you will need to do a lot of research to actually find the best place for you here.
Luckily, we're here to help guide you through the top 20 best places to live in Vermont, in order to make your day a little bit easier. So, let's hop right onto our first pick of the day, aka:
20. Shoreham
With its relatively small community made up of 1,222 people as of the writing of this article, Shoreham may sound like your typical small town but it is so much more than that.
Thanks to its scenic views and its plethora of dairy local farms, you can abandon most unhealthy foods and live off of the land becoming a healthier and happier individual as soon as you move in.
If that sounds like your cup of tea then definitely check out Shoreham as it has by far one of the most promising growing communities in the state and that's no simple feat.
19. St. Albans
Thanks to its low crime rates and cost of living, St. Albans is usually ranked up quite high on most people's lists, but there are multiple other reasons as to why you should look into relocating here.
Take for example the beautiful festivals that take place every now and then here and of course the excellent college matches that you can come and cheer for at any of the local schools around.
18. Stowe
Stowe is considered to be one of the most beautiful towns in Vermont and that's no simple feat. It is a very popular place to visit especially if you're a fan of hiking trails and winter ski slopes.
On top of that it comes jampacked with plenty of restaurants, bars and a ton of different coffee shops for you to pick from.
Skiing and snowboarding is a fan-favorite here and during the summer you can always take full advantage of the golfing tourneys that take place around every corner.
17. Wilmington
Despite being a very small town from Windham County with less than 1,876 residents, there are a lot of exciting activities that you can take part in Wilmington, including hiking trips, outdoor picnics, and even checking out some of the local wildlife that is just enjoying life on the sidelines.
Hogback Mountain is by far its main selling point though simply because of its jaw-dropping scenic views and the clean air that comes with it.
16. Woodstock
Woodstock is a fantastic option that you need to consider if you want to live in a place that offers you both a rural and urban lifestyle at the same time.
The typical home here will cost you around $343,000 but this is made all the better by the fact that everyone here has an above average income at the end of each month.
If you head on to Instagram and search for photos from Woodstock, Vermont, you might want to pack your bags and move there for good in a matter of minutes.
15. Underhill
Next up on our list we have Underhill, one of the most underappreciated (no pun intended) places that you could live in while in Vermont.
Underhill is a very good choice for multiple reasons but the first one that we can think of is definitely the fact that it ranks as the fifth best place to buy a house in the whole state.
You can pretty much get your hands on a massive three-bed and three-bathroom family home with a huge garden area for less than $300,000 and that's pretty insane if you ask us.
On top of that you also get easy access to Burlington and Montpelier so you can always visit those places in case your day is a bit too boring for your taste.
While the winter time here is especially cold, once the summer sets in you'll find yourself roaming the streets carefree thanks to the low crime rates here.
14. Essex Junction
Essex Junction may very well be one of the best up and coming towns in Vermont and that's no exaggeration.
Considering the rather impressive selection of property that you can get your hands on, and just how many outdoor activities you can partake in, it's no wonder that more and more people have decided to move in here by now.
The only real downside to it all is the fact that there are currently less than 10,000 people living in it which makes it quite difficult to actually find a job in it unless you have a very impressive portfolio to begin with.
13. Burlington
Many people make the mistake of taking South Burlington and confusing it with the actual Burlington town. This is quite a shame as both of them make for some incredible places to buy property in and if you do have a family on the way, you can't go wrong with it.
The weather here is absolutely phenomenal and on top of that you also get access to a ton of different job opportunities from the moment that you step foot in the city.
12. Middlebury
Middlebury ranks so high up on most people's lists simply because of how awesome and friendly the community here is.
You also get access to a state renowned college in the center of the town, which is always nice to see, especially considering just how safe of a place this is to live in in the first place.
If you want to get a taste of what your life could be like in Middlebury then look no further than the plethora of properties that are just waiting for you to rent them as we speak.
The median rent here is very much so a big selling point of Middlebury too, going as low as $847 per month, which makes this little town one of the most affordable places in the state.
11. Dummerston
Dummerston is the place that you want to live in if you're looking for a carefree spot, filled to the brim with a ton of different outdoor activities to enjoy. The charming covered bridge pictured above is one of the city's numerous attractions.
On top of being a very traditional looking town, it also comes free of charge with a ton of different schools, which are known all across Vermont for just how good they are at what they do.
There are less than 1,939 people currently living here too which may seem like a bit of a downgrade when compared to some of the other options here, but the tightly packed and friendly community here is more than enough for anyone to not regret moving in here to begin with.
10. Colchester
With a current population of 17,290, the people of Colchester know that while this may very well be one of the more expensive options on this list, it is still worth every single penny, because of how awesome it is to live here at the end of the day.
It's true that the median rent here is very expensive, at least compared to other cities in Vermont, but actually buying a house is relatively affordable, with some properties going as low as $260,400.
While you are around the bay area, we recommend that you check out the beautiful Lake Champlain, and if you can afford a home here that offers you lakeside views, trust us, you won't regret it.
9. Essex
You can find Essex near the Green Mountains and Lake Champlain, and as you can already tell by now, based on just how popular of a dream destination Essex is, you really can't go wrong with choosing this as your next home, simply because of how serene of a landscape this truly is.
You can easily get to the Burlington Airport from Essex, and while you're here you can really relax and take in the scenery without having to deal with any excessive traffic noises, whether that is from the road or from the airlines.
The typical house here will cost you just under $270,000 but remember, Essex is filled with Millennials, so if you like the idea of only being around them for the rest of your life definitely check out this place.
8. Cornwall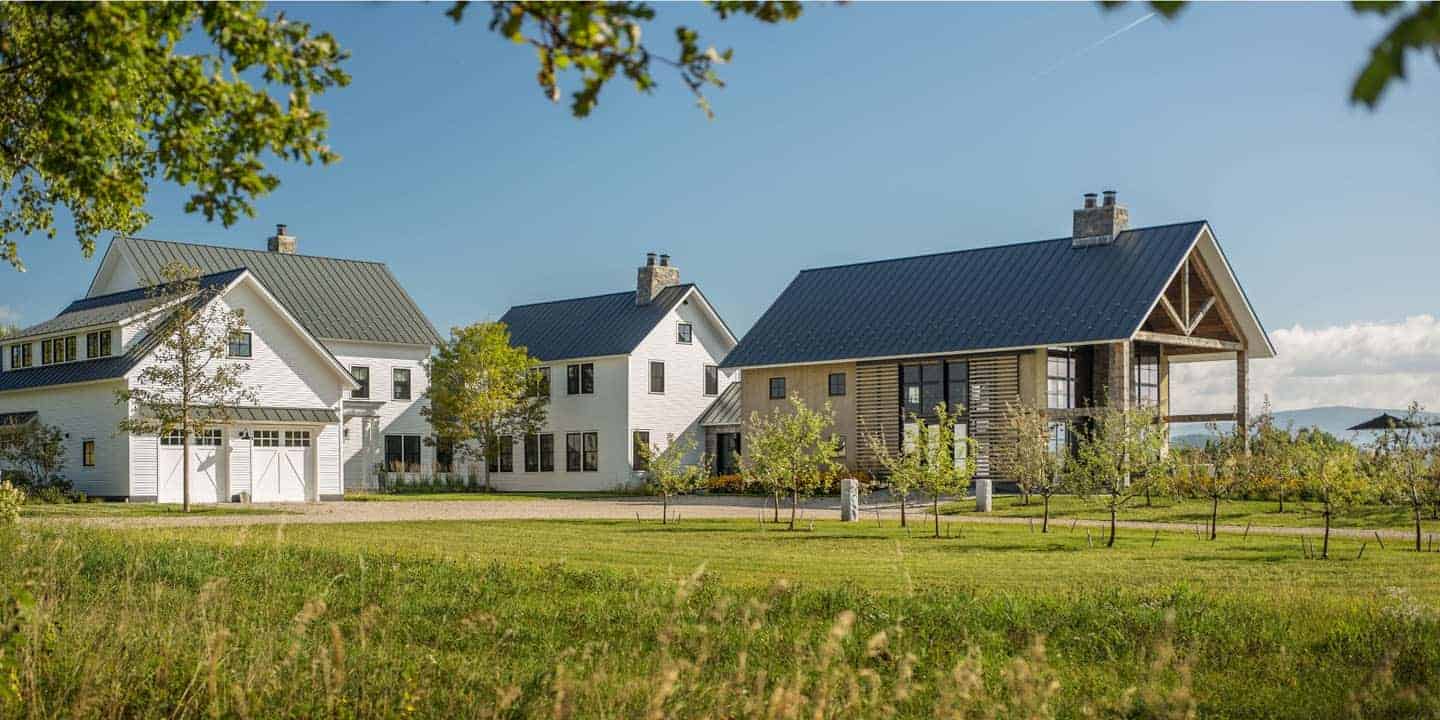 Cornwall is situated around Addison County and while most of the locations on our list are peaceful little towns next to the mountains, most of them pale in comparison to the beautiful rural village that Cornwall really is.
It is generally one of the more expensive places to live in Vermont, with a house here costing as much as $351,200 per average, but luckily there are a lot of amazing amenities here to justify that price tag including a bunch of schools, hospitals and pretty much anything else you could ever ask for.
7. Jericho
Jericho is often times referred to as the place that never changes and for good reason too, as more than 89% of its properties are locally owned and as such, they haven't changed almost at all within the past couple of decades now.
If you're a fan of rural living then you will love owning a house here, especially since the price per median house here is a relatively affordable $290,800 per property.
6. Williston
Williston is often referred to as a more budget friendly version of Burlington and who can blame them for this comparison considering the fact that it really lives up to the hype?
Schooling here for example is universal and even by Vermont standards it is considered to be one of the best places that you could choose for your children. Outdoor activities have always been a very big part of Williston as well, especially so if you're a fan of health and fitness amenities.
Last but not least we'd like to mention the fact that you can also easily get to the Burlington Airport whenever you need to, and while you're at it you can also take the United flight there and get your family to New York City in record time.
5. Montpelier
The Vermont state capital of Montpelier is pretty much everything that you could ask for as far as a state capital goes, especially considering the high income per family member and the incredible living conditions here.
But even so, what else is there for you to look forward to while in Montpelier? How about some of the best schools in the state? What about one of the most proactive nightlife experiences of your life? Not enough? Wait until you hear about the plethora of health and wellness facilities available 24/7.
Everything here is within walking distance too so no matter where you live, if you pick Montpelier you will get to experience even the rural life at its fullest here.
4. Shelburne
Shelburne is an absolutely fantastic choice for anyone that either just had children or is looking forward to adding the little rascals to the mix in the near future.
This is by far one of the safest options you could pick for your family, and while the price may be up there, going as high up as $495,000 for your average 4-bedroom house, just remember that you are making an investment towards a better life and that it'll pay off in the end.
And did we mention the serene landscape here? Shelburne is easily one of the most picturesque places in all Vermont.
3. South Burlington
South Burlington is widely considered to be one of the best locations you could invest into while in Vermont simply because it has no real downside.
The median house price here is of $268,500 making this a very affordable option and while you're here you can also take advantage of the five A-rated schools in the suburb alone alongside all the dozens of smaller scale schools around.
The cost of living may be a bit on the higher end but if you can afford it you will find South Burlington to be one of the best choices you could make for yourself and your family.
2. Charlotte
Many would argue that Charlotte deserves the first place on every list with places to live, and while we do agree that it is one of the top three locations you could live in Vermont, we wouldn't go that far.
This charming little town has everything you could ask for and more. If you want to know how good the living conditions are here then just check out how many people own houses in here versus how many are renting.
Over 90% of the 3,800 residents here are happily living in their own houses, and while the rent here is quite heavy on the wallet, let's just say that owning your own house is more than worth it especially considering just how many incredible amenities you get access to right off the bat.
1. Norwich
In our honest opinion, Norwich is easily one of the best places where you could live in the entire United States. It is literally one of the most beautiful places we've ever been to and on top of that it really lives up to its name from the moment you will arrive here.
This is the type of a place where you'll go and never want to leave from again. Its rent and house prices are definitely a bit higher up but remember, this is your house and living that we're talking about here, so it's well worth the $435,700 per median house or the $1,200 per monthly rent.
This little town is home to some of Vermont's wealthiest residents, which says a lot about the community here, and the fact that it has so many historic buildings makes it a real treat for your eyes as well.
Conclusion
Vermont is always going to be a top choice for you and your family and that's a fact. While different cities and towns in it will offer you different levels of comfort and overall fun, most of the time you will find it hard to make a better choice than it.
Just remember to always double check whichever town you pick from this list and if you think that your town is better than all of these combined then it may very well be, simply because it is better suited for you.
While these are the best options objectively speaking, home is where the heart is so always keep that in mind as you move into a new place.
Video