There are plenty of magical places in this world that we would highly recommend visiting at least once during your lifetime. The truth is that if you actually come to think about it, you could potentially spend a lifetime just visiting the main attractions around the globe and you'd still have a lot more to see and look forwards to visiting in your endeavors.
While we can't really encompass every single amazing dream location around the globe in a short and concise manner without it looking like we're trying to rewrite the Bible, we can show you why we personally believe that Lauterbrunnen is one of the best places to visit in the entire world.
The Lauterbrunnen Valley is a little slice of heaven that you can find smackdab in the center of Switzerland, right into the Jungfrau region from the Swiss Alps. You can find your way to it wherever you go as long as you're still within the boarders of Switzerland since every single mode of transportation offers the option to visit it for a certain price.
For example, if you so happen to be in Interlaken, just go to the nearest train station and ask for a ticket to the upper Lauterbrunnen Valley. If you're anywhere else just look for a train that has a stop at the Lauterbrunnen Railway Station and just like that, you'll be on your way to the best vacation spot you'll ever feast your eyes on.
Before we start however, we should mention that you need to choose your season properly before visiting because the experience you may get during your visit will change drastically based on whether you came here during Winter or Summer for that matter. But alas, let's get into the meat of this article with your first pick of the day.
Visit the Staubbach Falls
Yes sure, we've all visited a waterfall before, big deal, right? Well yes actually, it is a big deal because this isn't just any waterfall, this is the famous Staubbach Falls right here.
Commonly referred to as one of the greatest attraction sites in all of Switzerland, it offers both an incredible view when looking directly at it, and an amazing panoramic view when observing the upper valley from all the way up there.
Many have stated that the man-made grotto here looks like something out of Jurassic Park, and while we can't vouch for the quality of the recent addition to the movie series over the past couple of years now, we can definitely stand our ground and say that the Staubbach Falls will forever be an amazing attraction site that you should definitely visit while you make your way through the city.
Go to the Mürren Village
If you're a fan of traditional picturesque car-free villages then you should definitely make your way towards Mürren because honestly why wouldn't you to begin with?
Just jump right on the train and lose yourself in this village which time itself appears to have forgotten about. The greatest thing about it? The train makes its way towards the village every thirty minutes, so you won't be wasting any time waiting for it.
You can get to the village within twenty minutes or so, and once in it you will get to experience the traditional Swiss-style living full of chalets and that idyllic experience which we so yearn to go through at least once during our lifetime.
Climb Mount Schilthorn
If you find looking at things to be boring, then definitely make your experience all the more memorable by going up Mount Schilthorn.
In order to do so make your way to the Stechelberg Gondola Station from Mürren and use your Swiss Travel Pass to ride the gondola up. Once you reach your destination head on over to the Piz Gloria revolving restaurant.
Here is where you'll get to taste the traditional Swiss meals that they have been priding themselves with over the decades.
If you don't want to ride the gondola however just throw $46 at the roundtrip cable car system and ask to be taken to Mt Schilthorn, specifically to Piz Gloria. It does cost a bit more but it is a lot calmer as well.
Once here don't forget to take a picture with the many different homages to James Bond. Why James Bond of all action stars? Because the original 007 movies were all filmed here in the Piz Gloria, so they've stacked the place with 007 memorabilia.
Ride the Yellow Train
Yellow… train? What's so special about a different colored train? The answer is quite simple really, this isn't just a differently shaded train, it is the famous Yellow Train from Lauterbrunnen to Wengen. Many people actually visit Lauterbrunnen just so they can ride it on their way to Wengen.
If you're still on Mount Schilthorn make your way down with the gondola and then once you're at the Stechelberg Gondola Station take public bus No. 141 to the Railway Station. From there everything should be pretty easy to schedule.
Take the Männlichen Hike
If you happen to be in Wengen and you want to truly experience the Swiss pastures you definitely need to get yourself on the upward trail through the Eiger Ultra Trail.
Beware though, this is not a hike that just about anyone can take since it is 4.9km long and it will take you about 2 hours at a decent pace to fully cover. While you are hiking however, you will find yourself enthralled by the insane scenery that you'll be able to see all around you.
Get a picture with the crown at the top if you want to truly make your hike memorable. Just head on over to the top of the hill where you can see the crown. The greatest thing about it is that it will only take you 20 minutes to reach it so you'll be able to get to it in no time.
Paraglide Your Fear of Heights
If you have been cooped up in your room or office for a very long time now and are looking for a proper way to make your vacation unforgettable definitely try paragliding for once.
You can actually fly right over the U-Valley thanks to the all-inclusive service that they offer. You will be completely safe while you're doing it too, as you'll be tied to an instructor that will be focusing on keeping you in one piece afloat the whole time.
The whole experience is very cheap, ranging around $190 and you can actually get everything set up within an hour or so before actually going gliding. For just $190 you can have 1 hour and 30 minutes of unforgettable fun, definitely a great addition to your travels.
Hike to Grutschalp
If the Mount Schilthorn hike wasn't enough to get your blood pumping then definitely get to Mürren and start hiking up to Grutschalp for yet another unforgettable experience.
During this hike you'll be heading up on the Eiger, Jungfrau and Monch as you walk your way either up or down the hiking trail.
We highly recommend taking this road if you visit during summer time, as that's when the environment is most peaceful and that's when you can really appreciate your surroundings the most.
Start Pedaling Through Lauterbrunnen
If you love riding your bicycle around town then you will absolutely love taking one of the 60 cycle routes all around the area for sure
There are so many trails around and they all take you to different attractions which can really make your day brighter as you keep pedaling throughout the day.
Make your way through Grindelwald, definitely visit Wengen while you're at it and don't forget about Gimmelwald too as you switch on over to the mountainside and you experience the breeze from Jungfrau, Eiger and Beithorn all in one go.
Skydive in Interlaken
Yes, you've read that correctly, there is an actual skydiving service waiting for you on top of Interlaken.
You can actually jump from an airplane or helicopter around 15,000 feet up in the air, and as you freefall through and you feel your life flashing before your eyes you can really say at that moment that this is one experience you will never forget.
There are plenty of licensed instructors which will more than happily ensure your safety too, and while the service isn't exactly cheap, ranging above $400 per session, it's a one-of-a-kind experience that you will always remember.
Visit the Sphinx Observatory
An observatory on Top of Europe you say? Well yes, but not just any observatory for that matter. This is the famous Sphinx Observatory, the site which offers one of the most beautiful sights in all of Europe.
This is the highest altitude structure in all of Europe, and it truly shows as you'll be able to take in the scenery at 11,716 feet above the sea level. We recommend taking it slow as you walk up the trail however, air can get quite thin around these parts.
The site was originally constructed in 1937 and it has continuously brought in tourists ever since, breaking records every year thanks to the incredible experience it offers as the tourists get to truly take in the scenery and realize what beauty nature constructed ahead of them.
Risk Playing the World's Most Dangerous Sports
While the tagline may make it seem a tad bit too intense, we can assure you that despite being nicknamed the world's most dangerous sport, it is not life threatening in the slightest thanks to the experienced hands that will do their best to make sure not a hair on your head is hurt.
The sport in question is wingsuit flying, and while alone it would be extremely dangerous, with one of the paid instructors at hand you will literally glide through it all, not needing to do anything except taking in the scenery and screaming your guts out as you continue freefalling.
Drink Your Fill
What's so special about drinking at a pub? We have hundreds of them at home! Well, the special part about this one is the fact that it's actually the only pub in the whole town.
That's right, the Horner Pub may not seem like much but it was actually always meant to be this ordinary because they wanted the locals to not be too tempted when catering to the tourists.
As a result, drinking here isn't exactly the same as drinking anywhere else. It is mostly reserved for tourists and the drinks here are all traditional beverages that the Swiss have been enjoying for hundreds of years now, making this a lot more of a spectacle than you'd think.
Visit the Lauterbrunnen Church
Even if you're not a religious individual you have to agree over the fact that churches are incredible architectural pieces of art that need to be visited at least once when they are this incredible in size and scope.
The Lauterbrunnen church is a typical alpine church, and although quite modest, it offers a certain picturesque feeling which has been lost with most church experiences nowadays sadly enough.
Check out the incredibly stunning window designs and the paintings, just look at how much time and effort went into making these carvings, this is definitely an experience that will soothe both your body and your mind and that's a fact.
Take the Helicopter Route
Although this is by far the most expensive 20 or 30-minute ride you will ever pay for, it's worth every penny as you get to fly over Eiger, Mönch and Jungfrau, taking in the scenery and getting a special aerial perspective that very few people around the globe have had the opportunity to take so far.
As you land on the glacier's top, you will also get some of the best pictures of your lifetime and the adrenaline rush from this alone will be enough to fill up that hole that the money you threw at it will leave in your soul. Trust us, the adrenaline will last longer than the money wastage.
Take the Skyline Walk
If you are looking to make your way to Schilthorn, definitely make a quick pitstop at Birg as you take what is commonly referred to as the Thrill Walk. While walking usually isn't all that thrilling when you're on vacation, the viewpoint you'll get from here on out will definitely leave you speechless.
You will be standing tall at 2,677 meters high as you walk down the 200-meter-long cliff walk, over what is known as the "Thrill Walk". It does seem a bit scary at first, but you have the instructors there guiding you the whole way through, making it safe as a whistle as you glaze through the walking site.
Climb the Rotstock Via Ferrata
What exactly is the Rotstock Via Ferrata? Essentially, it is one of the most incredible climbs you'll ever get to experience, right next to the North Face Wall of Eiger for that matter.
You will get your very own harness tied around your body as you walk up the metal stairs around 400m to get that incredible 360-degree panoramic view over the world.
This can get really scary really fast but just remember, you're in no danger whatsoever, that's what the harness is there for. You'll be climbing for 5km straight, and as you do so you can simply walk back down to the Eigergletscher Station where you can continue exploring the site.
Visit Wengen Village
While we did mention the Wengen village before, we should definitely talk about it again as it is one of the staples of the Lauterbrunnen experience right here.
The great thing about it is that it's one of those villages that prohibited cars, making it an incredibly clean and picturesque village that you only ever see in movies nowadays.
There are plenty of coffee shops around, and you can even play minigolf in the village's center if you want to have a blast. Just remember to keep your eyes peeled because there are plenty of sites all around every corner that you can actually miss out on if you're not paying attention.
Hike Up to the Chrinnenhorn Peak
Your ride will start from the Gleckstein Hut which is located above Grindelwald. After you're done taking in the scenery, make your way through the glacier looms as you hike up to your destination, the Chrinnenhorn Summit Peak.
You don't even need to be all that experienced of a mountaineer to get here, because although from a distance it may seem like quite a dangerous hike, it's been specifically tailored for tourists to take this path even if they've never climbed a peak before.
You can fully complete the hike in about 3 hours and 50 minutes, but if you're especially fast you can half that time frame with ease.
Sleep at Hotel Silberhorn
While we usually wouldn't mention hotels as part of a touristic site's experiences, the Silberhorn Hotel is not exactly your ordinary hotel either.
It is about as luxurious of an experience as you can expect from such a popular location. So, if you really want to take in the scenery and start your day off right with the best sleep of your life then rent a night over at this hotel because the sun terrace and the incredible views you can get from this site will forever be etched in the back of your mind for long after you leave the site too.
Get the Best View of Lauterbrunnen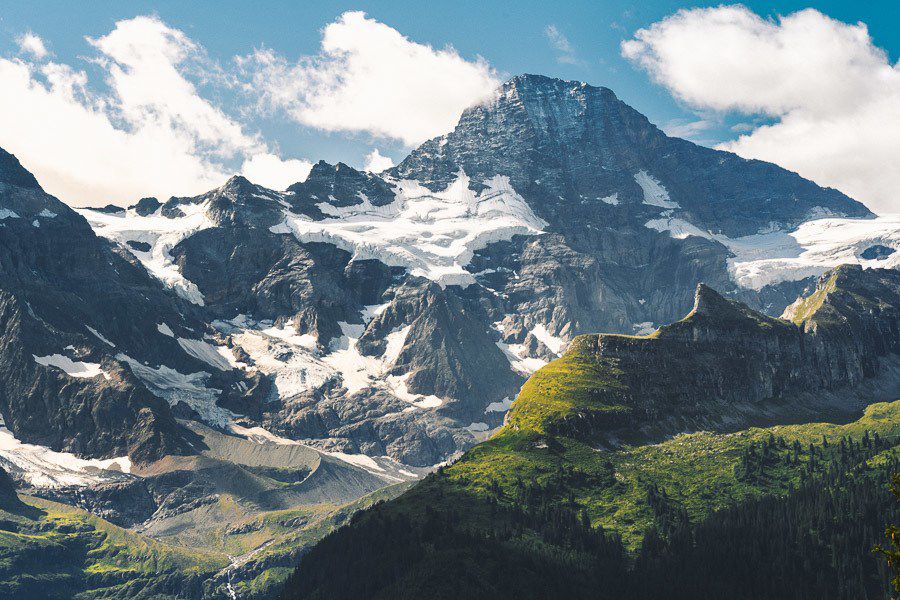 You cannot possibly think about visiting Lauterbrunnen and not taking in the best view that the site has to offer right?
Just take the Tanzbodeli hike up and you will get to see the best that there is to see, without a doubt. Even when the day is at its cloudiest, the scenery here will leave your jaw down on the ground (we recommend picking it up quickly so it doesn't start rolling away down the hill).
The whole hike is quite long, about 14km in total from Grimmelwald to Tanzbodeli all the way to Obersteinberg and finally reaching Stechelberg. Luckily, if you want to skip through most of that and just take the best part of the hike you can start hiking from Gimmelwald to Tanzbodeli exclusively, walking about 6 steep kilometers in just under 2 hours or so.
Conclusion
Lauterbrunnen is by far one of world's the most picturesque places that you will ever get to visit and that's a fact.
The prices may be steeper than we'd prefer them to be, but remember, the experiences here will forever be etched in your soul as you'll always remember the trail hikes, the adrenaline pumping sports and most importantly, the sightseeing that you cannot get anywhere else on this planet.
Overall, Lauterbrunnen offers the complete package, and we are proud to say that we don't mind any of the pennies we wasted here because we'll forever remember our time here.