While you may think that finding the biggest castle in the world is a pretty easy thing to do, it actually gets very hard the more you look into it simply because you first need to make sure you know exactly what a castle even is to begin with.
As silly as that may sound, there are plenty of different definitions that can be applied to castles, but for this short article we have decided to use the most commonly used one just to make it easier for everyone to follow.
So, what exactly is a castle?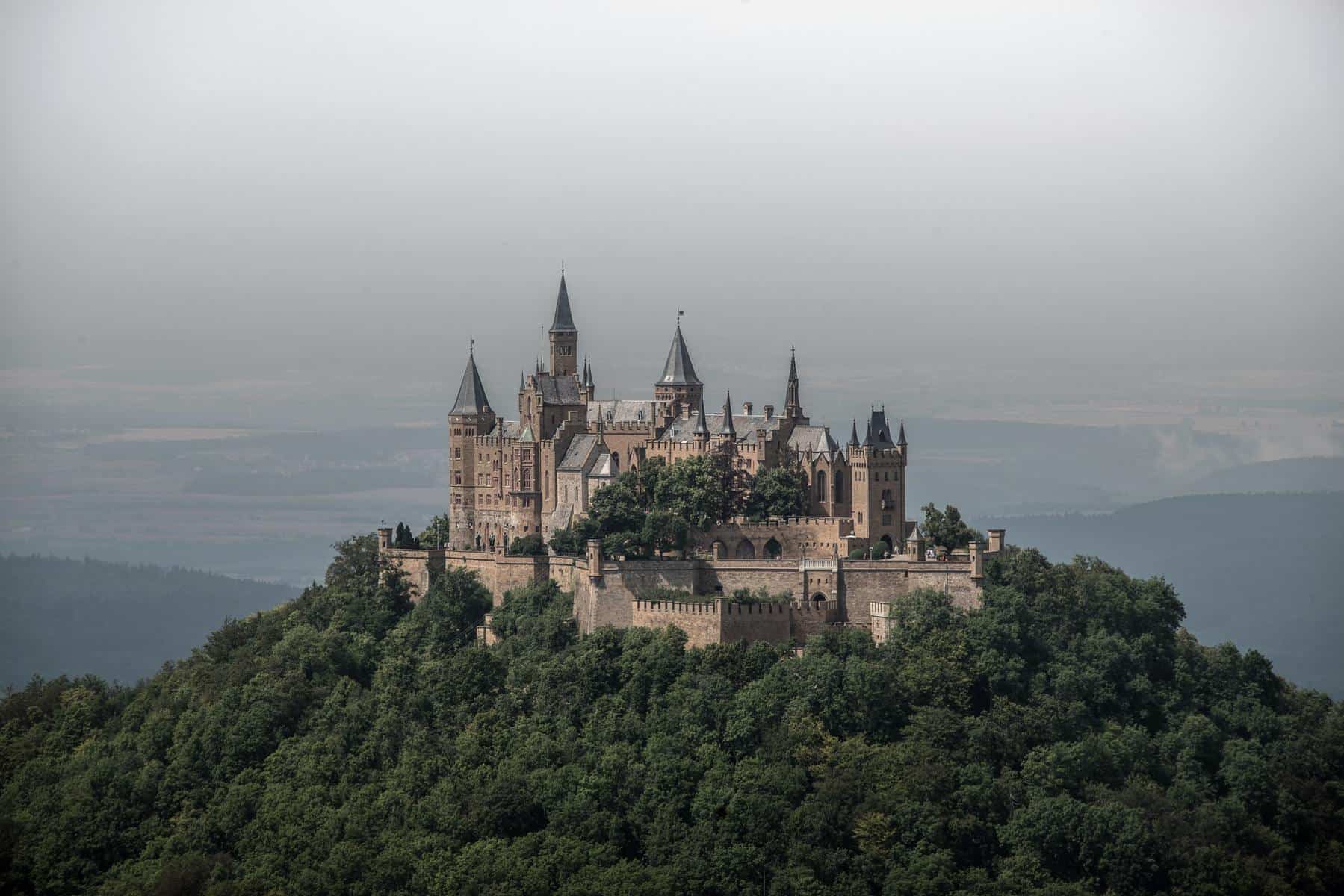 A castle is a defensive construction in which a ruler or an especially rich noble person lives in. That might be a good definition. The reason as to why these castles were built in ancient times is because they were so rich that the fear of being attacked by someone and robbed was always present.
So, this is why castles are so big, while there are definitely some castles out there that are big just for the sake of being beautiful, today we will be specifically targeting the castles that were originally built to protect both the nobleman inside and his or her treasures.
So, for now how about we get right into the nitty gritty of it all as we descend down the latter and look straight into the top 20 biggest castles in the world, starting off with:
20. Neuschwanstein Castle
Standing at 6,000 square meters in total, the Neuschwanstein Castle is not one to gloss over because it is definitely one of the most beautiful castles in the world.
It was originally built to honor the great music composer, Richard Wagner himself, as Ludwig II of Bavaria literally pulled all of that money right out of his pocket to make sure that this castle turned out the exact way that he wanted it to. Needless to say, he succeeded.
19. Cite De Carcassonne
The only thing that's more interesting about Cite De Carcassonne than its incredible size is definitely how many times over the course of time it was almost destroyed or burned to the ground.
That's right, believe it or not but the Cite De Carcassonne was almost taken down more than a handful of times, it was even scheduled to be demolished at one point because they couldn't uphold it anymore.
Luckily however, they never got around to it which is why today we get to glance at what could possibly be one of the most gorgeous looking castles in the world.
18. Mannheim Palace
Being the second largest baroque palace in the world, Mannheim Palace is often times not referred to as a castle simply because it was completely remodeled after the Second World War which essentially left it in shambles after a series of bombings.
Because of the continuous works of the government and the local millionaires though, the Mannheim Palace was brought back to life, even greater than it was before.
17. Kronborg Castle
The Kronborg Castle was originally known as the greatest stronghold in all of Denmark's history, but now it has a new nickname as most people refer to it as one of the most beautiful castles in the world.
Even if we were to abandon the fact that it is one of the largest castles in the world, you can't ignore the fact that it is one of the most beautiful pieces of architecture in the world, specifically thanks to the great sculptor Gert van Groningen, the man that worked day and night to make his life's piece de resistance.
16. Eilean Donan Castle
Although not the largest castle in the world, the Eilean Donan castle is definitely one of the most gorgeous ones out there which has also been recognized by multiple film directors over the years that chose to film their movies here.
Take for example the 1986 movie Highlander, it was one of Scotland's greatest movies and of course it had to be filmed here, to showcase the beauty and magnificence of the Scottish culture and architecture.
15. Mont-Saint-Michel
There aren't that many castles out there that can rival the look and feel of the Mont-Saint-Michel from France. Even though many would not really call it a castle, we still stand by the fact that it definitely deserves its spot on this list.
People from all over the Earth used to come here to pray their sins away, and this practice has been followed to this very day as religious people from all across the globe travel hundreds of thousands of miles just to see the beauty behind this site.
14. Alhambra Palace
Call it a palace, call it a fortress, call it whatever you want, just remember to always call it what it deserves to be called: One of the most beautiful places in the world.
Despite how it looks, the Alhambra Palace wasn't always this grand and majestic, as back when the construction first started it looked a lot more like the Roman fortification ruins that used to be there for God knows how long.
But, thanks to the incredible work done by the great Nasrid emir Mohammed ben Al-Ahmar, now we get to look directly at one of the greatest architectural creations of all time
13. Trakai Island Castle
Is there anything more majestic sounding than something like an "Island Castle"? We think not, and thankfully, the actual castle more than lives up to that name.
Having been originally constructed in the 14th century all the way up to the 15th century, this site has a very rich history, one that the locals would sort of want you to forget and not dive into all that much.
Although today it stands as an incredible landmark that every person in Poland would be proud of, in the 17th century it was mostly used as a prison for war criminals and political rivals.
Despite this rather ugly side of its history, what we have here today is definitely worth a second glance because it's without a doubt, one of the greatest castles we've ever gotten the pleasure of seeing with our very own eyes.
12. Bojnice Castle
Going from dark and depressing to beautiful and romantic, we have the Bojnice Castle from Slovakia. There's a reason as to why this is one of the most beautiful castles in the world, and that's the fact that this has literally everything you could ask for from a castle.
It's gorgeous, the architecture is literally out of this world, and it has an incredibly abundant amount of history attached to it all. Definitely a great site to visit with your loved one.
11. Balmoral Castle
What's interesting to note here is that if we were to cover the actual castle size alone there's no way that the Balmoral Castle could be judged alongside our other picks, but it is saved by the fact that it covers a much wider area than any other castle out there.
It covers a whopping 202,342,821 square meters in total, making it impossible to visit every part of it within one's lifetime.
It was originally built by William Smith and Prince Albert and it definitely was worth the investment because even so many decades later it is still considered to be one of Scotland's greatest architectural achievements of all time.
10. Edinburgh Castle
The Edinburgh Castle is definitely worth the visit from across the planet if you're looking to really get a glimpse of what royalty used to live like in medieval times. It was built sometime around the 15th-16th century, and it is by far one of the most beautiful sites in all of Scotland.
The interesting fact about it is that the chapel inside of the castle, known as the St. Margaret Chapel, actually predates the castle itself, going as far back as the early 12th century. This just comes to show you how important religion was to these noblemen; they literally had their castles built around their national chapel for extra protection from God.
You're looking at a 35,737 square meter construction right here, and that's no exaggeration. This really is one of the most beautiful castles of all time.
9. Citadel of Aleppo
What sets the Citadel of Aleppo apart from other mentions on this list is the fact that it's by far one of the oldest castles in the world that's still standing.
It was built on a 50-meter-high hill in Syria, and as you can tell right off the bat, it was built extremely well since it managed to stay up since its official construction back in the 13th century.
The cool thing about it is that it wasn't actually occupied only by one or two civilizations, it was actually a lot more of them that resided here over the centuries. Amongst the most famous we have the Greeks, the Ayyubids, the Mamluks and even the Byzantines to name a few.
Overall, this is a 39,804 square meter construction, one that has shown the world that time itself has no power over it, it still defies the passage of time by being in near mint condition so many years later.
8. Himeji Castle
Going all the way to Japan we have the Himeji Castle, quite possibly one of the most beautiful constructions of all time, and by far Japan's most beautiful castle.
Japan is known for having really been destroyed by its many civil wars, earthquakes and bombings, and yet the Himeji Castle lived through it all without a problem.
Its construction is said to have started in the 14th century, but the structure as we know it today was only completed in 1609. This just comes to show you that you can't actually rush perfection, as a lot of work done by multiple generations was needed to get to this level of amazingness.
You're looking at a 41,468 square meter building here, and although not as large as some of our next picks, we would argue that it does make for one of the prettiest out there.
7. Buda Castle
Budapest has some incredible constructions and that's a fact. There's a reason as to why they're around the tip of the iceberg as far as tourism goes and the Buda Castle helped it truly stand out.
The Buda Castle was originally fortified back in the 13th century, all as a result of a devastating Mongol attack which almost completely obliterated the Buda's people. In order to make sure that they'd be safe against the onslaught of Mongols, they decided to start building, and they didn't stop there.
44, 674 square meters later they were done, and what's impressive about it is that the style they opted for is a lot more varied than you'd think. We're talking about a mixture of the Gothic and the Baroque, adding in several other styles along the way to make it truly stand out as a beacon of protection for the people of Buda.
6. Spis Castle
Strap in ladies and gentlemen because we're going all the way to eastern Slovakia to see one of the largest Medieval castles in all of central Europe. But if you thought that the wonders ended there then think again because we're looking at the Spis Castle here, one of the most beautiful constructions of all time.
How beautiful is it? It was featured in multiple movies over the past couple of decades now, including the Last Legion which premiered in 2006 and of course, Dragonheart, the famous blockbuster that hit the cinema around 1996.
Looking at this 13th century beauty, you can tell right away that this is a massive construction since it stands at 49,485 square meters. Not the largest but definitely up there.
5. Hohensalzburg Castle
The best part about the Hohensalzburg Castle is definitely just how well preserved it all is. Although it was originally built somewhere around 1077, it only reached the size of 54,523 square meters in 1519 when the people working on it were finally done.
What you see here is by far the largest and best castle that has ever come out of Austria, and it is also commonly referred to as one of the most majestic castles in all of Europe.
4. Windsor Castle
You might already know of the Windsor Castle, mainly because of its nickname, aka "The largest inhabited castle in the world" and that's no joke. This is quite a beauty to behold, and it is currently the place of residence for none other than Queen Elizabeth II.
Although she doesn't actually sleep here at all times, she does come over multiple weekends every year to celebrate or just to relax for a bit.
The castle is so large that you could easily lose yourself in it, just take a look at these numbers, we're talking 54,835 square meters, standing next to it you'd literally look like an ant next to the tallest man in the world.
3. Prague Castle
Alright, we're done messing around, here are the top 3 picks of the day. Firstly, we have the Prague Castle, one of the largest castles in the world, and quite possibly the largest one that's also licensed in the Guinness Book of Records.
It was originally built in the 9th century but that doesn't mean much, considering the fact that over the centuries various different lords decided to change things up and expand it to the point where it only reached the current size of 66,761 square meters in the 18th century.
Inside of it you can find incredible constructions such as the St. Vitus Cathedral and the ever so famous St. George's Basilica.
2. Mehrangarh Fort
Coming in hot on our second place we have the Mehrangarh Fort, also known as the best example of the beauty of Indian architecture you can find.
Even if we were to ignore the fact that it stands at 81,227 square meters, just look at where it's placed. It literally was built on a 400-foot-tall high hill, making it look like it's looming over the citizens there, essentially protecting them and making sure they're not doing anything that would require punishment.
Although it was built in the year 1459, what you see here today actually dates back to the 17th century instead, when most of the constructions inside including the massive 36 meter high and 21-meter-wide walls that defend the castle.
1. Malbork Castle
And here we have it, the tip of the top, the crème de la crop, the literal behemoth that is the Malbork Castle. This is a 143,591 square meter castle and by far the largest one you'll ever find on this planet.
You can find it in Poland, and alongside its beautiful architecture you'll also find quite a rich history to back it up too.
It was originally constructed and inhabited by the Teutonic Knights around the year 1274, and despite its charming look it was originally meant to help perpetuate the slaughter of the Polish as they would continue to rule over the land.
What you see here today was built in 1466, and we can safely say that we're happy that this is as well preserved as it is because by God, this is one of the most incredible pieces of architecture we've ever seen and that we'll ever see throughout our lifetime as well.
Conclusion
Now those were some rather fascinating castles, wouldn't you say so yourself? Despite the fact that most were meant to be nothing more than a showcase of the power and wealth of their rulers, they later on became national treasures that people would travel thousands upon thousands of miles every year to see with their own eyes.
That may seem like an over-exaggeration but can you blame them? Just look at the beauty of these landmarks, they're definitely worth the time and money investment.