Without a doubt, India is definitely one of the most beautiful places in the world thanks to its culturally rich areas which house some of the most jaw dropping pieces of architecture you'll ever get the pleasure to gaze upon.
This is all thanks to India's rich history which is filled with royalty or maharajas, respect and an overall elevated sense of grandeur unlike anything we've ever seen before. If you ever want to feel like you're a small and insignificant human being staring down at the might of ancient royalty there's no better place to visit than India.
The lavish palaces that were built here hundreds if not thousands of years ago still remain a staple of the unique beauty that this country has to offer, and in order to celebrate its majestic opulence we've decided to present to you the 25 most beautiful palaces that India houses. Sit back, relax and enjoy this journey back in time.
Devi Garh Palace, Udaipur
The rulers of the Delwara have been ruling over the grounds there up until the 20th century, and while their heritage is long gone by now, their constructions are far from gone. Nowadays you can actually visit the palace and see it for yourself, to get a taste of what royalty used to feel like back in the past.
Although it does offer some of that old-timey ambiance, you still have some relatively modern features too, such as a black marble swimming pool and the semi-precious stone decorations that are spread all across the palace.
You can stay here for around INR 15,500 per night, which we would definitely recommend if you're looking to have a memorable night together with your loved ones or your family.
Wildflower Hall, Shimla
If you're a fan of wooden structures then there's no better place for you to visit than the Lord Kitchener's former place of residence, aka the Wildflower Hall. This charming palace is especially known for the fact that you can actually look around from the windows and glance at a panoramic view of the snow-covered peaks that surround the area.
You can visit it from 11 AM onwards and a night will cost you INR 22,000. If you ever wanted to feel like you could rest on top of the Himalayas then definitely pick this palace for a one-of-a-kind experience.
Jai Mahal Palace, Jaipur
This is one of those ancient palaces that still instill a sense of grandeur and lavishness that appears to have been lost by the passage of time. It all dates back to 1745 A.D, but thanks to its Indo Saracenic style of architecture it managed to withstand the test of time and make it to this day as one of the staples of Indian architecture
A night here will fetch you a nice INR 12,600, and if you're interested in staying here you will need to book your room after 11 AM.
The City Palace in Jaipur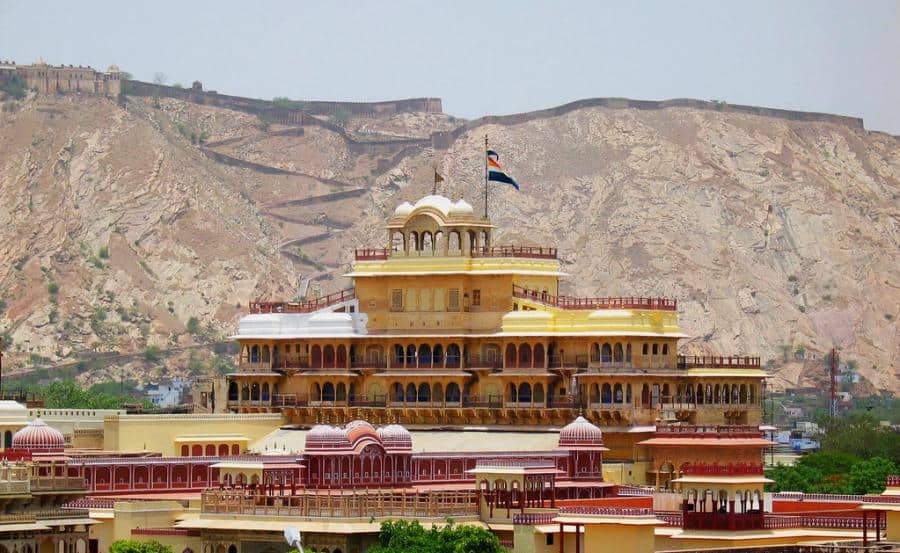 Yet another massive ancient palace from Jaipur, this is by far one of the most beautiful and majestic places on Earth and for good reason too. It was originally built in 1727 by Maharaja Sawai Jai Singh II, and although the style is anything but conventional, it does manage to impress even the harshest of critics.
In order to enter the palace, you'll need INR 190 if you're a native Indian visitor and INR 500 if you're a foreigner. You can also spend a night there, which can cost you quite a lot especially if you're not a native Indian visiting the palace in the first place.
Neemrana Fort Palace, Neemrana
If you're a fan of 15th century architecture then you can't go wrong with the Neemrana Fort Palace. It used to be owned by a ruler known as Rajpur Maharaja Prithivi Raj Chauhan III and although he made the palace as he saw fit, many experts have agreed over the fact that this is by far one of the most modern looks that we've ever seen for a palace coming from that age.
Get your tickets for only INR 500 during weekdays and INR 750 during weekends if you want to experience the life that rulers had back then.
Chowmahalla Palace, Hyderabad
Don't even think about going to India and not visiting the Chowmahalla Palace from Hyberabad. Even if you don't plan on actually entering it, it's still worth the visit as you can still get to gaze upon what is by far the most beautiful palaces in the area and one of the most beautiful sites in the whole world.
The palace was originally built by a ruler known as Nizam Salabat Jung back in 1750, and to this day most actually agree on the fact that it might be one of the staples of Indian culture and architecture overall.
Taj Falaknuma Palace, Hyderabad
Most often referred to as a reminder of the opulence of the Nizams from Hyderabad, this beautiful piece of architecture was originally owned by Nizam's Prime Minister, only to be transferred over to the state soon after he passed away.
Nowadays you can rent a night in the Taj Falaknuma Palace by simply going over to the Taj Hotels Resorts and Palaces Group which directly owns it. They renovated it into what is possibly the most luxurious heritage hotel in the area as of 2010.
Umaid Bhawan Palace, Jodhpur
If you ever wanted to see how a British ruler were to live in India back in the 19th century then look no further than Jodhpur's Umaid Bhawan Palace. This used to be the home of the royal family from the Rathore dynasty and it is still referred to as one of the most luxurious places to visit in the world.
The structure spreads around for 26 acres in total, making this one of the most jaw-dropping architectures you can visit in your life without a doubt.
Laxmi Niwas Palace, Bikaner
This palace was originally built back in 1896 as a testament to the Indo-Saracenic style that had already begun disappearing around that time. In order to make sure that this style of architecture wouldn't be lost forever, the state's Maharaja Ganga Singh decided to construct it.
Nowadays it is known as one of the most luxurious hotels in the world, and if you want to book a night here, you'll need to talk it out with the Golden Triangle Forts and Palaces because they're the ones that currently help maintain and manage it.
Fernhills Royal Palace, Ooty
A young 12-year-old prince decided that he needed a nice and luxurious summer palace to spend his summer vacation in, so he went ahead and bought this insane piece of architecture back in 1873 for the sum of INR 10,000.
Although it has been slightly altered during the renovations, the Palace still remains one of the most beautiful places you can ever visit during your lifetime. We especially recommend checking out the Burmese teak that's plastered all over the site.
Leh Palace, Leh
The Leh Palace is by far the best attraction that you can ever visit while in Leh. It was originally one of the tallest structures in the world when it was first built, standing tall at 9 stories high, offering one of the best views in the world.
It was built back in 1553 by Tsewang Namgyal, the founder of the Ladakh's Namgyal dynasty, and it is a testament of what the royalty back then loved in architecture.
Taragarh Palace, Kangra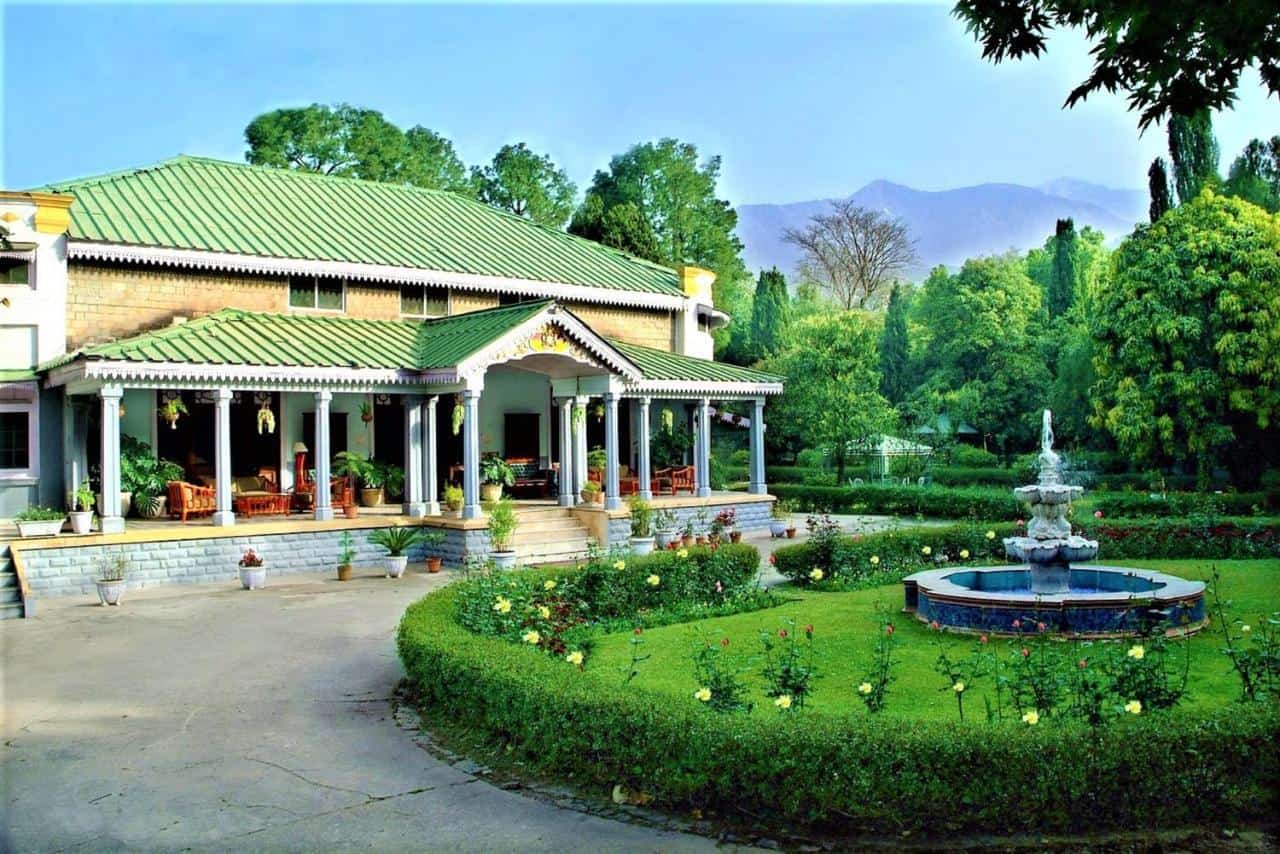 If you're a fan of heritage hotels you cannot skip the Taragarh Palace from Kangra because it is by far one of the gentlest and most relaxing places you'll ever visit in your lifetime.
The palace is a must for any nature lovers that just want to relax and be one with their surroundings.
Hawa Mahal, Jaipur
Jaipur is already known as one of the most beautiful places in the world, and this is all thanks to the amazing architecture here. One of these incredible sites is definitely the Hawa Mahal.
What's special about it is definitely its honeycomb-like architecture which we can assure you that it will leave you speechless.
Prag Mahal, Bhuj
If you're a fan of the Italian Gothic style of buildings then you should definitely go out of your way to visit the Prag Mahal. While not the largest palace in the world, it truly makes up for it with its incredible style choice which really makes you feel like you're visiting a monument from western Europe.
It originally costed 3.1 million Indian rupees to build, and as you can tell it was all worth it because even almost 200 years later, the monument still stands tall, presiding over the world as a staple of Indian architecture.
Taj Lake Palace, Udaipur
Pull out your bucket list and start writing because you should never even consider going to India and not visiting the Taj Lake Palace from Udaipur.
Situated in the famous Lake Pichola, this massive structure was originally built back in 1746 and although it used to be more so a private resort in the past, nowadays it is known as one of the most luxurious public resorts in the whole world.
Kowdiar Palace, Thiruvananthapuram
Originally built back in 1939, this was supposed to be a wedding gift for a royal family's wedding. It may not seem like much from afar, but trust us when we tell you that the 150 rooms that you can find in this estate are all first class.
On top of that this is one of the few pieces of architecture that still upholds the traditional Kerala architecture style that has been lost in the passage of time. This is definitely worth a visit if you're in the area especially since actually entering the palace is free.
Chettinad Palace, Chettinad
The funny thing here is that the region of Tamil Nadu is a relatively small and unimportant area in India, but thanks to the Chettinad Palace it has been brought up as one of the most important sites that every tourist should visit at least once during their lifetime.
It was originally built back in 1912, and although staying the night is out of the question you can still enter the palace for free so there's no reason not to do so if you're in the area.
Jai Vilas Palace, Gwalior
If you ever wanted to feel exactly what inferiority feels like, definitely go to the Jai Vilas Palace because there is no way you won't feel like a smaller man or woman after you do so.
The royalty engulfs all that enter this palace, and although you cannot stay the night here, you can still visit the 35 rooms inside and pick up one of the many books that are spread all across the site.
As you've already guessed by now, this is less of a palace and more of a library filled with both books and art gallery items which will make any art connoisseur blush.
The Ujjayanta Palace, Agartala
If you're ever anywhere near Agartala you should definitely pack your things and visit the lovely Ujjayanta Palace. Why? Because it is one of the top attractions in all of India and that's a fact. What is now a world-class museum used to be one of the most majestic palaces in the world, and the home of one of the most famous Indian writers, Rabindranath Tagore.
It is very cheap to enter too, with only INR 10 per person, so you literally have no reason not to visit it.
The Amber Palace, Jaipur
Jaipur, also known as the Pink City, is the home place of Amber Fort (or Amer Fort), one of the most beautiful and rustic palaces you'll ever get to look upon. If you're a fan of Bollywood then you will definitely recognize it as several great movies such as Veer, Bajirao Mastani and Jodha Akbar were all filmed on these grounds.
Several rulers have actually lived here over the years, and despite the fact that it's no longer allowed to spend the night here, you can still visit the place and check out the scenery for just INR 10 if you're a student, INR 25 if you're an Indian and INR 200 if you're a foreigner.
Lakshmi Vilas Palace, Vadodara
There is a reason as to why most people refer to the Lakshmi Vilas Palace as one of the most beautiful places in the world, and we bet you can tell right from the start what that reason is.
Simply put, this palace oozes history and culture, it is an incredible landmark for the Indo-Saracenic style and a perfect example of what great minds can do when they work together. It took them 12 years to build it, and it's been standing tall for well over 150 years now as a testament of true Indian legacy.
Bangalore Palace, Bangalore
The Bangalore Palace is always going to make the list of any top palaces in India and that's a fact. Just take a look at what is quite possibly one of the largest and most beautiful architectures in the world.
Spread across 45,000 square feet, this massive estate is adorned with incredible carvings that are a perfect blend of Scottish Gothic and Tudor architecture.
You can visit the site for INR 230 if you're a native Indian, and if you're just a visiting foreigner you'll find the entry fee at a nice INR 460 which shouldn't be a problem for anyone that wishes to experience the great traditional Indian architecture that the country has to offer.
Mysore Palace, Karnataka
If the carvings from the Bangalore Palace weren't enough for you then definitely visit the Mysre Palace because it will definitely scratch that itch from the moment you enter the front doors. The place is stacked full of incredible carvings and most importantly, you can visit it in its entirety without having to worry about being stopped at every couple of feet.
This is one of the few buildings that were built in the Indo-Saracenic style, a style that has often times been referred to as one of the most beautiful and majestic in the whole world. You do not want to miss out on this one.
The Cooch Behar Palace, West Bengal
If you're a fan of the Buckingham Palace then you should definitely visit the Cooch Behar Palace because it was actually modelled after it.
Because of this, it's actually one of the most beautiful palaces in the whole world, rivaling even the original Buckingham Palace itself with its incredible style and majestic size.
It is spread across a 395 by 296 feet area, with the whole site actually spreading across 51,309 square feet so even if you were to visit it for a whole week straight you still wouldn't be able to see it all in one go.
The Taj Mahal Palace, Mumbai
Was there ever any doubt? The Taj Mahal Palace is literally known as the king of all palaces all across the globe and for good reason too. A whole slew of royals have spent the night here, more than any other luxury or heritage hotel in all of India combined.
Many refer to it as the crown jewel of India, its most iconic structure and most importantly the first ever hotel in India to have electricity.
Although it's not the oldest hotel in India, it is by far the most recognizable, with many people associating Indian culture and heritage with this culturally and historically rich site.
Conclusion
India really is heaven on Earth for the people that want to see what humanity's greatest architects can do. The utter size and attention to detail here is astronomical, with each and every one of these pieces of architecture really standing out from one another, making India by far one of the best places to visit in the whole world.