The second smallest state of the United States, Delaware has no shortage of wonderful parks, a beautiful coastline, stunning beaches and by far some of the best wildlife refuges you'll find in the entire country, making it a very popular place to visit.
On top of that, Delaware also has a plethora of charming cities and towns for you to check out and even move there if you're looking for a more laid back lifestyle.  Each of these places comes with its fair share of first-rate schools, excellent amenities and some of the lowest crime rates you'll ever see in the US.
As such, it's no wonder that Delaware is such a sought-after place to move to. But as you can expect from such a highly regarded state, there are more than a handful of options that you need to go through before you can settle on the best place for you.
This is why for today we decided to bring you a top 20 of the most desirable places to live in Delaware. So, let's just ease our way into our first pick of the day:
20. Wyoming
Wyoming, Delaware, has always been one of the most attractive options to settle in for both millennials and older generations alike, especially if you want to be close to Dover.
It has a total population of 1,801 people, while also having more than its fair share of amenities and recreational pursuits which attract a lot of tourists every year.
The crime rate here is also quite low, its school and job opportunities are resoundingly stunning and of course, the property prices are more than affordable enough to get anyone's attention.
You can actually get your perfect home for as little as $169,300, which in itself makes this one of the most affordable places to live in Delaware as well.
19. Middletown
Middletown is a charming little place that has a small yet very friendly community that is always ready to take you in.
This town is often times referred to as one of the most attractive destinations for families, especially thanks to its low crime rate, the stellar school system here and the fact that most families here bring in around $87,375 per year.
Housing is also relatively affordable here, it might be a lot more expensive than Wyoming, but you can still find a decent-sized home at around $282,200.
Couple that with the fact that there are a lot of restaurants, bars and diners for you to check out, and you can quickly see why Middletown is one of the most popular places to live in Delaware.
18. Little Italy
A lovely neighborhood in the west side of Wilmington, Delaware, Little Italy is known for having a very low crime rate, excellent schools, including the illustrious CAB Calloway School of the Arts and Conrad School of Science, and very low unemployment rates.
The job market is also worth noting here, and the fact that most families here bring home around $62,779 per year, which is more than the state and national average.
But by far the best part about Little Italy is the fact that the average home is very affordable and easy to get, as most of them cost up to $166,085 or so.
17. Lewes
Lewes can be found smack dabbed into the nook of Delaware Bay, with a total population of 3,303 people currently living here.
While a lot of people consider it to be a city on paper, most of the locals agree that it feels a lot more like a small town than anything else.
The houses are a bit more expensive here than we'd like them to be, but that is to be expected from a place so close to Delaware Bay, which also reflects on the median rate which is around 20% more expensive than the national average.
The crime rates are also a bit of a problem, which is why Lewes is not any higher up on the list, but outside of that you'll find that Lewes has a lot of places for you to visit and enjoy, a lot of amazing amenities and most importantly, an amazing school district which will ensure your kids for life.
16. Rodney Village
Part of Dover, Rodney Village may seem like a very rural place to live in at first glance, but in reality, it is a peaceful suburb that comes jampacked with all of the benefits that a suburb carries with it.
Even so, Rodney Village manages to keep a sort of village-like atmosphere thanks to its closeknit community of 1,500.
Another notable part about living here in Rodney Village is the fact that property prices are quite reasonable and there are more than enough job opportunities for everyone.
The commuter options are also highly accessible too, which is why Rodney Village has been listed as the second-best place for Millennials to live in while in the state of Delaware.
15. Bellefonte
Many people believe that living in an affordable place comes with sacrificing either your safety, livability or comfort, but this doesn't always have to be the case.
Just look at the beautiful, cozy and safe little town of Bellefonte, where you can buy yourself a good-sized property for as little as $221,200 per average.
Nestled in the outskirts of Wilmington, this city's streets are very clean and there are more than a handful of schools for you to send your child to.
There is also an abundance of amenities and attractions for you to opt for while you're here, and let's not gloss over the fact that this place has also had a very active art scene boom in recent years.
14. Pike Creek Valley
The one thing that we can say about Pike Creek Valley is that it is not afraid to show off its goods, as there is no real downside to moving here.
The job market is amazing, there are a lot of amenities around every corner and the nightlife is very vibrant, making Pike Creek Valley a great place for youngsters to buy their first home in.
The crime is also very low and you can easily get your hands on a decent sized property for as little as $254,800.
Couple all of that with the fact that the average annual income is of $72,500, and you can quickly see why so many people's attention is diverted to Pike Creek Valley lately.
13. Edgemoor
Edgemoor can be found on the northern side of Wilmington, and it's a peaceful suburb with a total population of just under 6,500 people.
It is known for its affordable housing, a plethora of socializing opportunities and of course, the overall safety that it comes with, since it features one of the lowest crime rates in the area.
Once you move in, you'll also be happy to hear that you're always in close vicinity to the New Castle County River Park and the Fox Point State Park, where you can go with your family or your dogs to take in the beautiful scenery and relax.
12. Milton
Milton only has around 3,200 residents currently living there, but as far as we could tell from talking to the locals, it is one of the calmest and most welcoming places you could live in.
The houses here average out to around $301,800, and interestingly enough, most of them have a very unique classic architecture which really stands out.
Milton is also very safe, as the crime rates here are 54% lower than the state average, so if you're a parent looking to relocate, this could be the perfect option for you.
On top of that, Milton also has some very good public schools, and let's not forget about the fact that it also has a lot of medical facilities right around the corner in case you ever need to opt for one.
11. Rehoboth Beach
While most people think of Rehoboth Beach as a vacation town, it also does have a total population of around 1,000 residents living here during the fall and winter months.
But as soon as the summer comes along, you can expect those numbers to spike up to 25,000 people as everybody comes back to soak up the sun and party.
You can even find influential people such as the President Joe Biden living here during the summer in his very own home, that's how popular of a location it is.
Do keep in mind however that owning a permanent home in a vacation town isn't going to be cheap by any means, as most houses here cost upwards of $1,147,600.
10. Newark
Newark is known for its green spaces above all else, but it also doubles down as a popular place for people to fish trout in, thanks to the fact that it is transected by the creek.
The schools here are great, way above national average, and on top of that you are always a 15-minute drive away from Wilmington.
It is not the most affordable place to live in, sure, but it is still within most people's budgets for the most part, and considering just how many amenities there are for you here and how good the quality of life is, it's definitely worth it.
9. Highland Acres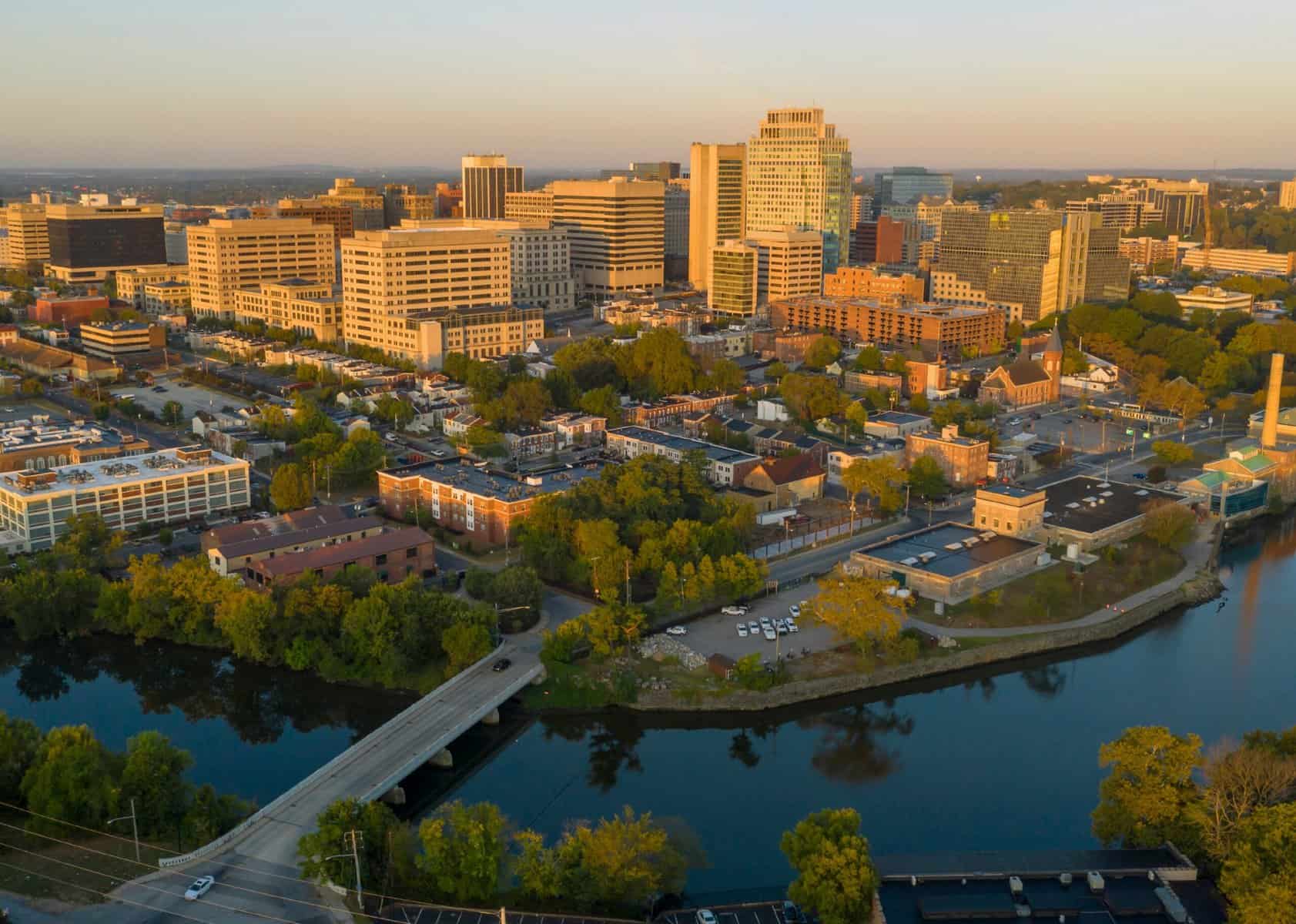 Another part of Dover that we totally love, Highland Acres is one of the best options you might have if you're simply looking for a place to rent a property in. That is because it is by far one of the most affordable areas of Kent County.
With a total population of just under 3,500, Highland Acres is gradually getting more and more attention drawn to itself thanks to its access to public services, its amazing schools and the fact that you're always so close to the sea and the beach.
The weather is also relatively mild, so if you want to experience all four seasons, you may want to consider Highland Acres.
8. Selbyville
Selbyville has a total population of just under 3,000 people, and it is often times regarded as one of the happiest places in Delaware.
That is because the residents here get to take full advantage of its highly regarded schools, the extremely low crime rates and of course, the fact that no matter where they live, the people of Selbyville are always just 20-minutes away from the Ocean City Beaches of Maryland.
Buying a home here also costs you around $322,400, which is a bit on the higher end, but you can always opt for renting a place instead, if you don't have the funds for that just yet.
7. Hockessin
Hockessin has a very low crime rate, a plethora of amenities and a very diverse and welcoming community at that too.
It has a several first-class public schools here as well, and a booming job market that will make sure that you'll never have to stress out in between jobs.
The housing costs may be a bit on the higher end, but you can still expect to have to pay around $433,400 per property.
The average income here also rests around the $123,654 mark though, which makes living here quite comfortable to say the least.
6. Happy Valley
Happy Valley really lives up to its name as it is considered one of the best places to live in Wilmington and of course, from the entire state of Delaware as well.
It has a total population of 1,769 people as we speak, and according to them, living here has been nothing short of perfect.
This neighborhood is located pretty close to Wilmington's city center, it has amazing commuting access and more than its fair share of amenities for you to choose from.
Happy Valley also has some very highly-regarded schools, some very safe and clean streets and we can't forget about just how diverse and welcoming its community is.
5. Greenville
Even though some people consider it a peaceful suburb of Philadelphia, Greenville is still a part of Delaware, and it's a lot closer to Wilmington after all.
As such we really think it's one of the best places to live in the entire state, especially due to the fact that you can find here numerous schools and the Wilmington Country Club as well.
Houses here are worth looking into as they are absolutely stunning, just keep in mind that your jaw might drop to the ground after you will see the prices per property here.
Buying a home here in Greenville will cost you as much as $629,000 per average, but do keep in mind that the quality of the houses here is also up there, as for that money you get a 5-bedroom, 4-bathroom home with a pretty massive garden.
4. Wawaset Park
Tucked away on the western edge of the City of Wilmington, Wawaset Park has everything you could ever ask for, and more: a small yet very diverse and friendly community of around 2,200 people, a practically non-existent crime rate and a very acceptable median income of $125,841 per year.
On top of that you also get to send your child to some of the best schools in the state, and while properties may be expensive, they are also well worth the investment considering just how much bang you get for your buck.
With that being said though, you will rarely come across a house here that costs you less than $636,245 or so, which can still be a bit out of some people's budgets.
3. Forty Acres
Buying a property in Forty Acres does not come cheap, as most houses here will cost you upwards of $365,564, but they are well worth the investment considering just how many attractions can be found in this popular Wilmington neighborhood.
If you're looking for a few reasons why you should move here, first of all, there is little to no crime happening in Forty Acres. Second of all, the unemployment and poverty rates are just as low.
Third of all, the schools here are some of the most well regarded in the state, and the job market is so good that it can sustain a median income of $132,200 for its residents.
Last but not least, the nightlife in Forty Acres is great as well, and there is no shortage of amenities and shopping options for you to consider.
2. Pike Creek
Part of the Philadelphia-Camden-Wilmington area, Pike Creek seems to be very close to all the action, yet far away to enjoy a peaceful and fulfilling life.
Prices for properties here revolve around the $316,000 mark, which is quite extraordinary considering just how close you are to Philadelphia and Wilmington as well.
Pike Creek is also regarded as one of the best options for outdoor lovers, especially when you realize that the White Clay Creek State Park and the Middle Run Valley Natural Area are right around the corner.
This is also the place where you'll find some of the best public schools in the state, with the top three options boasting A-rankings all around.
1. North Star
Taking our first place in this list we have North Star, a census-designated place that's prettier than most small towns out there, nestled just a few miles north of Pike Creek, but scoring slightly better in all metrics.
We only have words of praise for North Star; it would be actually a lot easier for us to list off the top 100 best things about this place than to give you a single disadvantage of living here.
The schools are all world-class level, the job market is absolutely stellar and the neighborhood is friendly, clean and safe all at the same time.
Properties are also quite affordable, even though they're above average for Delaware, but considering just how good the quality of life is here you'll get a great deal even if you end up paying around $433,400 for a decent-sized home.
If you want a testament to how good life is here, just know that 98% of the residents here live in owned homes.
Conclusion
Delaware is an exceptionally great place to raise a family and find work in. It is very historically rich, with most of its ancient landmarks going as far back as the early 18th century, and yet it still manages to keep property prices within the affordable range for most.
As such, we can safely say that there aren't a lot of places here in Delaware that would make for a bad place to live in, although if you do want to ensure the best for your family, we do recommend that you check out one of these 20 picks right here as they are some of the top choices you have.
For more interesting places to live in, check out Delaware's neighboring states: New Jersey, Pennsylvania and Maryland.
---