Alabama is getting more and more popular as the years roll on by, but what many people don't realize in fact is that there are quite a lot of things that you need to consider before actually moving into your dream home here.
The location for example is very important, and of course, we can't possibly forget about the price of your future home and the overall vibe that it carries on out.
But before making your final decision, always make sure to take all of your possibilities into consideration so you don't end up regretting your choice.
This is why for today we decided to bring you a list of the top 20 best places that you could live in if you decide to move to Alabama. So, let's just start off our list with the first pick of the day:
20. Calera
Despite the fact that it is at the bottom of our list, we can still safely say that Calera is by no means any less appealing than other cities from Alabama listed here.
In fact, it may be your best choice if all that you're looking for is affordability, decent schools and a fair number of amenities, such as restaurants and bars for you to frequent whenever you feel like it.
That is because a house here in Calera will average out to around $138,100, which is not bad at all, and if you're looking for something a little less permanent you can always just opt for renting the place, which rarely surpasses the $1,000 a month mark.
As mentioned previously, there are a total of 38 public schools in here, which you will appreciate a lot if you are a new parent looking to relocate to a safer and cleaner environment.
19. Pelham
Moving to Pelham may be one of the best choices you've ever made considering just how many places are available for you here and more importantly, how affordable they are.
Coming out to a decent $164,300, it's important to say that even though the prices are low, they spared no expenses when it came to making the living conditions here great.
On top of all of that, Pelham also has a very friendly and culturally diverse community that is sure to accept you no matter your social, religious or financial disposition.
The public school system here is also above average and there are plenty of job opportunities to be found around Pelham too, so you can move in even if you don't have a permanent workplace just yet.
18. Indian Springs Village
This Birmingham suburb has a total population of around 2,500 residents in total, and you can find it in the Shelby County, where it is often times regarded as one of most laid back places to live in The Yellowhammer State.
Most of the people here live in their own houses which is always nice to see, and once you do settle down, you'll be happy to see just how many restaurants and parks there are just around the corner.
Indian Springs Village is mostly populated by older individuals, which is why it shouldn't come off as a surprise that most of the population consider themselves to be conservative.
Last but not least we would like to mention the fact that the public schools here are top notch, so if you want to ensure your child's future while also living in a pretty safe and clean environment, then Indian Springs Village may be the perfect place for you.
17. Brook Highland
The average home here in Brook Highland will cost you upwards of $334,000, which, while definitely not the cheapest option you'll find on the market, comes with its own fair share of perks.
For example, Brook Highland is extremely popular with millennials, which in turn means that in the future we can foresee a huge growth in the area.
On top of that, there are a ton of different amenities for you to actually take advantage of, and let's not forget about the fact that the average salary per year is way above what the national average is.
Couple all of that with a thriving job market and the fact that the schools here are great and you can quickly see why Brook Highland's popularity is increasing so much as of late.
These are just a few reasons why so many people consider it one of Birmingham's most sought after suburbs.
16. Alabaster
Speaking of Birmingham suburbs, Alabaster is often times regarded as one of the most affordable and profitable places to live in around the big city.
The reason behind that is because the unemployment rate here is very low, and out of the 31,905, almost everyone here earns enough to live comfortably.
But by far the best part about Alabaster is the fact that you can even find yourself a home for under $100,000 if you look hard enough, although do keep in mind that if you set your mind out for this it'll take a while to actually find something that is equally high quality.
15. Fort Payne
Fort Payne instantly makes its way on any nature lover's list, simply because it is the homeplace of the DeSoto State Park, the Little River Canyon National Preserve and of course, the wondrous Lookout Mountain, which is always nice to visit with your family or friends during the weekends.
The DeSoto State Park was by far our favorite stop here, but if you move in permanently, you'll be happy to hear that this is only one of the many attractions that you can spend your time on whenever you have spare time.
So, let's just say that if you are a fan of camping, hiking and overarching landscapes, you will absolutely love your time here at Fort Payne.
14. Guntersville
Guntersville is also worth considering if you are a nature lover looking to move into a place that will never run out of attractions for you.
That is because Guntersville is the home of Buck's Pocket State Park, the High Falls Park, and of course, the blissful Lake Guntersville State Park.
On top of that, Guntersville has a ton of restaurants for you to check out and the nightlife takes over as soon as the sun goes down, as everyone walks out of their place to enjoy the many spoils that the night brings.
Guntersville also has a pretty interesting museum for you to check out, so as soon as you're done moving in, consider visiting it for sure.
13. Dauphin Island
If you are a fan of beaches you have got to check out Dauphin Island because this is where you'll find some of the best beaches in the state.
History lovers will also enjoy their time here as they get to explore and learn more about the past and all of the historical sites on this small island.
But let's not forget that you're not here for a short time, you're moving here, so what else is there that makes Dauphin Island so good?
Well, the job market is very promising, the unemployment rate is practically nonexistent, the crime rate is just as low, and the streets are about as clean as they can get, and we're barely scratching the tip of the iceberg here.
12. Decatur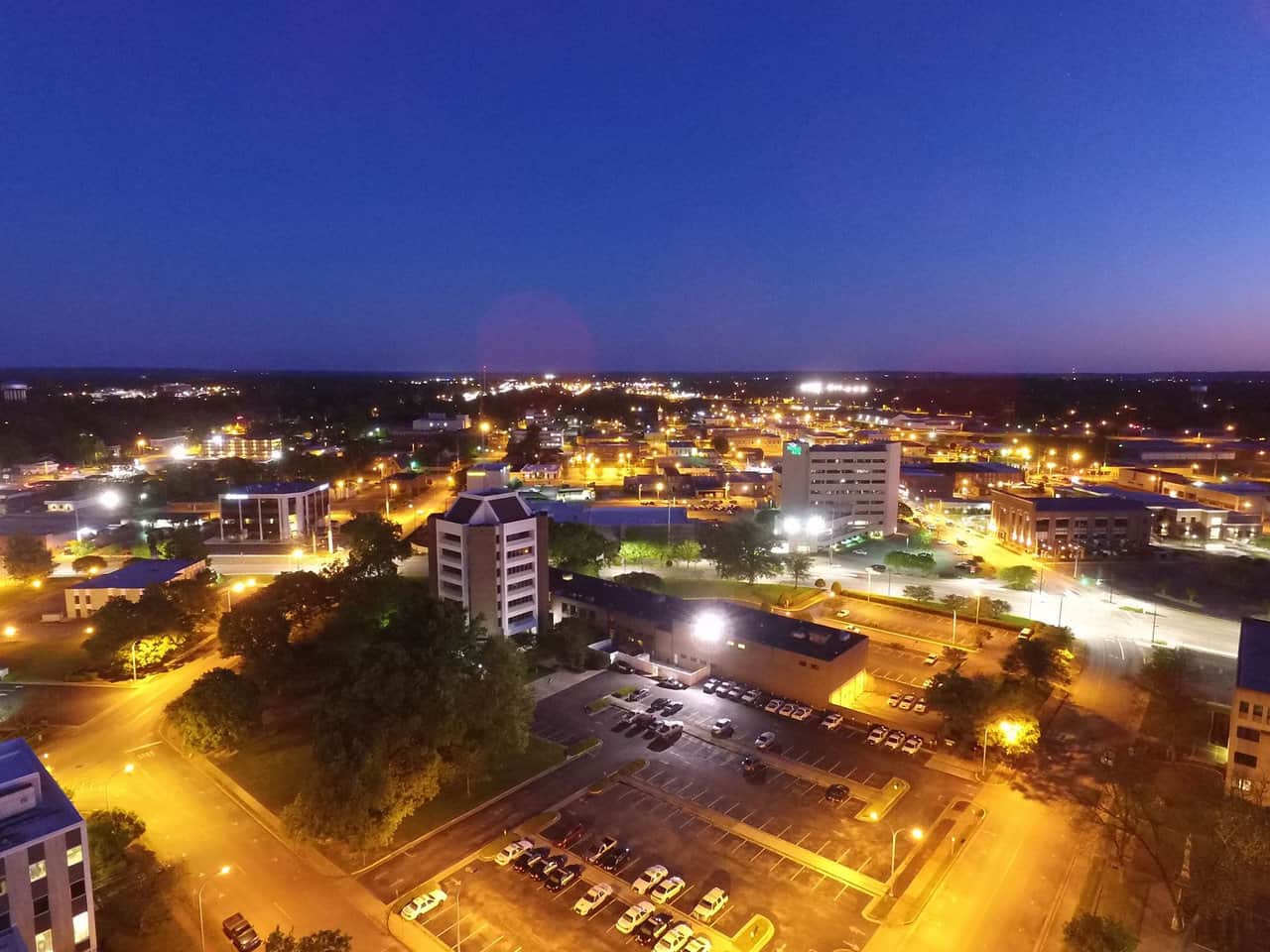 Commonly referred to as the River City, Decatur can be found along the Tennessee River, and it's a place extremely popular with hikers since it is basically the home of the Decatur Hike-Bike Way Trailhead and Flint Creek.
What's special about Decatur though is the fact that it features 201 sunny days and 54 inches of rainfall every year, and on top of that it has 13 hospitals and 20 schools for you to choose from, alongside some stunning places that come at a fair price.
The Cook Museum of Natural Science is also right around the corner, and while not the lowest crime rate around, it is still low enough to the point where you don't need to worry about it anytime soon.
11. Auburn-Opelika
We know these are basically two cities, but SO many people refer to Auburn and Opelika as one. That's because this metropolitan area is simply a great place to visit and even to move into.
It has a ton of museums, a lakeside golf course, and many different amusement parks for you to visit with your children during the weekends.
The cities are also noticeably vibrant and the weather here is especially warm, so you don't have to worry about wearing an extra jacket underneath to keep yourself warm anytime soon.
With a total of 19 hospitals and 13 schools, you can expect your family to have some of the best medical care and education in the state here.
10. Florence
Florence can be found on the northwestern side of Alabama, running alongside the Tennessee River. It has a total population of around 40,000 people, and it is known for being the home of the University of North Alabama.
But this town is also quite famous for its live music events, so if you want to go out every night and have the time of your life, there aren't many places that are as lively as Florence.
Florence also has a ton of shopping districts for you to explore, including Historic Downtown Florence and English Village.
9. Helena
This fairly large suburb is known all throughout Birmingham as one of the best places to live in, thanks to its low housing costs and the excellent living quality that its residents have.
Buying your dream home in the City of Helena will cost you as little as $181,900 per average, and for that price you will usually get a pretty generously sized garden alongside a backyard and a private driveway.
Most of the residents here live relaxing, laid back lives, since the crime rate is very low and the average income rests somewhere around the $84,615 mark.
The public school system in town is also great, and while it's not as good as some of the other options on this list, it is nothing to shun at either.
8. Fairhope
The small tow of Fairhope has a total population of just under 23,000. But it is a very gorgeous place to live in though, as it is set on the seafront.
You would think that the prices to live here are astronomical, but actually they're not too shabby, since you can get ahold of a pretty good home for as little as $238,800.
There are a ton of properties for you to pick from too, and we can't forget about the copious amounts of restaurants, bars and shops that you can frequent every now and then.
The quality of life is also a step above some of the other options on this list, and you also get access to the Founder's Park and the Mobile Bay at all times which is always a plus.
7. Meadowbrook
Meadowbrook is a fairly small suburb from Birmingham that is populated by around 10,000 people or so. The average salary here rests comfortably around the $92,193 mark, so families are pretty much known for being pretty well off over here.
Moving here also means that you gain access to 31 public schools, so if you're a parent looking to relocate somewhere to better your child's education and ensure a future for them, Meadowbrook may be the perfect choice for you.
6. Homewood
Homewood is known for its high-quality schools and of course, the plethora of amenities including parks and sports that you and your children can partake in.
This little town can be found in the Jefferson County, and as soon as you move in, you'll be happy to hear just how many restaurants, coffee shops and local businesses there are to be found here.
Most of the population is also college-educate and there's very little political pressure, so you won't have to worry about getting in arguments with your neighbors over petty political views anytime soon.
The public schools, as mentioned previously, are top notch too, we may even go as far as to say that they're some of the best in the state.
And did we mention that Birmingham's city center is just a few minutes away?
5. Hoover
One of the fastest growing suburbs of Birmingham, Hoover has a total population of around 92,000 people as we speak, and it is often times regarded for having some of the best living conditions in the entire state.
This is because the median household income is of around $77,146 per year, which pretty much guarantees that once you move in here and you find a job, you'll live comfortably from that moment onwards.
On top of that, house prices here are pretty fair and affordable, and let's not forget about the fact that you always have exciting places to visit such as the Oak Mountain State Park right around the corner.
4. Mooresville
Mooresville is the pinpoint definition of the word "chill". It is a pretty small town that can be found outside of Huntsville off of Interstate 565.
This town is also known for being very green, as most of the businesses here are locally owned and there's plenty to see and do that will help benefit your overall health.
Mooresville is the home of 1818 Farms too, where you can find plenty of fields and flowers full of sheep to snap pictures of, in case you feel like going a bit offroad and living a healthier lifestyle.
3. Tuscaloosa
Tuscaloosa is one of the coolest cities in the state and that's no exaggeration. It is the home of the University of Alabama's Bryant-Denny Stadium, and on top of that it is also packed full of museums, antebellum mansions and historical sites.
The Moundville Archaeological Park is always within reach, and that's not even the best part about living here. The job market is pretty great, the schools are some of the best in the city and the crime rates aren't too bad either.
There is so much to do and so much to see in town, so of you are a fan of nature and open spaces, Tuscaloosa may very well be the perfect option for you.
2. Vestavia Hills
This charming Birmingham suburb sits in both Jefferson and Shelby Counties and has a total population of 38,000 people as we speak. The average home sells here for around $346,400, which might not be accessible to everyone, but just know that this gets you a very good family home, alongside some of the best amenities your money could get you.
If you are looking for something downright drop-dead gorgeous though, you may want to invest a bit more into the housing because Vestavia Hills has a ton of extraordinary 5-bedroom homes for you to pick from too.
But even so, for around $229,900 you can still get your hands on a decently sized 3-bedroom family home with a double garage and fairly sized gardens.
1. Madison
Madison is one of the best places to live in, not just in Alabama, but in the entire country if you ask us, for a plethora of reasons. First and foremost, it may be a smaller town, but it still has a total population of 58,000 people that all swear by the quality of life that they have here.
Second of all, the job market is unlike anything we've seen in the state, and the unemployment rate is so low that you will never have to worry about not having opportunities to grow. That is because you are always within reach of the Redstone Arsenal Military Base.
Madison also has some of the best schools in the state and a ton of amenities: awesome parks, historic sights, numerous restaurants and so on, that you will never get enough of.
Conclusion
Alabama is both affordable and reasonable when it comes to its prices and its quality of life. Overall, if you're looking for a safe environment to live and raise a family in, you can't go wrong with any of these towns and cities.
The public schools are very good, and while there are some places that have a pretty pesky crime rate, most of the places we listed here are risk-free, so you can be sure that moving in here will not result in any problems whatsoever.
For more interesting places to live in, check out Alabama's neighboring states: Tennessee, Georgia and Florida.