The Caribbean is well-known for its beautiful islands and Aruba is definitely one of the most famous ones, as it has one of the most beautiful beaches and some of the clearest waters in the world.
Aruba is a paradise of beautiful weather and an open space for exploring the seas to the deepest possible ridges.
The beautiful beaches that stretch along the shores (especially western and southern) offer an unparalleled view and endless opportunities for fun and relaxation.
The northern part of the island is a real outburst of nature. The sea erupts madly and hits the shore with its waves. The view is almost apocalyptic, and you have probably never seen such images anywhere else. It is not recommended to approach the water or to swim, as the rage of the sea may swallow you without leaving traces.
Almost all the beaches are public, and you can walk carelessly on them or you can sit in the shade of a straw umbrella. But be careful! Cleanliness is sacred! Do not destroy the purity of these places with garbage, because here live various animals that call the area "home".
We have created a list of the most beautiful Aruba beaches, and they will absolutely make you book a vacation right away.
20. Rodgers Beach
One of the most beautiful beaches in Aruba is Rodgers Beach, a hidden paradise of 265 meters, with clear waters and clean sand. If you look from a distance, the water resembles a pool. The clarity of the water offers the possibility to scuba dive and explore marine life. The sand is perfect for a relaxing day under the sun. There are plenty of restaurants on the beach, where you can enjoy local food or international meals.
One thing to know about this beach is that it is crowded on weekends, as locals go there to relax during those days. However, on weekdays, the beach is calm and perfect for those who do not like crowded places with thousands of people standing side by side. Unlike other places in Aruba, this one is not such a tourist point, and if the only thing you are looking for is some relaxing days on the beach, you should feel amazing here.
Locals call the beach Nanki Beach, and you might find information about it under this name. However, the name everyone knows comes from a British captain- Captain Rodgers, a man that set up the first oil refinery in Aruba (in 1928).
In conclusion, if you are looking for a place to escape reality, Rodgers Beach is the place for you.
19. De Palm Island Beach
De Palm Island Beach is a famous beach renowned for its beautiful views and fun activities. You will find the beach on a small island, and it offers unlimited possibilities for relaxation and entertainment. The crystal-clear waters offer you the opportunity to scuba dive freely, while banana boating will satisfy your need for adrenaline.
However, these are not the only things you can do on the island. You can try sea trekking, snorkelling, helmet diving and others. One of the most beautiful things is watching the flamingos in their unbothered, natural environment. You can relax on a beach bed or enjoy a good meal in the dining area. You can stay in a cabana right on the beach.
Another thing to do here is to visit the waterpark situated next to the beach. Do not forget to go out and party a little at the bars where you will find exceptional drinks and exotic cocktails.
18. Mangel Halto Beach
Mangel Halto Beach is an intimate beach in Aruba for those who prefer a quiet retreat far away from their quotidian problems. The calm and clear waters around this beach are excellent for swimming, snorkelling and even kayaking.
You can explore marine life with beautiful coral reefs, anemones, lizardfish and other fascinating creatures. Another popular activity is snorkelling, as the spot offers several options for entering the water.
Another advantage of this beach is the calm atmosphere, as it is not such a famous beach. You can enjoy a picnic with your family and friends at the seashore with your family or friends.
Tourists say that the only issue they had was parking, as the parking lot was super small. The best advice is to go there early in the morning to catch a spot.
17. Boca Catalina Beach
Boca Catalina Beach attracts thousands of visitors each year with its beautiful views, clear waters and fun activities. You and your travel companions can enjoy water sports and relaxing times in the sun on one of the cleanest sand in the world. The vast marine life transforms the beach into the perfect place for snorkelling.
You will see creatures you never even heard of, and you will have the chance to approach dolphins and sea turtles. Near the shore, you can see a shipwreck called Antilla, which you can admire from the beach. People used Antilla to make trade between Germany and the Caribbean.
Since its wreck, the boat suffered numerous modifications created by storms and water. Now, corals and sponges took over the ship, attracting various marine creatures. Many tourists come here to dive around the wreck, but experts think it is too unsafe to enter it.
Boca Catalina Beach is a seashells paradise, and you will find them in different shapes and sizes.
There is one thing to take into consideration. There are not many stores near this beach, so you might want to take anything you need from the accommodation or stores on the way there.
16. Renaissance Beach
Renaissance Beach or the Pink Flaming Beach is a beautiful beach situated on Renaissance Island, and it is home to many flamingos that attract tourists like a magnet. The water is ideal for swimming, and the beach is perfect for a romantic vacation with your spouse.
You can sit together on a water cabana, drink exotic cocktails and play around with the friendly flamingos. Watch the sunset with your loved one while letting the nice breeze touch your freshly tanned skin.
However, the beach is private, and you can only access it by staying at Renaissance Aruba Resort & Casino. This condition is a problem only if you do not like the hotel, but we doubt it is possible to hate it.
15. Boca Keto Beach
Boca Keto Beach owns clear, blue waters and unusual rock structures that stand out from other beaches in Aruba. This beach is an excellent spot for pictures and family time. You can play around in the sand or water, swim and collect seashells. Many people return to this place because of the memories they created here.
The beach offers a relaxing atmosphere. You can just lay down and tan, read or listen to the calming sound of waves.
Just a few minutes away from the beach, there is a natural pool of seawater surrounded by rocks.
14. Andicuri Beach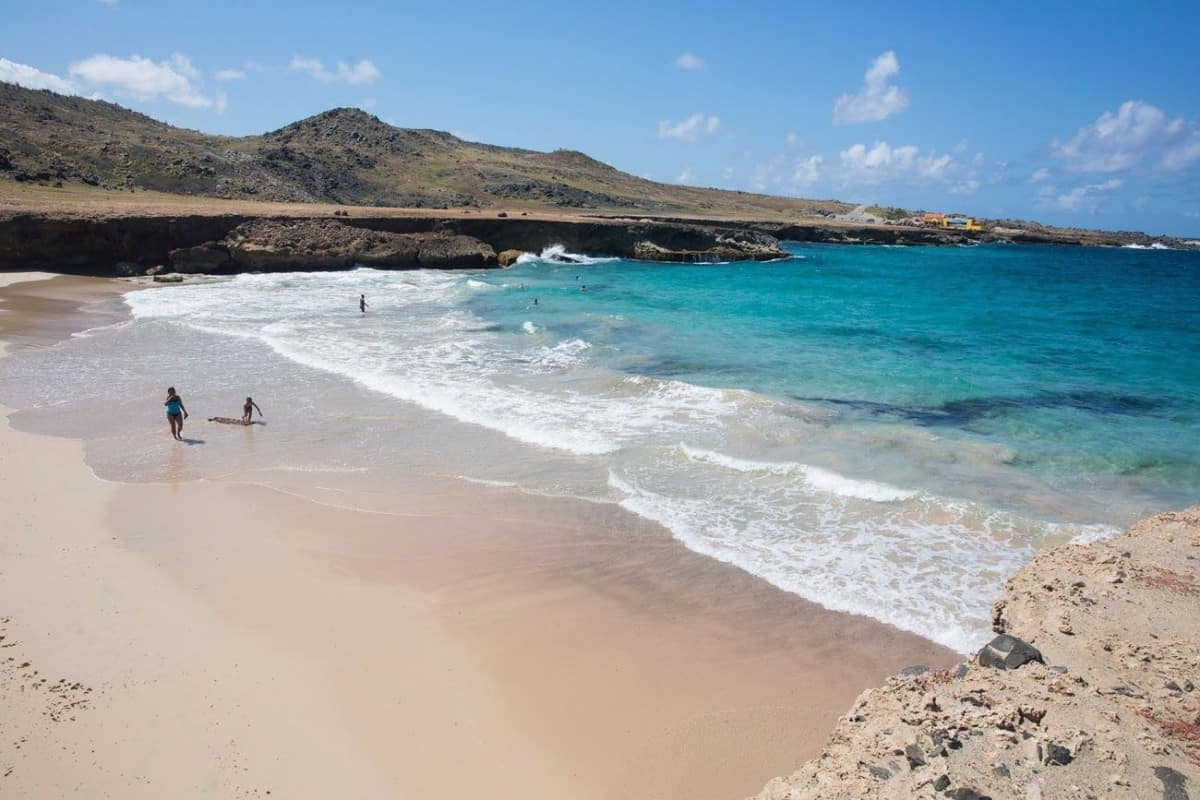 Andicuri Beach is a gorgeous coastline with sparkling waters, surrounded by mountains. The beach offers outstanding views and countless entertaining activities. The place does not attract too many tourists, and you can even have the beach all to yourself if you come in the off-season period.
Andicuri Beach offers the opportunity to do fun activities such as surfing, kitesurfing, bodyboarding, and beachcombing. If you are not an adrenaline enthusiast, you can swim in the blue, pool-like waters or lay down and tan in the burning sun. Be careful! The currents here are remarkably powerful. If you are a novice, stay away from the water and spend most of your time on the sand.
Locals love this beach, and you might find many of them there on the weekends. If you want total relaxation, you should go on weekdays.
One thing that adds up to the authentic vibe of this beach is the lack of restaurants and refreshment stands. You will have to prepare a few snacks and some drinks and have a picnic. A picnic can be fun and also an attractive date for a couple.
13. Daimari Beach
Daimari Beach is a small beach (100 meters wide) with spectacular views over the Caribbean Sea. The beach is part of Arikok National Park, and it is the perfect place for surfing, as locals say. The waves are powerful and can reach impressive heights. You can also hike the limestone rocks or make a beach tour with a horse from Daimari Ranch.
The journey starts at an old coconut plantation from the 16th century. The guide will walk you through the history of Aruba and will show you untouched places with beautiful, wild nature. You can also opt for ATV tours that take you to the Natural Pool and Boca Keto Beach.
12. Hadicurari Beach
Hadicurari Beach (The Huts or Fisherman's Huts) is popular for its water sports. You can windsurf, kitesurf, snorkel, stand-up or simple paddle boarding. You can enjoy these activities by yourself or with your family, friends and loved ones.
There are numerous resorts and hotels where you can spend your vacation, and the beach has a large parking lot and clean showers and restrooms. Local agencies offer lessons of windsurfing. If you already have some experience with this sport, you can participate in competitions.
11. Blackstone Beach
Blackstone Beach is a famous beach in Aruba that surprises tourists with the beautiful black rocks and outstanding views. For those who love photography, the beach is the perfect place to take some incredible shots.
However, the water is not ideal for bathing, and you cannot do many activities here, but a picnic with someone you love on this beautiful view is worth skipping one day of swimming. The best moment to come to this beach is before dawn, as the sunrise is spectacular.
Arikok National Park is close to this beach, too. Here you will be able to visit beautiful landscapes, the famous Quadriki Cave, lava-formed rocks, and isolated places like Boca Prins and Dos Playa.
10. Druif Beach
Druif Beach has powdery sand, perfect stay on and tan, and incredible blue waters. On lucky days you can have the whole place to yourself. Enjoy a picnic, sunbathe, find colourful sea glass, and swim in the clear waters of the Caribbean sea. The beach is far enough from the city to get your dose of peace but still close enough to enjoy life in Oranjestad.
If you feel adventurous, you can try a few watersports or sand volleyball. You can form a team with some other tourists and create memories and new friendships. You can make friends with pelicans, too, as they love Druif Beach.
We highly recommend Divi Village Golf & Beach Resort as your accommodation for the trip, as it has many activities and some of the most comfortable and aesthetically pleasing rooms in Aruba.
9. Boca Prins
Boca Prins Beach is part of Arikok National Park, and it offers a radically different view than most of the beaches we have described in this article. The calm waters we have talked so much about above suddenly turn into wild waves. The most practical way to access the each is by a 4WD vehicle.
While obviously, you cannot swim in this area due to the troubled waters, there are still many activities to enjoy. You can enjoy a picnic or eat at a restaurant while admiring the breathtaking view. You can walk down the stairs to reach the shore and see the waves up-close.
Photography enthusiasts love this beautiful beach. If you climb the rocks, you have the privilege to watch the unbothered sea in all her grace.
8. Savaneta Beach
When we go on a vacation, the main goal is to completely relax and forget about the problems we have at home. However, that is often impossible due to the high number of tourists that want the same thing. The noise, the bustle, children crying make us want to return to our hotel and spend the day there.
Savaneta Beach is the place you are looking for if you want a moment of peace and silence. A small arc of sand with azure water and small trees and sea grapes, Savaneta offers the ideal place for total disconnection.
Locals enjoy this beach, too, and fishers often use this area for angling.
Here you can enjoy seafood at one of the best restaurants in Aruba or stay at a small guesthouse.
7. Malmok Beach
Malmok is not the usual beach you find everywhere in Aruba. The place is rocky and has hard-packed sand all over it.
You may wonder why people come here. Well, the spectacular Baboo shipwreck is one of the main reasons. The ship is partially above the water and can be observed from the beach, but it is one of the main snorkeling places in Aruba, so many people get to see the ship from a shorter distance or even enter it. The waters around Baboo are usually calm and not very deep. Therefore, beginners can try diving in the area, too.
You need to consider that this beach does not have restaurants or facilities, but Oceanz Boutique Hotel Aruba is just a few minutes away. However, it is ideal to have a few snacks and beach essentials with you.
Look around for local agencies that offer tours around the area. You can go on a catamaran cruise or scuba dive around Baboo with an expert.
6. Bachelors Beach
You will find this charming beach in the southeast part of the island, a true romantic paradise unmarked by the presence of people. You will not find too many restaurants or bars, but the feeling of purity that the beach offers makes you euphoric enough to forget about drinks.
The place is crossed by a light breeze that gives you goosebumps pleasantly and soothingly. The area is ideal for windsurfing and is suitable for both advanced and beginners. Because the winds are not strong, those who are just learning will not be constantly knocked down.
For expert swimmers and divers, the place is a paradise of marine life. Strong currents can be hard to beat, but if you have enough experience, it is worth looking at the underwater world, with various types of fish and other enchanting creatures.
Locals call this beach Boca Tabla, so if you hear this name, do not be confused.
5. Baby Beach
Aruba amazes us with the beauty of its beaches, and Baby Beach does not let itself be outdone. An idyllic moon-shaped bay, Baby Beach is the perfect place for diving, snorkeling and other similar activities. Here, not only advanced people can enjoy the surprises of marine life but also beginners, as the waters are calm and welcoming.
Many call this beach the best place for swimming in Aruba. There are no currents or winds that can disturb the swimmers.
You can also enjoy delicious food cooked at the beach stand. The restrooms and showers are clean and well maintained. In addition, there is a dive shop close to the beach where you can rent beach chairs, windscreens and snorkeling equipment.
Leave some time for the town near the beach, San Nicolaas. The city is an explosion of colour and good cheer, with delicious food cooked by locals and exotic souvenirs to remind you of this unique trip.
Baby beach is also ideal for families with children because the calm waters do not get very deep until far from the coast.
4. Arashi Beach
Another incredible beach for swimming in the Caribbean and snorkeling, Arashi is a popular spot in Aruba and the last strip of sand before the California Lighthouse.
The area is an oasis of relaxation. Our advice is to bring some light snacks and an umbrella because there are not too many shady areas on this beach. There is a snack shack on the beach that occasionally plays live music.
There are many activities you can enjoy here. From splashing in the water to sunbathing and admiring marine life, the beach is an unlimited source of entertainment. The place is suitable for children and beginner swimmers, too.
The beach has a spacious free parking lot and clean showers to wash the sand off your feet or flip-flops.
Not far from this beach with calm seas and soft sand, the shore turns into a wild place dotted with cacti.
3. Manchebo Beach
While not as popular as its neighbours, Manchebo Beach deserves this place on our list because it offers one of the most calming atmospheres. Not very crowded, this beach is one of the widest on the island. The place is calm because there are no water sports allowed and the tourists who come for them ignore the beach.
There are many resorts along the beach where you can enjoy a nice meal. One of them is Manchebo Beach Resort & Spa, where you can rest and have a spa day. The water has different moods and can vary from remarkably calm to mighty waves.
The beach is perfect for romantic getaways or honeymoons. Couples will enjoy peace and intimacy.
2. Palm Beach
Palm Beach is one of the luxurious beaches in Aruba, with expensive hotels and resorts such as Ritz-Carlton. The beach is always full of tourists, and the music is always on for your entertainment. The whole place has a vibrant atmosphere and gives vacation vibes.
Palm Beach has plenty of restaurants and souvenir shops, but the main attractions are the water sports and activities. You can take a banana boat ride or try wakeboarding, water skiing, parasail, flyboarding. All these activities come with a price, but the adrenaline you will get from them is worth every penny.
Most things on the beach are owned by the hotels, and you must pay a pretty high price to use them or even be a guest at the resort. If you feel like these deluxe hotels go over your budget, you can choose a smaller hotel a few minutes from the beach to enjoy intimacy and a more familiar environment.
One of the best tips we can offer tourists is to rent a car. The price of a day by car is $30 and worth every penny. Aruba has so many hidden places worth seeing, and Palm Beach is a great place to start. Close to the beach, there is Delphi Watersports, where you can book tours on the Caribbean Sea.
In addition, to the south, you will find Bubali Bird Sanctuary, where you will observe various species of birds. The Old Dutch Windmill and the butterfly farm are not too far neither.
1. Eagle Beach
Eagle Beach is the best-known beach in Aruba, and rightly so! The wide beach with soft white sand sprinkled with tropical trees, palm trees, and sea grapes offers the perfect environment for an unforgettable vacation.
The water is crystal clear, turquoise in colour, calm and suitable even for beginner swimmers. Although the transition from shallow water to infinite blue is fast, the water is still safe for bathing.
Everywhere you see adventurous people on jet skies who love adrenaline and families who build sand empires.
As with other commercial beaches in Aruba, there are resorts and hotels famous around the world for luxury and high-class services. One of the most famous is Bucuti & Tara Beach Resort- a place that many consider perfect for a honeymoon and holidays for two.
Eagle Beach is known for turtle nests that hatch at sunset or night. Be careful not to hurt the nests, as this is their home, not yours.
Even if it is crowded, this beach can still be an oasis of relaxation. Lie on the white sand and let the sun tan your skin. Do not forget about sunscreen! The sun can be very harmful to the surface if it burns our skin for too long. To take a break from tanning, go and take a bath in the water to cool off.
Another lovely thing on this beach is the presence of the two Divi trees that played a significant role in Aruba's promotion campaigns. Take pictures with them and let the whole world know that you feel great on your vacation.
Conclusion
Aruba is definitely the place where your dream vacation comes true. The beauty of the place and the energetic vacation atmosphere will introduce you to a completely different world, and you will forget about the countless worries you have at home.
Breathe in the sea air and visit the most beautiful cities around. Aruba offers you the best of both worlds, presenting not only soft beaches but also rocky peaks that give an unparalleled landscape.