If you're heading to the Maldives, your desert-island expectations are going to be pretty high. You'll be wanting white sand islets all to your self, and butlers bringing you punch while you paddle, thank you very much. Let us be clear: boutique hotel Per Aquum Huvafen Fushi will not let you down. Dip your toes in the warm, ridiculously clear lagoon, dine in incredible locations, snorkel one of the Maldives best house reefs and flop out on your own private stretch of powdery-sand perfection. And just when you think it can't possibly get any better, you'll stumble upon the world's first underwater spa.
At the hotel
Private beaches, infinity pool, boat fleet, water sports, diving centre, spa, gym, yoga pavilion, boutique, library, free WiFi. In rooms, plunge pool, LCD TV, DVD/CD player, bar, coffee maker, Frette linen, Bose sound system, preloaded iPod and dock.
Our favourite rooms
$1800 per night
Every room has a private plunge pool. Deluxe Beach Bungalows back right onto white sands, and are justly popular for their spacious private outdoor areas (numbers 9, 10, 12–15 are close to the spa, if you need to do as little as possible, post-pampering). Actually the closer to the spa end of the island you are, the quieter it is.
But we loved the novelty of being over water: set on a long ovate pier off the island, the Ocean and Lagoon Bungalows furthest from the island offer maximum privacy. Ocean Bungalows have a glass floor in the living area, giving you 24-hour 'reef TV', and because you're on the sunset side, drinks on the terrace next to your plunge pool are extra-romantic. Plus, if you love snorkelling, you're right next to the outstanding house reef.
Needless to say, the three Pavilions are incredible; the Beach Pavilion is everybody's favourite. Push the boat out – literally – and add a private charter to your booking and you can sleep onboard or on land; Sensuelle is a top-class 68-foot motor cruiser with an onboard wine cellar and a fireman's pole from the top deck.
Poolside
The large lagoon-like infinity-edged pool bleeds into the watery horizon of the Indian Ocean and is surrounded by four-poster day beds; by night, it's romantically lit with fibre-optic lights and reflects the inky sky.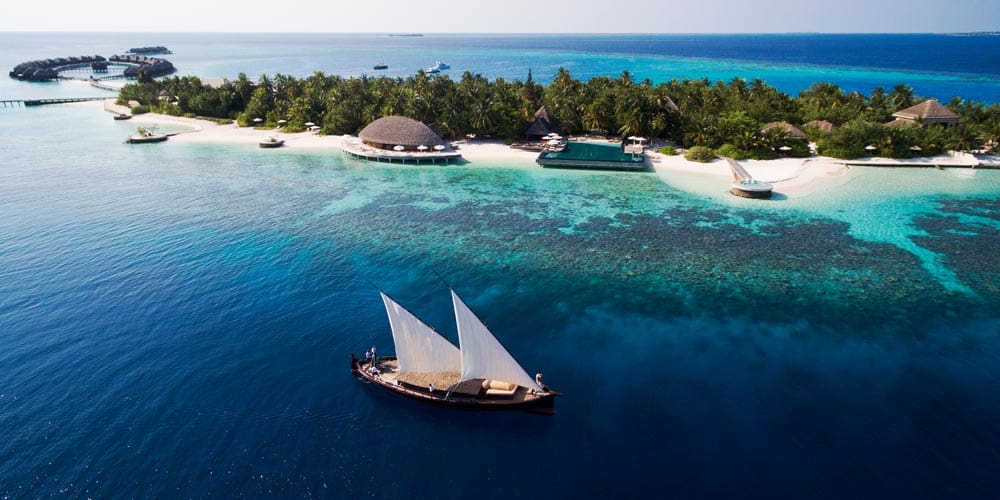 Packing tips
Every piece of swimwear you have; a dozen kaftans/beach cover-ups; flip-flops, thongs, sandals… but not stilettos; diving and medical certificates and log book if you want some underwater action.
Check out those minibars: not just a few sad beers but premium alcobevs, underwater cameras, CDs, and groovy snacks from around the world. Per Aquum Huvafen Fushi is on 'island' time, an hour ahead of Malé (for optimum sunset enjyoment).
Children
This surrounded-by-water haven isn't ideal for kids – but they are welcome. Extra beds ($125 a night for children; $250 per adult) or cribs (free) can be added to bungalows; Beach/Ocean Pavilions can accomodate up to four adults and two under-12s.
Eco-friendly
Per Aquum Huvafen Fushi knows which side its bread is buttered on, and takes great care of its marine environment. It supports coral-reef rehabilitation projects and sustainable local businesses, and encourages guests to offset their carbon emissions.
Hotel restaurant
So many options: fine fishy dining around the open kitchen at Salt, set in an overwater pavilion; spa cuisine at Raw; all-day low-key dining at sandy-floored lagoon-view Celcius; wine-matched meals at Vinum; pizza under the palm trees at Fogliani's…
Hotel bar
Super-cool UMbar shakes up deliciously dirty martinis with its extensive vodka list, as well as champagne cocktails, mocktails et al. Try an Asian-flavour-packed Crouching Tiger, with lemongrass, lychee, gin sake, ginger liqueur and jasmine tea.
Last orders
Breakfast at Celsius, 7am–10.30am; Fogliani's open from noon until 4pm; Raw closes at 3.30-pm; Salt and Cardamom Lounge, 7pm–11pm. Reservations recommended. UMbar stays open as long as you can stay up…
Room service
A comprehensive in-room menu is available 24 hours a day. Definitely try the Maldivian breakfast (sambol, curry and chapatis); you can also have a private chef come and set up a seafood or mixed-grill barbecue on your sundeck.
Worth getting out of bed for
Underwater's where it's at here: not only can you snorkel above bannerfish, fairy basslets and other colourfully named sea creatures on Per Aquum Huvafen Fushi's house reef, you can have premier pampering underwater at Lime spa: two of the eight treatment rooms have glass walls looking out across the ocean floor. The treatment menu ranges from iridology and reiki to wellness rituals and salt scrubs.
Book a guided snorkelling trip with Per Aquum Huvafen Fushi's resident marine biologist will guide you to the best spots on the coral garden and explain what you're going to see. There's a PADI-standard diving centre, too. Undo all that great fresh-air frolicking at UMbar, where cigar aficionados can try a totally smokin' selection of superior Cuban and Dominican cigars.
If you're feeling the need for a little more stimulation, other activities on offer include excursions to the Maldivian capital Malé, sunset cruises, curry-cooking classes, wine-tasting at Vinum, fishing trips, yoga, windsurfing, sailing and wakeboarding… let's just say you'd need to stay at Huvafen for a ridiculously long time to get bored.
Planes
The hotel will send your thakuru (personal butler) to await you at Malé International Airport. You'll then whisked into a speedboat for the last 30 minutes of your journey.
Transfers
Speedboat Transfer
‐ USD308 (inc tax) per person for adults
‐ USD308 (inc tax) per person for ages 13 to 16
‐ USD154 (inc tax) per person for ages 0 to 12